What DJ mixer and decks for children to learn DJing
So your kid wants to learn to DJ? Awesome! You've come to the right place. We can point you in the right direction.
It's important to know just what kind of DJ hardware is best for children, how it will help them learn how to DJ and what DJ courses are best for your kids.
We've put together the ultimate guide to DJing for kids, just what DJ gear they may want Vs what they actually need. What DJ hardware suits your budget and how to set it all up.
Plus we tackle the age old problem of thumping bass and irritating volume levels filling your house will your kids become the next David Guetta.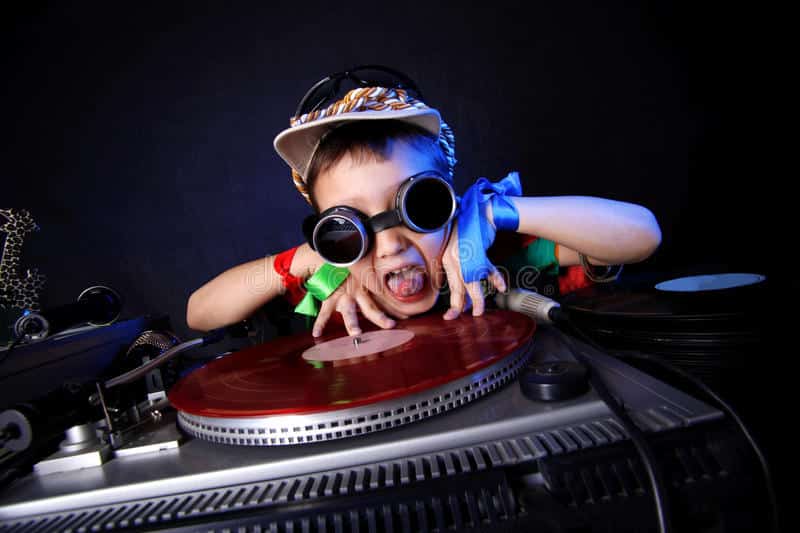 So your darling daughter or son has shown an interest in DJing? Or you think their love of music may be well suited to learning to DJ? Either way I'm sure they have some idea of what it is they'd love to start DJing on.
It's important to understand that this may differ from what's actually best suited to them and their current age. How quickly you think they can pick up the skills required to DJ will also affect just what DJ hardware to buy for children.
Feed their enthusiasm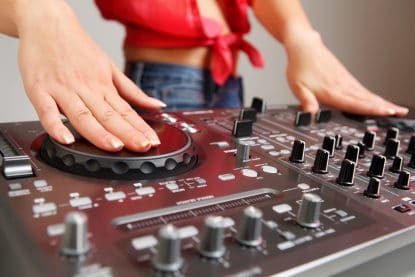 If they've shown an interest then I highly recommend having a conversation with them to find out exactly what it is they imagine DJing with. While this might not be what's best for them (more on that in the next chapter) it will at least help you manage expectations and lead them in the right direction.
It may be that your offspring view DJing as a fun toy
It may be that your child wants to learn how to Scratch DJ
It could be that your kid loves to beat match and create amazing transitions
Or it might be that they want to learn to loop, sample and remix like a world famous DJ
It's important to at least find out what they might want to get out of DJing so you can make sure you get the right DJ gear for children, and not just some overwhelmingly complex and expensive DJ hardware more suited to adults.
You'll want to get this right as their first experience with kid friendly DJ hardware could shape their enthusiasm and motivation to continue it as a hobby.
But what they want and what they actually need can be very different things. We'll next explore what DJ hardware is best for your child so that you can make the best informed decision.
Finding the right DJ controller, mixer, decks and DJ software that will actually suit their personality, keep them motivated and help nurture their skills, that's your challenge. It all comes down to what they actually need rather than what looks cool.
There are a number of important factors when choosing what DJ equipment is best for a child. They are.
Will first impressions ignite their passion for DJing?
Will the controller's features overwhelm the child?
Will the DJ hardware appeal to their playful side?
Does the DJ gear allow your child to grow their skillset?
With these simple questions it's easy to see how DJ gear for kids could cause a reaction that is less than ideal. You want to make sure they are wow-ed by the gift at first and still obsessed with it 6 months or 12 months later.
Based on the questions above we've researched hundreds of controllers from kids toys to pro models, and come up with a number of conclusions and recommendations just for you.
Don't go too cheap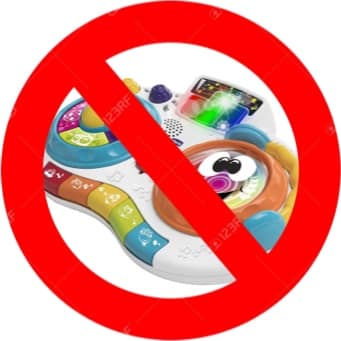 You may think it's not worth spending money if it's just for kids to play with. but what you're actually doing is wasting money on something kids will very quickly get bored of.
It's surprising how much kids love to DJ, given the right tools for the job, but give them a bright, childish plastic toy and they'll treat it like one. Something to play with for a short while and dismiss along with all their other toys within a few days.
You may have noticed that toys don't capture kid's imaginations, it's generally the everyday tools of life that make them curious. The same goes for DJing. If it looks cheap and toy like they'll treat it that way, but if you spend a little extra you'll be surprised how much kids will take seriously.
You're looking for a DJ controller that packs a serious punch but is easy to work with from the start. You'll need to pay a little extra for this but it's much less likely to be wasted money.
User interface is key
If you buy a controller covered in buttons, dials, faders and knobs that even an adult would struggle to understand without reading the manual, it's not going to be a great fit for a child either. While some of the terminology might make sense to you, it's likely to make even less sense to a kid.
For instance the Pioneer DDJ-1000 is an incredible DJ controller with every feature a pro DJ would need. It's also a highly complex bit of DJ kit that takes some time to set up and get used to.
Just check out all the buttons and faders! This is likely to overwhelm even a teenager and could put them off DJing for life if you're not careful.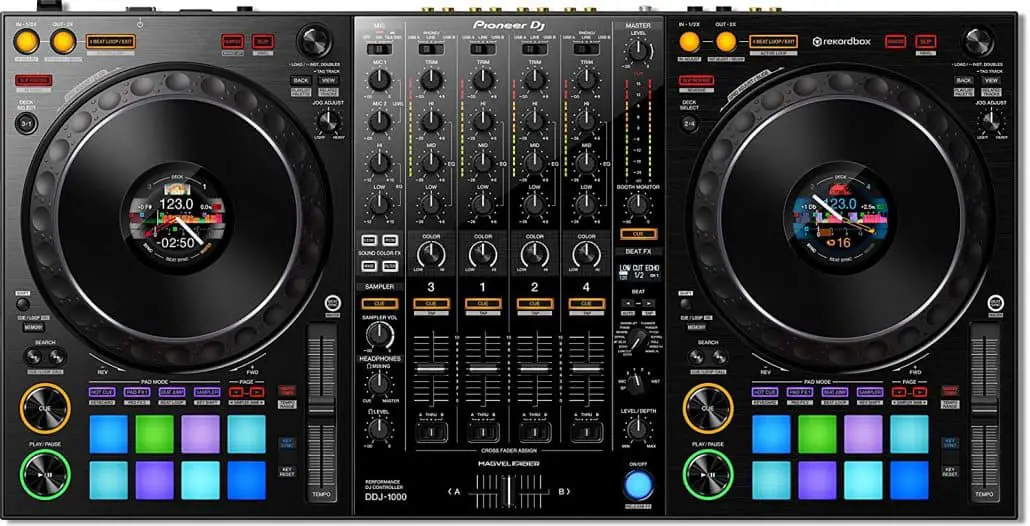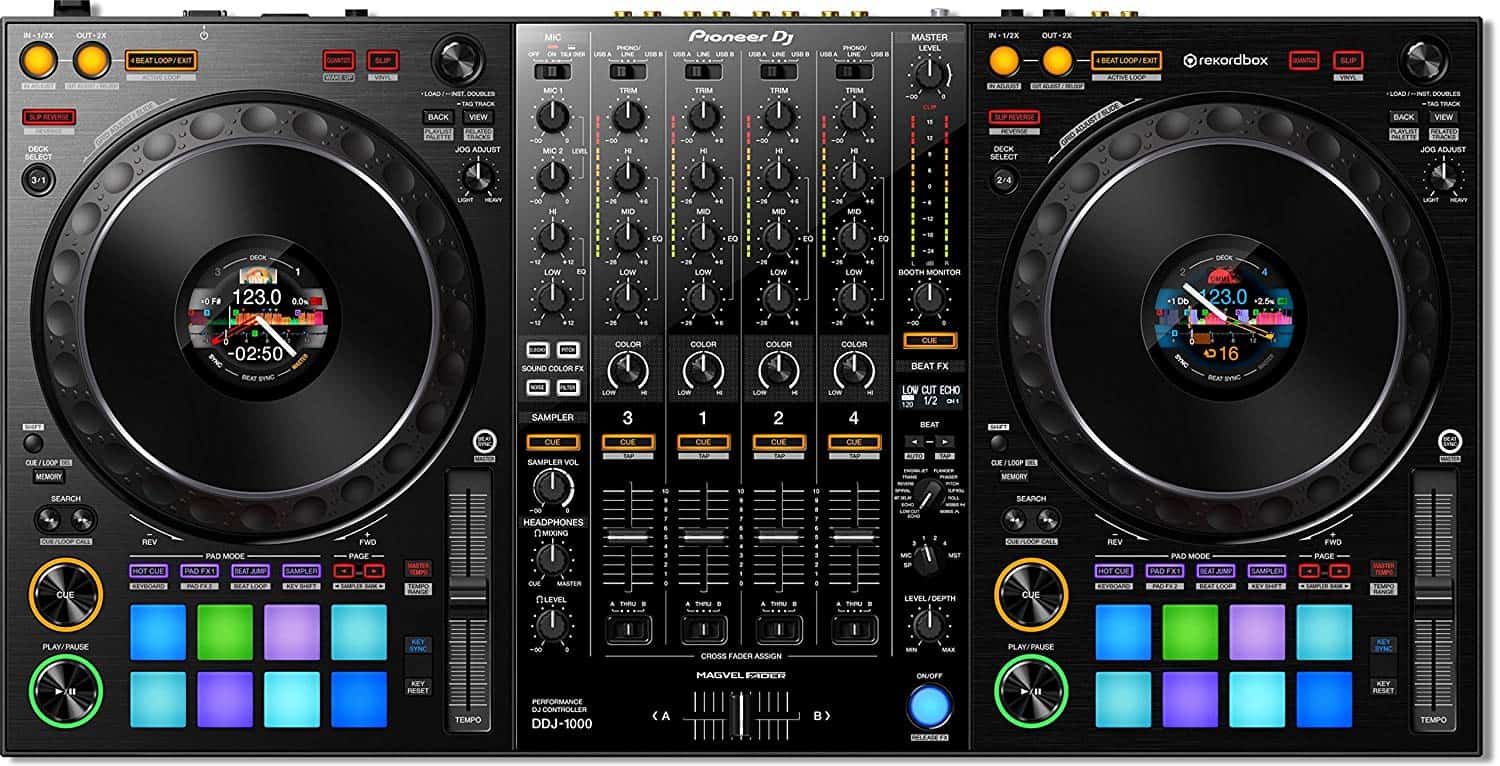 While you may think it's the coolest bit of DJ equipment you've ever seen, it's likely way too much for a beginner and the last thing you want to do is kill their passion with a complex user interface.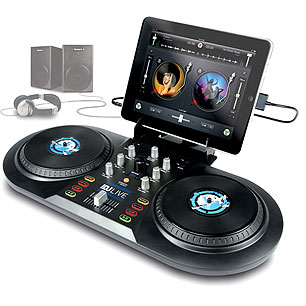 Similarly you don't want the user interface to be so simple that it's lacking features they may really want. There's some cheap and tacky looking DJ controllers for kids that will soon bore your children to sleep.
They make looping impossible, filters hard to work with and rely entirely on your iPad to do all the hard work.
The problem with these types of controllers is there's no scope for progression in their skills. Once they've mastered a seamless mix transition and got bored of badly scratch mixing songs together, the fun will be over and your money wasted on a cheap ugly toy.
So you're looking for something in the middle. Not too daunting but not too childish either. A controller that has potential, with enough features for your child to learn and master.
This is where something like the Numark Mixtrack Pro 3 sits. It has just enough features for your kid to get to grips with, while also having a simple enough user interface that most kids will understand pretty quickly.

The buttons are all nicely laid out. There's dedicated controls for looping, effects, scratch mixing and beat matching. Could there be more? Of course, but what you're looking for is that user interface that will spark excitement and a motivation to learn more about the art of DJing.
Buy something robust
Build quality is never more important than when you're dealing with children. Sure it's important to us pro DJs too but your kids are infinitely more clumsy, more careless, more demanding and less respectful when it comes to keeping your tech looking and working perfectly.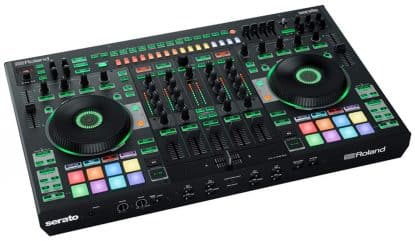 Never has "build quality" reviews of DJ gear been so important. It's likely your child will want to move the DJ controller, pick it up and put it somewhere else in their room. They may want to take it to parties, throw it in a bag, the back of your car, unplug it and rewire it.
So it's likely the DJ controller will get plenty of action and the odd knock, bash or even drop. You don't want to go replacing expensive hardware every time your budding DJ gets a little clumsy.
There are some great, very strong controllers and mixers out there, built to withstand most knocks and falls. Unfortunately there's also lots of cheap and nasty controllers made from thin low cost plastics too which can easily brea
They also do a poor job of protecting the crucial DJ hardware components inside. A few scratches on the outside is fine but if your kid friendly DJ hardware takes a knock it may never work again.
The Roland DJ-808 is a prime example of a strong robust DJ controller suitable for kids as well as adults. It has a very solid build and some quirky features that will add a little more to their DJ abilities. Check out the classic 808 drum machine at the top of the controller.
So now we know the kinds of things we're looking for it's time to find some actual DJ equipment suitable for children. Something that meets of all of our criteria for inspiring, robust, easy to use DJ gear.
Numark Party Mix Live
Let's start at something actually built for kids. While I wouldn't normally recommend a toy DJ controller, Numark have actually tried to cover all of the criteria I've set out for a child friendly DJ controller. Something that's got plenty of features, easy to use and portable too.
Numark have a strong history of making quality budget DJ equipment. Never really hitting the industry standards but at least for those on a tighter budget they've nailed it pretty much every time. The Numark Party Mix Live is a good example of this with a controller built specifically for kids.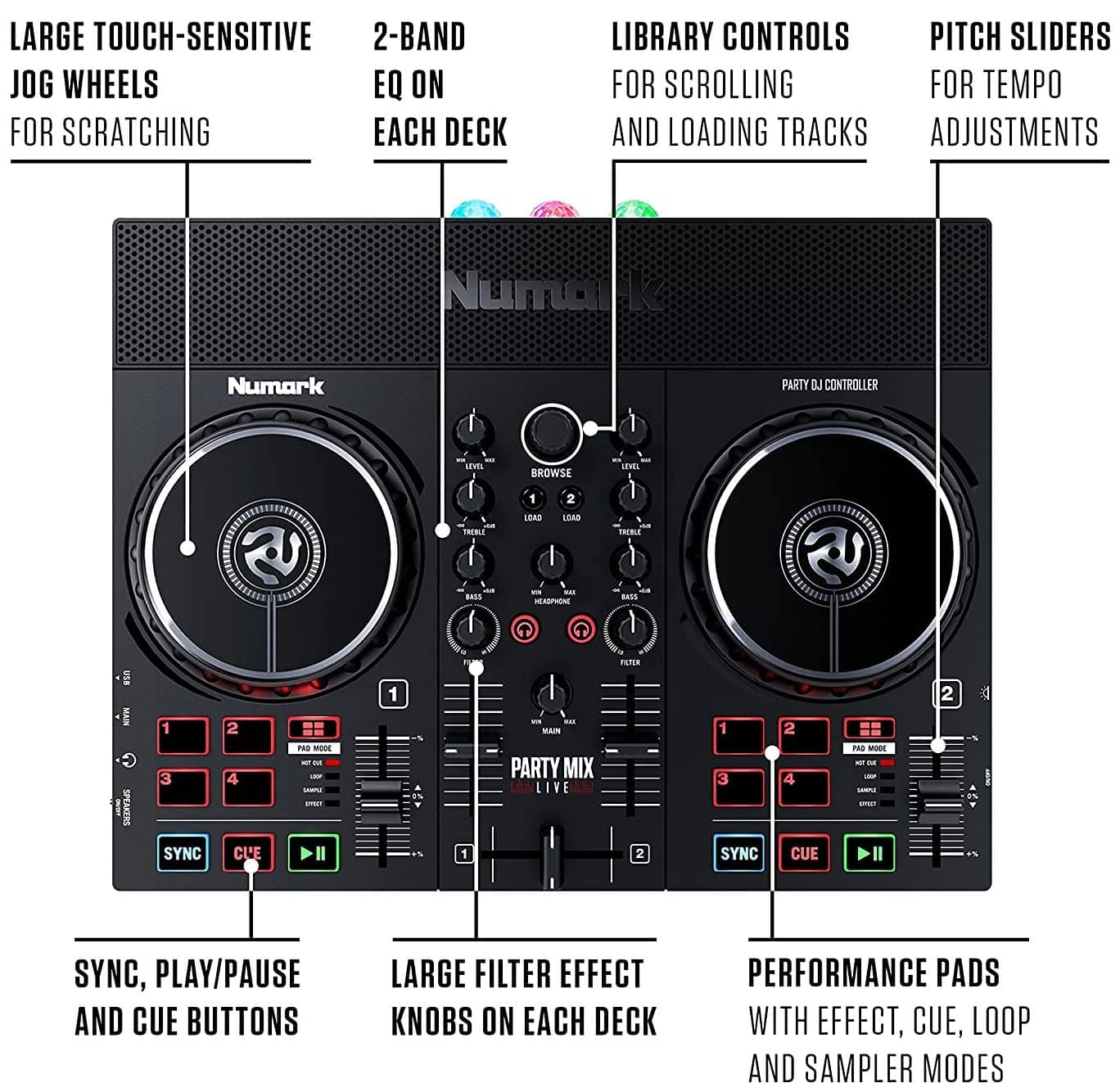 Let's start with a couple of features you don't get on other DJ controllers. This one has built in stereo speakers and flashing LEDs! Ok so this is clearly a gimmick, especially the rather tacky LED disco lights, but the speakers are at least handy for bedroom DJing.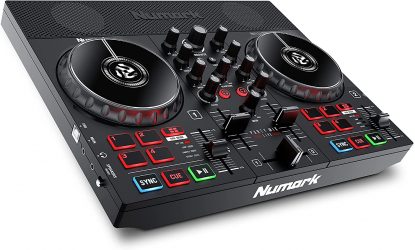 They're no good for a party but if your child just wants to learn to DJ then the fact they can plug this controller in to a computer and have the DJ sound right there in front of them without needing external speakers is pretty cool. It's not the best sound quality but if you're keen for your kids to keep the thumping bass lines down then this might be just the controller you should get them.
It's a pretty simplistic mixer but actually has many of the controls your kid will want. You can control loops, effects and samples with the performance pads. There's dedicated controls for high, mid and low frequency volumes which any decent controller should have. There's also filter controls and the ability to browse their music library right from the controller and load up the next track with the push of a button.
The performance pads have different pad modes too so you effectively have 16 performance pads to work with per deck.
The best feature is that it's fully compatible with Algoriddim djay and Serato DJ Pro, two of the biggest DJ apps out there right now. There's outputs to plug in to an external speaker system if you prefer and jog wheels that will allow your child to learn to scratch mix and beat match too.
The downside to this controller is that your child may master it's simple controls pretty quickly and it's clearly more in the "toy" range of controllers than it is the "pro" range. Because of this your child may feel they've outgrown it within 6 to 12 months of using it. It maybe fun for the bedroom DJ but it may cause embarrassment at a party.
Check out this video review of the Numark Party Mix Live and check out the prices for the Party Mix live here.
Hercules DJControl Inpulse 300
Another great Dj controller for kids is the Hercules DJControl Inpulse which is clearly carving a path in the budget DJ controller niche. Featuring a lot of the controls you'd expect on a decent controller but with something extra that might prove useful.
The Hercules controller has very well placed labels and controls. Meaning the buttons, dials, faders and knobs are where they usually are placed on much more high end controllers like Pioneer's range.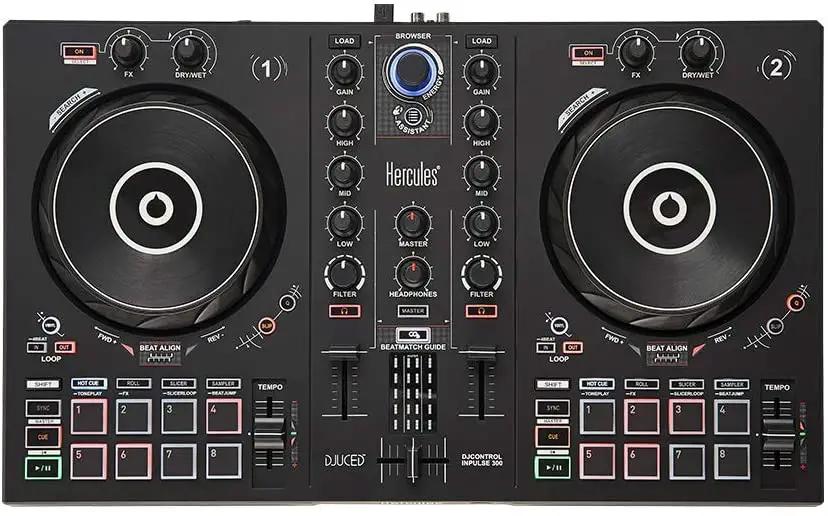 Not only that but everything is very well labelled, something I found very useful when testing what controllers are best for children. Every button has a label, the jog wheels have direction arrows, the faders and dials all clearly show you their scale.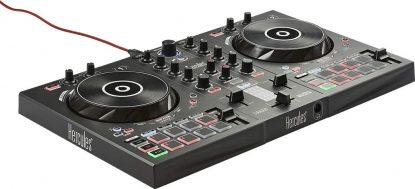 All of this attention to detail makes learning the controls and understanding how much to use for certain creative mixes all the more enjoyable.
There's some great controls for looping and creative sampling too which can be fun, although their effectiveness depends entirely on the loops and samples your kid is DJing with.
The downside to this controller is the build quality. While it's passable for budget DJ gear it does feel a bit cheap. The buttons are stiff and loud to click, the jog wheels are hard plastic and a little clunky. It's not the end of the world but certainly doesn't have that premium controller feel.
Still you get what you pay for and for the price point you get quite a lot with this controller. It comes with a copy of the DJUCED app which is a lesser known DJ app that boasts streaming music library compatibility with Soundcloud and Beatport. Both of which can give your kid instant access to millions of songs.
Another great feature is the tutorials built right in to the DJUCED software so your child will learn and DJ at the same time. Pretty neat.
Check out the intro video here and for the latest prices of the Hercules DJ Control Inpulse 300 go here.
Roland Dj-202 DJ Controller
Taking things up a notch with something a little more professional, the Roland DJ controllers have created a name for themselves as being robust and highly capable controllers that won't break the budget. Sure the price is higher than the controllers mentioned above but there's good reason for this.
Roland like to do things their way so some of the controls may be in unusual places. Note the tiny pitch controls in the top corners for one good example.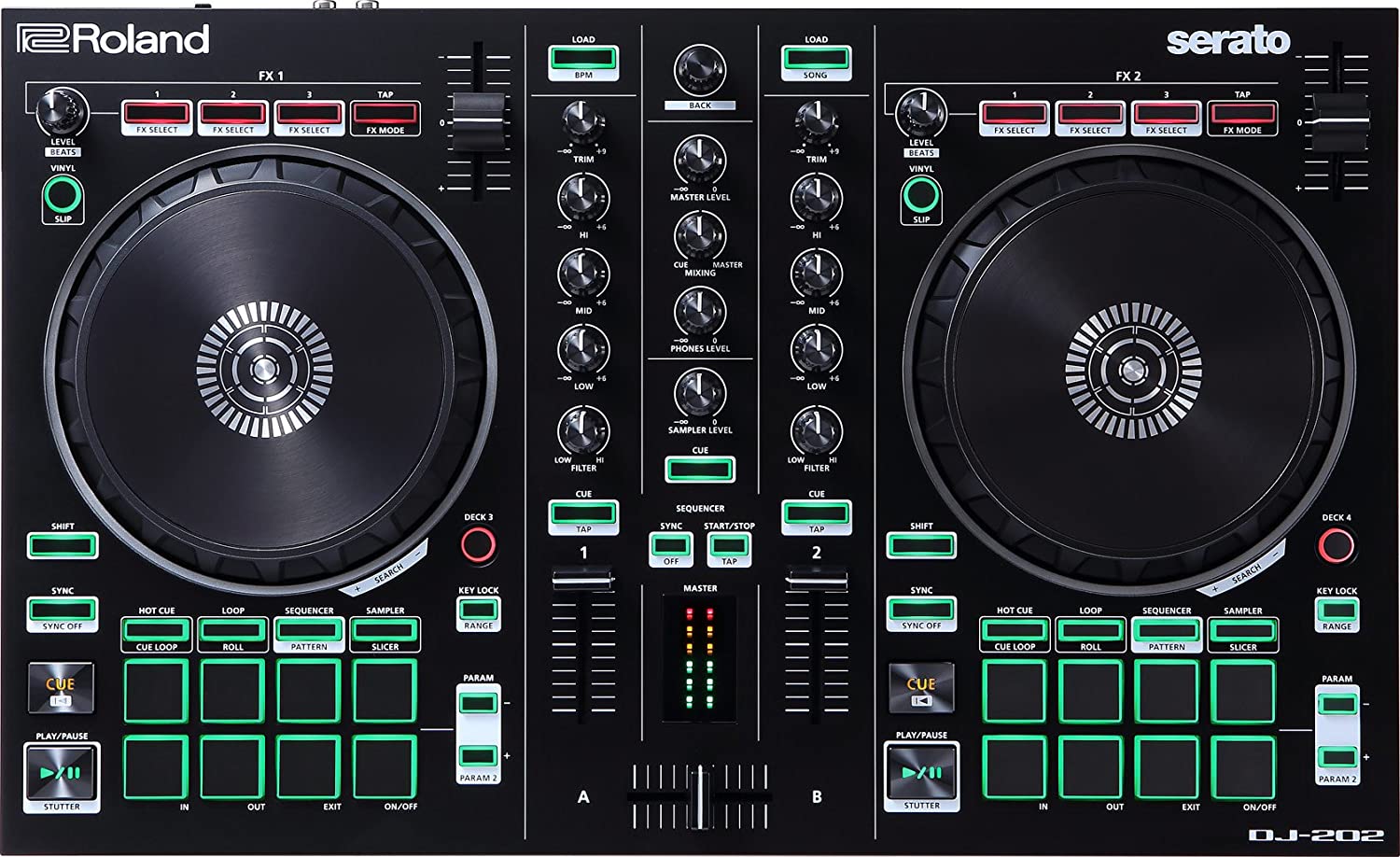 One thing Roland does right is pack plenty of features in to an intuitive user interface. You'll find buttons and dials for all the important stuff like performance pads, key locking, effects assignment and looping.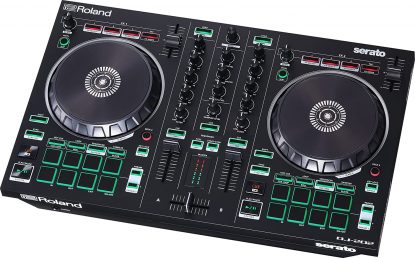 But the secret weapon in this controller is it's built in drum machine. The performance pads allow you to lay down your own beats which you can mix in over your music.
With samples from Roland's archives of iconic drum machines including the TR-606,  TR-808, TR-909. This adds a whole extra layer of creativity that your children may love. It's also likely to give you a little nostalgia trip as you'll no doubt recognise a lot of the high hat, symbols and kick drums it produces.
This controller is also fully loaded with extra outputs you'll be hard pushed to find on some pro level controllers. MIDI out is a great one for adding more controllers
The Roland DJ-202 definitely packs a punch without overwhelming a newbie child DJ. There's plenty of great features all wrapped up in a robust and reliable package. It's also fully compatible with Pro DJ software like Serato DJ Pro, something they may well use when they become a world famous DJ.
Here's a fantastic review of the DJ-202 for you to view. Check out the latest DJ-202 prices here.
Pioneer DDJ-400
Now we're getting in to something created by the industry leading Pioneer brand. Something your kids will definitely encounter if they take their DJ hobby to a professional level. With Pioneer hardware in almost every nightclub and bar it makes sense to go with something made by the industry leaders.
For a while the DDJ-200 was the entry level DJ controller of choice for kids. It was simple, solid, inviting enough to play with without being overwhelming. But this didn't last long with a host of missing features that unfortunately made the DDJ-200 a short-term winner with kids. In the long run it's lack of pro level features were it's downfall.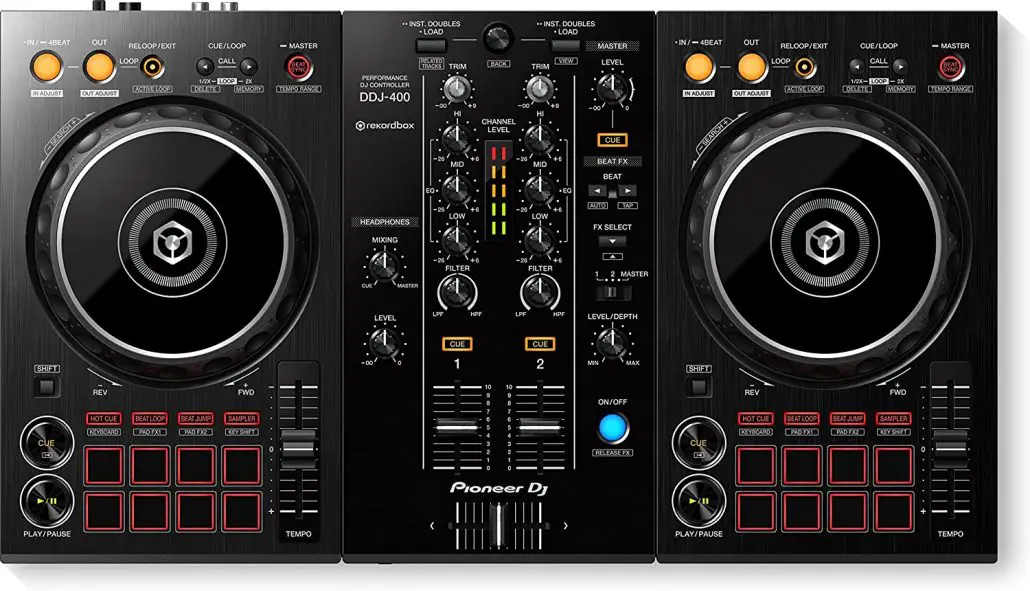 Thankfully all of those problems have gone with the DDJ-400 which looks and feels much more capable. Gone is the childish layout, replaced by something much more akin to their high end professional equipment.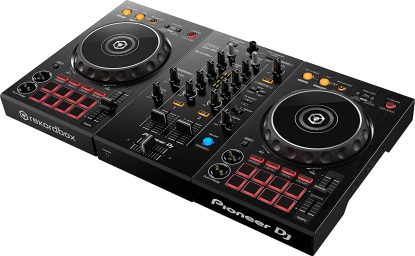 This means you child DJ star will be able to transition from the DJJ-400 to something more professional with ease when the time comes.
There are some familiar features on this controller that are shared with Pioneer's pro level controllers. Some you won't find on other budget controllers, making the DDJ-400 a wise choice for child DJs who want to get super creative. The loop capturing, editing and effects controls are some of the best in the business.
It's solid robust design and 100% compatibility with Pioneer's very own industry standard RekordBox DJ software makes this controller a no brainer if you're looking for the best DJ controller for kids. It's price point is very favourable too making the DDJ-400 a great place for any kid to start learning the art of DJing.
For an introduction to the DDJ-400 check out the video below. For the latest prices view the DDJ-400 on Amazon.
Budget DJ gear for children is all very well but lets face it there are plenty more options available if you have a more healthy budget. It's worth exploring these if you're serious about giving your child a head-start in their DJing career.
While the cost might be higher you're also getting a lot more for your money. An increase in robust design, higher quality audio and a DJ experience much closer to that of the fully pro DJ gear available right now.
So lets check out what's currently the best high end controllers for kids to learn to DJ on
Denon DJ PRIME GO
Let's start with one of my current favourites. The Denon DJ Prime Go which as the name suggests is a very portable bit of DJ kit. It's the only DJ controller to offer battery power as well as mains power options. So your offspring can actually take this anywhere they like and learn to DJ on the go.
Not only that but it has Denon's high quality Prime DJ software built right in with a high definition display that lets you browse tracks,  view waveforms and edit loops on the go.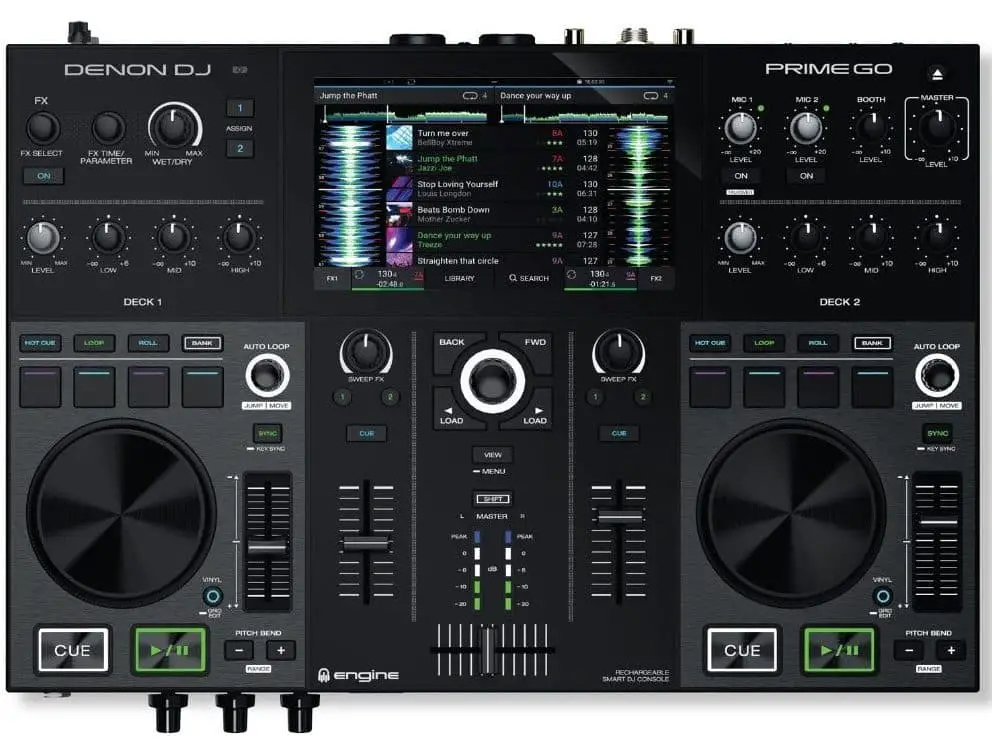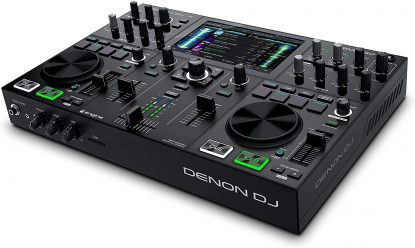 Admittedly it doesn't have quite so many buttons as other DJ controllers at the same price, but this is actually a good thing. The portable nature of this controller has made Denon rethink just what buttons are needed, using gestures on the touch screen to give your child more controls when DJing.
It's a very capable bit of DJ gear that has won plenty of praise so far. The great thing about the Prime Go is that it's fully in to the Denon ecosystem and considered a pro level controller, yet it's intuitive user interface makes it very easy for new DJs to get to grips with it.
There's very little chance your child will be overwhelmed to start with and there's plenty of scope to become a Pro DJ with the Denon DJ Prime Go. It's portability is the icing on the cake that child DJs will love.
One things to note here is that the Prime Go is considerably smaller than your average DJ controller. But this is no less of a controller for it. Check out the intro video below and you'll find the latest prices on Amazon here.
Native Instruments Traktor Kontrol S3
Traktor hardware is definitely considered pro level but Traktor have been busy producing all sorts of levels of Dj hardware. Some more applicable to newbie kids than others.
For me the Traktor Kontrol S3 sits right in the perfect spot for intuitive, scalable DJ controller that is good for children.
One thing Native Instruments does very well is creating an intuitive environment to DJ in. From their industry standard Traktor software to their Kontrol DJ hardware, every button, fader and control feels like it's in the right place, with space to breath around each so it doesn't feel like a controller crammed with too many buttons.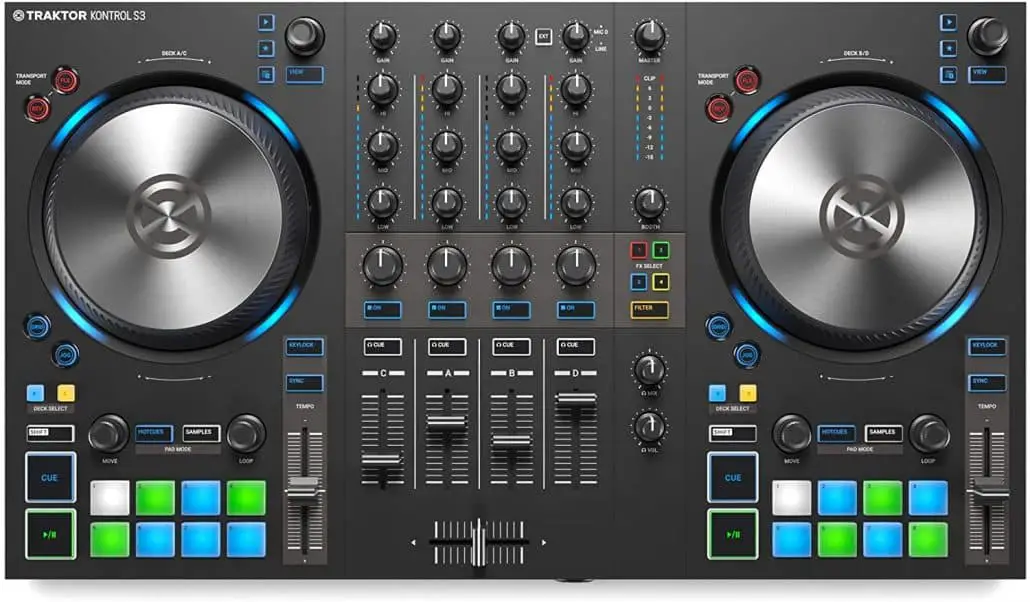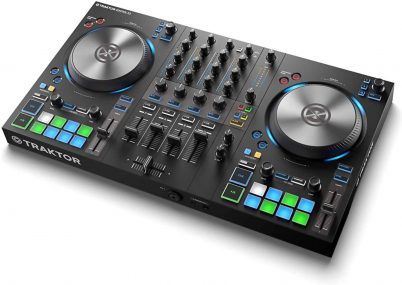 This makes Traktor Kontrol hardware easy to pick up quickly and get to grips with, allowing your budding wannabe DJ plenty of creative space to learn and progress.
There are some great features of the Traktor software that lend themself to ease of understand and quick learning too.
Plenty of visual indicators of how well your child is beat-matching. handy progress screens through tracks and the ability to assign different types of decks to each of the 4 available.
One downside is that the Traktor Kontrol series of DJ controllers only works with Native Instrument's own Traktor DJ software.
While some can work as midi controllers it's not easy to set up, so if you find this limiting you may want to opt for a Pioneer controller.
Check out the intro video below and for the latest prices of the Traktor Kontrol S3 go here.
Pioneer DJ DJ System (XDJ-RX2)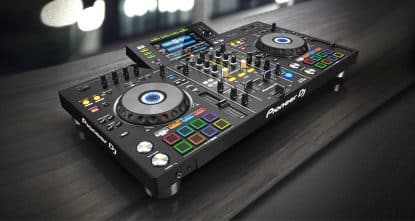 Let's go all in with this last suggestion which is certainly in the high-end category. A fully pro level controller that will be the ultimate DJ equipment no matter their skill level. Taking them from bedroom novice to full pro club DJ or mobile DJ. The Pioneer XDJ-RX2 is everything they'll ever need right in one controller.
So you may be wondering why I suggest you invest so heavily in something so high end?
Well there's one simple reason. Cost over time.
If your son or daughter really loves to DJ and makes it their passion then you'll inevitably end up replacing their DJ equipment pretty quickly. They'll not only learn key DJ skills like beat matching, mixing in key and advanced DJ transitions, they'll also know exactly what amazing features are out there on pro level DJ hardware.
Upgrading DJ gear is where things get costly, The cheap budget controller becomes obsolete, replaced by something slightly higher up but still on a budget, the upgrading continues until you find you've spent thousands on DJ gear to fuel their passion for DJing.
So why not start with something that is both intuitive at a base level and pro enough to still be relevant in the years to come when their skillset has moved up many levels.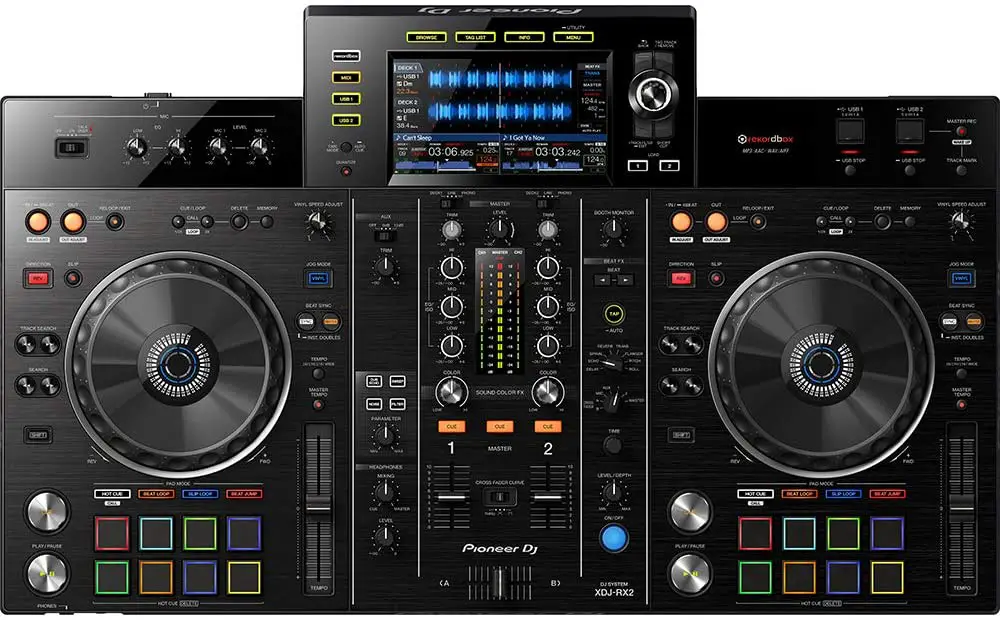 The XDJ-RX2 is a mixture of pro features and modern user interface with a built in touch screen to browse and manipulate your music. It boats very precise and sensitive controls akin to any you'll find on Pioneer's range of DJ hardware. Plus it has every port and option available for coupling up extra hardware.
All of this means your child will have every bell and whistle they could need as their skills progress.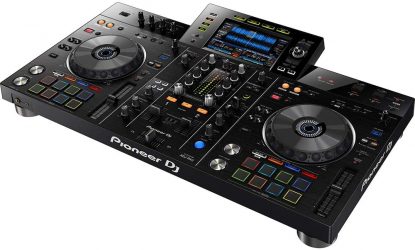 You may be wondering if this contradicts my "don't overwhelm" mantra but there's good reason I include this specific DJ controller for kids.
This DJ controller is primarily a 2 deck controller with simple mixer and touch screen browser. The mixer itself isn't too daunting to scare would be Carl Cox's off. With just a few intuitive controls.
Most of the complexity here is focussed on the decks rather than the mixer. With some wonderfully creative controls all around the main jog wheels. This is where I believe new DJs should concentrate their passion the most in order to be a modern DJ whizzkid. It's all about grabbing samples, cutting and mixing them, looping and splicing to create new sounds. All of which are key deck controls.
So keeping the complexity of the mixer to a minimum and the deck controls ramped up to the max, I believe your child will get the most out of DJing.
With such a pro level controller they won't need to keep upgrading either. It's a pricey piece of DJ hardware but there are obvious benefits to investing in your child's passion.
Here's the official introduction video to the XDJ-RX2 and you'll find the latest prices on Amazon here.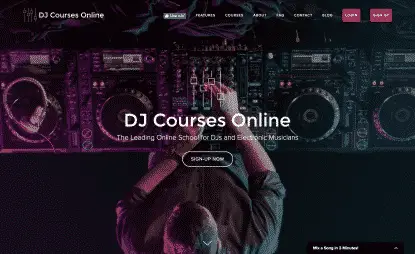 Buying the right gear to suit your child is just one small part of your kid's adventure in to DJing. Learning how to DJ is a hugely important part.
I've seen plenty of parents just buy DJ gear and let them have fun with it without any form of training or teaching. While you can of course do this and no doubt your child will want to just have fun and try a few mixes, I would definitely recommend finding them a course that suits their learning style and the equipment you've bought them.
This won't be a course like the kind they teach in school, thankfully every course I've ever reviewed online has been friendly, hands on and highly interactive with plenty to copy, try, experiment with and learn quickly.
The great thing is they come in multiple videos you can stream, easily re-watchable and for every level of DJ too. From beginner to expert.


My preferred DJ courses are those created by DJCoursesOnline.com for one simple reason. You can access to all of their courses for one simple flat rate monthly fee. Think of it like Netflix for DJs. Your child can log on and learn more as their skills progress.
They can rewatch videos that contained tips and tricks that suited them the best. They can also watch videos tailored to the equipment they may have or their preferred style of DJ-ing too.
This makes your child much more likely to stick with it and get the most out of learning to DJ. You can cancel the subscription at any time as there's no minimum contract.
Check out DJ Courses Online for more information about all the video courses available for one simple subscription.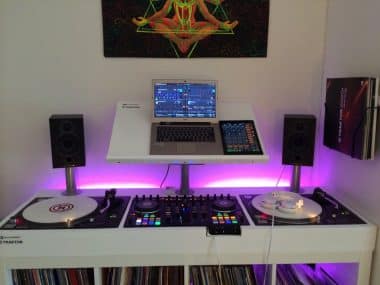 While this may seem a no brainer to some, it can actually play a vital role in your child's DJing development.
I bet your first thought is that it has to go in their bedroom right? Tucked away out of sight, keeping the noise upstairs and out of the way.
While it's entirely possible this is the best place for it in your house I would take a moment to consider whether they will get the most out of the DJ gear if it's hidden away up there.
Is your child the kind that spends lots of time in their bedroom?
Does your child prefer to be downstairs with the family?
Is there a den or study that could work as their "studio", somewhere more sociable than their bedroom?
Would your child feel more comfortable learning to DJ privately or would a regular space to have a crowd be more beneficial?
I recommend thinking about all of these questions to see which suits you, your home and your child. As there's little point buying all this DJ equipment for a child only to find they just don't play with it. A lot of it can be down to environment.
A case in point, when I was a teenager and got in to DJ-ing I set up all my gear in my bedroom, but it was never much fun just DJing alone, hidden away in my bedroom. I also didn't have a tall enough table to be able to stand up and DJ properly. At every opportunity I had I would drag my turntables and mixer downstairs to the dining room table and DJ there. I could stand up properly, play music to my friends and sisters (lucky them!) and feel much more sociable as I did.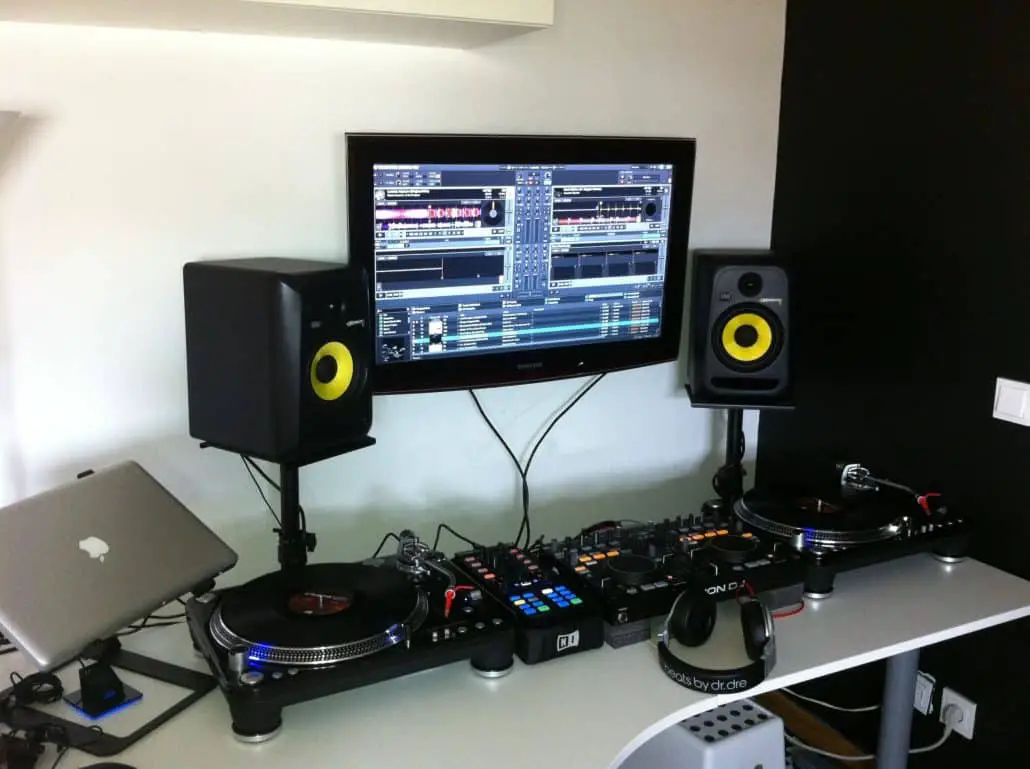 While the dining room table undoubtedly isn't the right place for your child's DJ gear there may be a better location than just expecting them to keep it in their bedroom. Have a think about where might work best for your child. Nurturing their creativity is more important than keeping the house tidy and the noise levels down.
I just had to include a chapter on this as I have very strong memories of my parents constantly telling me to turn the bass down. I did everything I could to mitigate sound pollution emanating from my bedroom studio. I learned quite a few tricks that can help reduce the annoyance on other family members.
Use a sub-woofer instead of all-round speaker setups.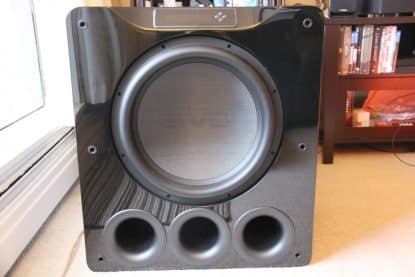 My first home studio setup had two huge speakers complete with punchy bass speakers in them. I loved them to bits but my parents sure didn't. The kick they would give on every beat could be heard through the entire house. it actually wasn't the fault of the music but moreover the fact that these speakers lacked low level bass response so they made up for it in higher frequency bass volume. They packed a fun kick when DJing but didn't win me any favours with family members.
The solution was to have two smaller high frequency speakers as monitors left and right of my decks with a well placed sub woofer providing the bass. These give much less of a kick but cover the full range of low frequencies so they actually offer better bass response. They are also designed to "transmit" the bass sound around your local environment so they cause less of a localised "thud".
The best thing is your ears can't locate where bass sounds are coming from. Our brains just don't really care where the sub-woofer is placed, we hear the bass all around us. So raise the sub woofer speaker off the ground and place it in the corner of a room preferably near an outside wall. This will reduce any vibrations travelling through walls and ceilings.
DJ just with headphones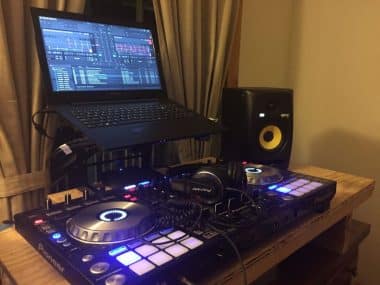 Most modern DJ controllers can mix the audio between the monitor output and the channel you're trying to preview. This control means you can easily beat match the incoming track while wearing both headphones on your ears. Switching the mix of the sounds to just the monitor output as you begin your transition. Fading in the incoming track will bring it in to your monitor output.
This method means you don't actually need external speakers at all. You can mix entirely just wearing headphones! Something that's bound to please any parent, brother or sister trying to live peacefully in the same house.
Of course this isn't always the solution as your child may actually want to learn to DJ without headphones. Something that's entirely possible and explored in our article on the subject.
It's good to know as a parent that this option is possible. So check the controller you purchase has a headphone preview mix control, not just a volume control. It can solve this problem immediately.
Hang speakers from the ceiling
If you do have a pair of monitor speakers for your kid's DJ setup I highly recommend that they don't touch the floor in any way.Most of the sound is likely to be transmitted through speaker stands or the speakers themselves, straight in to floor boards, drywall and bricks. This can transmit the sound so easily around your house and causes much of the grief when your kid just wants to DJ.
I actually hung my speakers from chains that looped through hooks in the ceiling of my bedroom. This worked a treat at removing any sound transmission and also angled the speakers directly at my ears, so I could run them at a lower volume to.
It also looked super cool with my aggressive looking monitor speakers hanging from the corners of my room.
Where the corners of the speakers may touch the wall you can add rubber pads that both protect the wall from sharp corners and dull any possible transmission of sound at those points.
It's definitely worth considering if you want to impress your child with a killer looking DJ studio setup and want to reduce the number of headaches you get from their 4 hour marathon drum and bass mixes!
While the controller is the most important part of the DJ setup for your kid, there are some other items you'll want to consider purchasing. Here's a few that are worth looking at if you're serious about helping your child learn to DJ.
DJ stand
I've always DJ-ed standing up. Sitting down to do it just feels weird and if they're going to DJ live some day they'll be standing up too. So a deck stand or DJ stand is a great investment to help them get used to this properly. It'll also help protect their back as you can adjust the setup to help them stand up straight.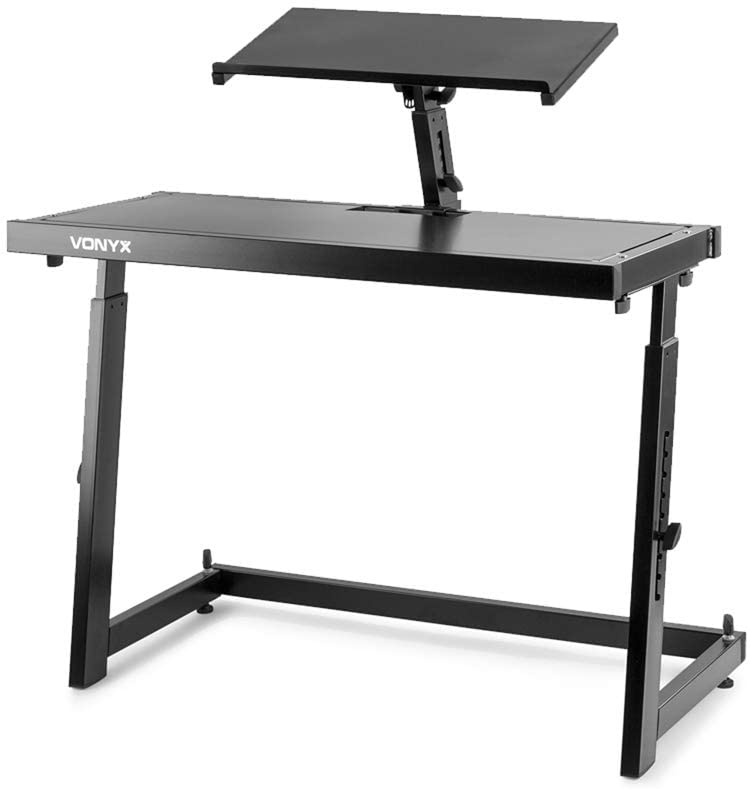 It's a great solution for keeping their DJ gear in one place and looking cool too. Great for any study or bedroom setup.
Check out the VONYX Mobile DJ Deck Stand on Amazon as a great example of an adjustable DJ stand suitable for kids.
DJ headphones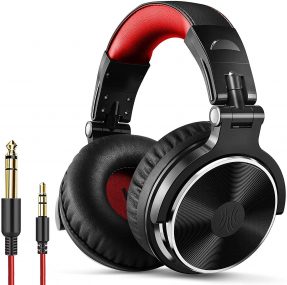 You'll most likely want to invest in a good pair of over-the-ear headphones for your child, as most DJs still use headphones. There's a lot of cheap and easily breakable plastic headphones out these days but there's 2 good reasons not to buy those.
Firstly DJ headphones are often stretched just over one ear, often moved around to quickly beat match and preview the incoming track, pull off, put back on, repeatedly throughout an entire mix. So they need to be durable and withstand all this yanking around. Get a good quality pair of headphones that are robust enough to handle this.
Audio quality is paramount especially when trying to learn to beat match. Hearing every clear crisp sound is important to beat match perfectly and know just how your mix sounds. Cheap headphones certainly won't give your child this experience and they'll lose out on hearing just how well their transition is going.
Invest in good DJ headphones for children above all else. They are your kid's first and closest connection to the music they play.
If you're on a budget then opt for something like these OneOdio wired headphones with reversible speakers. For the best in the business I always go for the Seinnheiser HD 25 with incredible audio quality and comfort.
Disco lights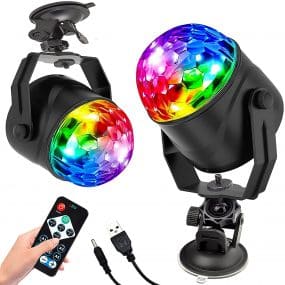 What child can resits flashing lights and a disco atmosphere. Even if they're just DJing in their bedroom. I used to love turning all the lights off and switching on my cheap disco lights just to add to the atmosphere.
If anything this has become even more popular with te advent of live streaming on platforms like TikTok, Facebook Live and Instagram Live.
Small LED disco lights are cheap and fun these days with plenty available online. You don't need much either but they do make a great birthday or christmas present, adding that extra little party feeling while they learn to DJ.
Never underestimate what a difference this can make too. DJ-ing is always more fun in a dimly lit, rainbow filled club than it is in the brightly lit bedroom.
Check out his cheap LED disco light option on Amazon.
I hope this article has given you plenty of recommendations and suggestions to help get the best DJ equipment for your child. We have plenty more articles to improve your child's DJ skills too, here's a few to get them started.