Starting a YouTube DJing Channel
Getting your name out there as a DJ is one of the most important things anyone can do, so I always recommend exploring every avenue possible – including platforms like YouTube.
YouTube is a great platform to share your DJ skills with a huge audience of people and create more of a name for yourself.
When you're on the local gigging circuit, the number of people you can reach are fairly slim, but on YouTube, anyone in the world could potentially come across your DJ sets, your tutorials and reviews.
If you've been thinking about broadening your horizons and uploading some of your mixes – or hosting live streams – on YouTube, I'm going to tell you everything you need to know.
From what equipment you need, to my tips on what makes an awesome YouTube mix, I'll cover it all to get you started on your DJing on the YouTube journey.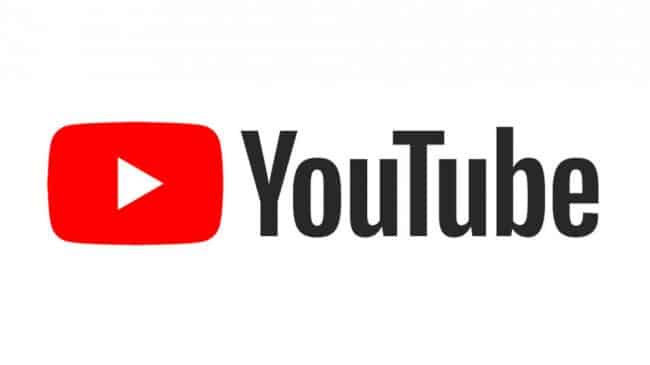 There are a few different choices when it comes to uploading and livestreaming DJ sets – you have Twitch, Instagram, Facebook or Twitter, which all have livestreaming functionality.
You also have specific DJ services, like Mixcloud where you can livestream your shows.
However, if you do choose to use any of these services, you'll quickly realise that their live streaming services aren't the best for DJs.
Facebook and Instagram are the worst in my opinion as they really come down hard on streaming copyrighted material, so it's hard to get your live-streaming set through to the end without getting taken down.
Mixcloud is probably one of the better platforms that I've tried, but the issue is that it doesn't save a video recording of your set, and you won't be able to reach as many people as you could on social media platforms.
If you want to livestream your performances and keep a stream up afterwards for people to tune into, there's only really one option that I think is worth it – YouTube.
The first step to DJing on YouTube is to get your account set up and sorted. Make sure your account name is your full name or stage name.
What if my name is taken?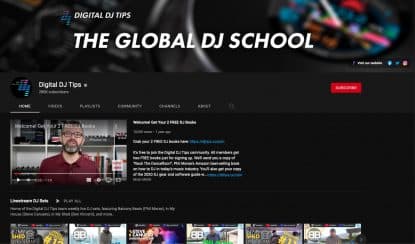 Sometimes your preferred name may already be taken, but try to get as close as you can as this will make it easier for your fans to find your account.
It's possible they may search for your name on YouTube if they know you have a channel.
Start with a fresh new YouTube channel
Create a channel description, and make sure any old videos (if you have them) have been deleted from your account. I always recommend having a fresh account so that the content, theme and focus of the channel is just about your DJing. If you've ever made channels for other videos, maybe travel videos or clips you took to show your friends, don't post your DJ mixes there.
Mean business
You want to make sure you appear as a professional and credible DJ, so treat your YouTube channel as a business from the very beginning. Have a goal for your channel so that you can focus on achieving that goal.
I've seen far too many YouTube channels that start out well but have no clear direction so soon end up abandoned. Don't be one of them!
What will you do on your YouTube channel?
So what's your angle? Do you just want to share your latest DJ mixes? Do you want to promote gigs you're going to soon? Maybe you goals are higher than that. Maybe you want to reach 50,000 subscribers in a year and want to review DJ gear. Maybe you're looking to create a DJ school and want to present tutorials on YouTube.
Whatever your passion is, set some timelines for achieving this and work backwards.
How long will it take to achieve the results you want?
How often will you need to produce content to make it happen?
Do you have the time and the equipment to do it?
I recommend having answers to all these questions before you get started so that you know exactly what it is you need to do to make it possible.
Check your competition
Its also wise to check out the competition too and see how long they've been producing content, how many followers they have and what their most popular videos are. While I recommend not copying other YouTube channels it will at least give you an idea of what people are searching for and what is most useful to DJ lovers on YouTube.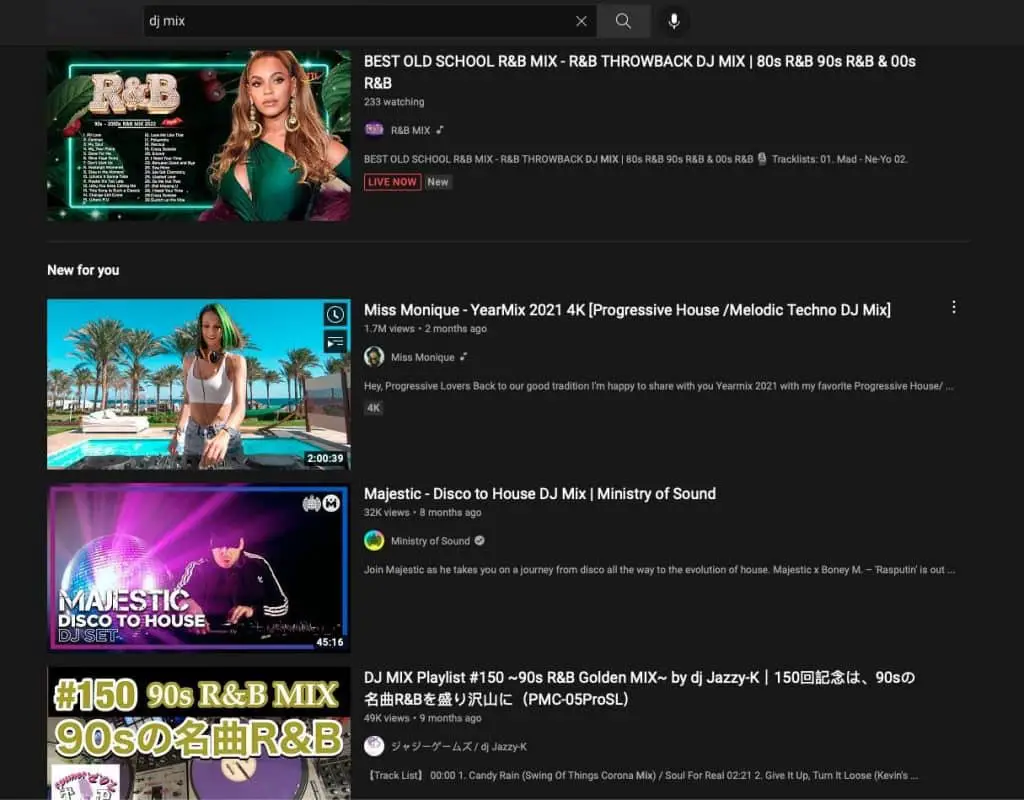 You should always look to do something unique but keep in mind that there are always popular subjects, general requests and requirements aspiring DJs and dance music fans have when searching on YouTube. Your job is to service that search intent and give your visitors what they need.
So by all means be unique but keep a keen eye on what content is working best for you so you can expand upon those subjects to get more visitors.
The YouTube Algorithm
Understanding YouTubes search ranking algorithms is one of the most technical parts of DJing on YouTube. You'll spend plenty of time pouring over the analytics YouTube provides to see many useful metrics for creating more content. Here's a few of the most useful.
Patterns in most popular content. i.e What topics are your most popular

Demographics of viewers so you can make content that most appeals to them

How long do people watch your videos? Are they too long, too short?
What launch times had the most impact? Use your social channels to help boost initial views
Which videos get the most comments and likes? What is it about them that made people compelled to comment.
Alongside your normal DJing gear like decks, mixers or controllers, there are a few particular pieces of equipment that will make your life DJing on YouTube much easier. Some will help you produce great content while others are crucial to making it all possible.
Here's the equipment every DJ should have before starting their first YouTube stream.
There are a few options for live-streaming on YouTube, some DJs like to use their smart phones as it's one of the easiest things to get started with. Its not the most professional of setups but it is at least an option worth considering when you're first starting out.
Can I DJ on YouTube with a smartphone?
Using your smartphone to livestream your DJ sets is handy because it's super powerful for its size and isn't taking up resources on your DJ laptop.
You're probably going to be using your laptop for creating and mixing your DJ set, so you might not want to have to use that for recording the stream too. More powerful laptops like the latest MacBook Pro can handle this but for your cheap Windows laptops you're going to struggle. Try and keep things professional by having the right equipment for the job.
Most modern smartphones phones have a great camera and can be easily linked to YouTube to get yourself live. You should also be able to plug in the audio from your DJ equipment to keep the sound quality as perfect as possible. You'll need an audio input adapter to get the audio from your DJ mixer or controller in to your live streaming phone.
If you really want to do this then check out this video. Its not my preferred method but can at least be done.
Smartphone streaming drawbacks
One major tip is DO NOT use your phone's microphone to pick up your sounds. The microphones are not good enough to pick up music correctly – and no one wants to listen to bad quality audio when watching a DJ set. It will sound very unproffesional and thats not the look you're going for.
The ideal setup – A live streaming computer.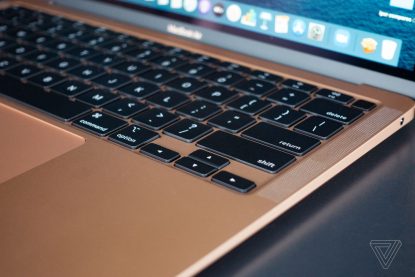 I highly recommend you have a dedicated computer just for live streaming. This can handle multiple audio streams and camera streams allowing you to create a much more professional broadcast of your YouTube DJ livestreams.
You can use openly available software to switch between multiple camera feeds to make your live stream more compelling, adding effects, banners and news tickers if you like to help promote your brand and engage with viewers.
Gaming streamers have been doing this for years but its now becoming popular with DJs too.
You can purchase a mid range laptop or PC to handle this task as they generally don't require a lot of power. Its highly recommend you do not run your DJing software on the same computer as handling multiple cameras, audio inputs, live stream channels and DJing software can often be a bit too much for the average computer.
Don't ruin your live stream with jittering video feeds and the possibility of your DJ music becoming choppy and stuttering because your computer can't keep up.
Using a separate computer also allows for the option of someone else to produce your DJ sets on YouTube. Changing camera feeds and handling live chats and display outputs for you while you stick to DJing.
We'll cover more about the software required to live stream on YouTube in a later chapter.
As mentioned above if you want to turn DJing on YouTube from a hobby into something more serious, you could step things up by using a computer to livestream rather than relying on your phone or tablet.
You could either use the same computer you're DJing from or have a separate one so you can keep an eye on both your stream and software at the same time. This is not recommended as it can overload your computer with too many tasks at one, leading to a jittery, stuttering mess.
A dedicated computer for your live stream is what the professionals do. Think like a professional and your DJ YouTube channel will beat all the amateurs from day one.
Getting started with a live stream computer
Live-streaming can be a pretty intensive thing, so you need a powerful device, especially if you're pushing your live stream out to multiple platforms like YouTube, Twitch and Mixcloud.
You'll want a computer with plenty of USB ports as you'll eventually want multiple cameras and potentially an audio adapter to get the audio from your DJ hardware into the computer.
If you plan on live streaming from multiple locations it makes sense to use a laptop as your dedicated livestream computer. Since its easy to take anywhere and setup quickly. They generally are slower and more expensive than desktop computers so if you're on a budget and only want to DJ from your home studio you can opt for a desktop PC instead.
You can pick these up pretty cheaply on eBay as you don't need a super powerful machine, just one that isn't doing any other job than handling your livestream production. You don't need lots of storage capacity and even memory capacity isn't that critical.
Your ideal YouTube DJ setup could look like this
Here's what you may end up having as your live stream computer so keep this in mind when purchasing or re-assigning a computer for this job.
1 Audio interface from your DJ hardware
1 USB camera for overhead view of decks
1 USB camera for wide angle side shot of you DJing
1 HDMI to USB feed from a high quality camera for talking direct to camera (Great for interaction with your viewers)
OSB live stream software broadcasting to between 1 and 3 platforms simultaneously
Multiple data streams coming in to display likes, comments, donations, song requests, etc
Multiple presentation slides that frame your video with information about your social channels, total followers, latest news, etc.
So as you can see there could potentially be a lot going on for your live streaming computer. Its easy to see why its much better to have a dedicated computer just to live stream your DJ sets on YouTube.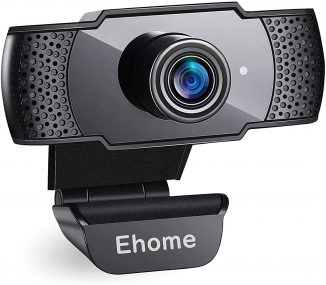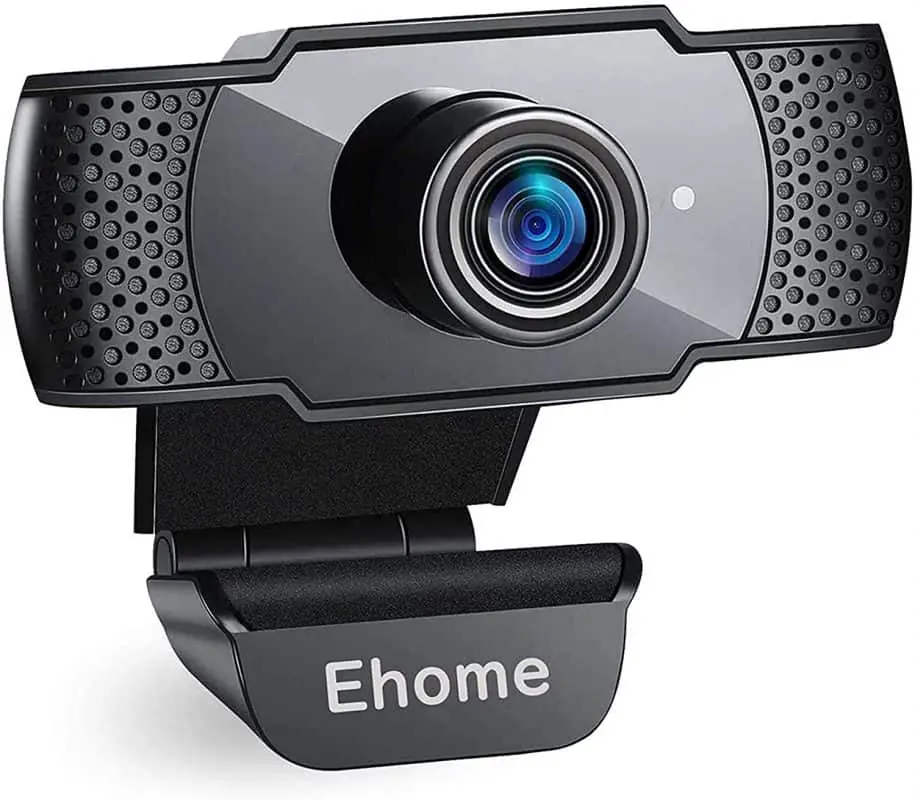 As I said, the camera on your phone should work fine for livestreaming. If you're using a modern laptop, the built-in webcam should be able to do the job for you – but don't expect it to deliver the best video quality possible.
It's a lot harder to set up the angles on a built-in webcam, and the quality is normally not as good as you'd want it to be – after all, you want your watchers to be able to see everything you're doing as clearly as possible!
If you are using a laptop or computer, you can pick up a webcam for a decent price which will give you the video quality you're after.
Logitech would normally be my go-to when it comes to webcams, but you can also get decent ones from Microsoft or Razer. For a durable and long-lasting webcam, you should look at paying around £100 for this piece of gear.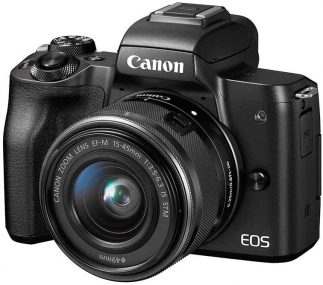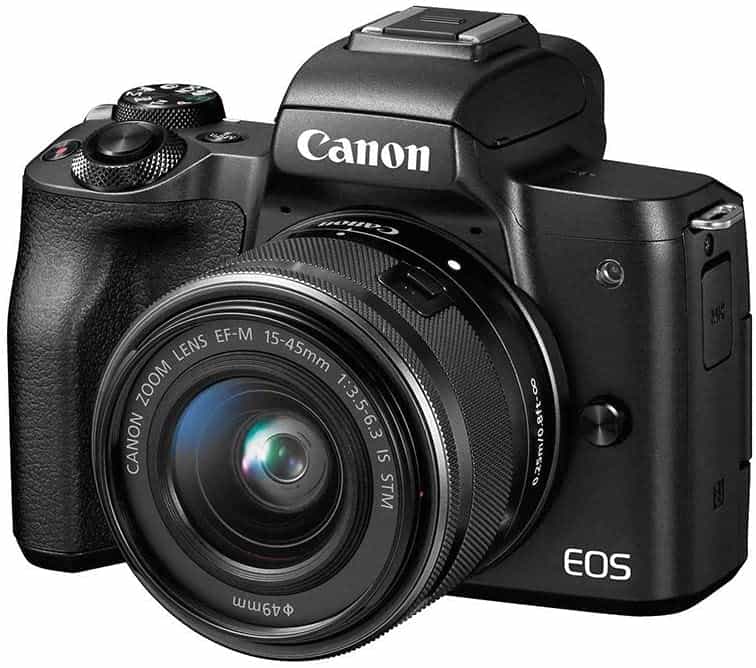 You could also use a camera that you have already – like a DSLR, video camera or GoPro.
If you want to invest in a good camera for DJing on YouTube, we'd recommend models by Sony, Canon or Nikon. They come in a range of different price points, so no matter what your budget is, you can get a great piece of equipment.
When it comes to plugging in your camera for your stream, make sure it can output "clean HDMI". If your camera doesn't have this you might not be able to plug it directly into your computer for live video. Instead, you have to take their HDMI output and convert it to a compatible format that your computer is able to read.
Clean HDMI is the ideal option for live video as the signal will hold less information and give you a much more professional video quality.
If your audio isn't very good, how can you expect any listeners to make it through your entire set?
Audio is probably one of the most important parts of livestreaming, but also one of the parts that people frequently get wrong.
If you're streaming straight from the computer you're running your DJ software off, things are a little easier as you don't need any extra audio equipment. You just need to make sure that the sounds you're making on your DJ app are made available to your streaming platform.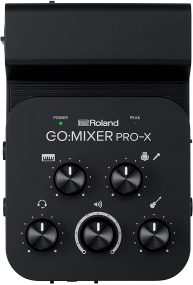 If you're using a phone or tablet, it's a little bit more tricky. Most DJs who use these devices will rely on an audio interface to take the audio output from their DJ system and convert it into digital audio that can be used by a streaming platform.
You can normally basic models online for around £30-£50 but if you want one of the more professional interfaces, you'll be looking at spending around £100 online. Good models to look out for include iRig Stream, Go:Mixer Pro or the EvermixBox4.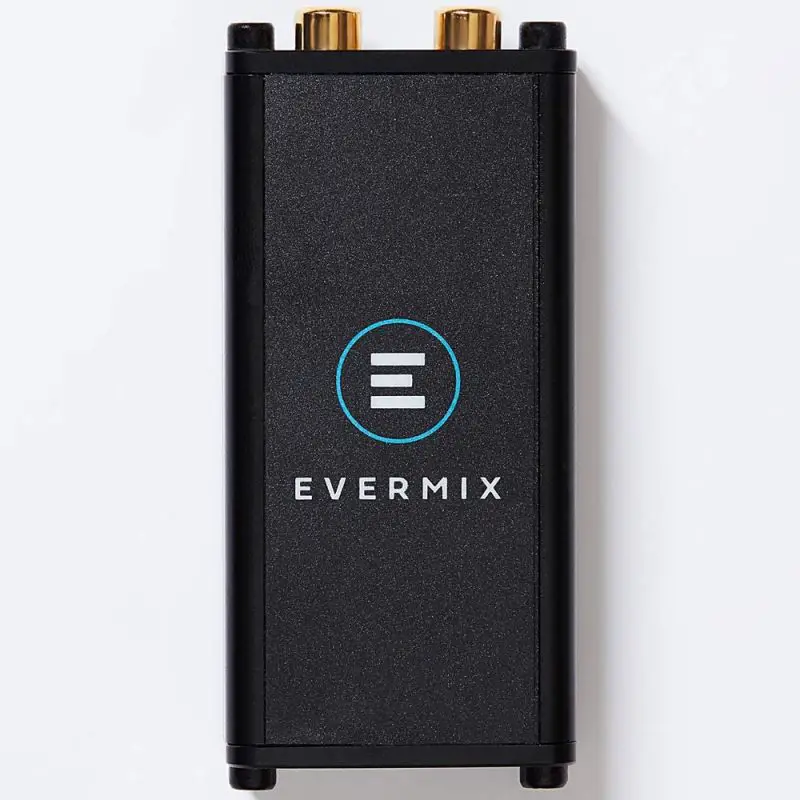 If you only have one audio output on your DJ gear, you'll need to go for an interface with a "thru". With these, you can plug your speakers in and listen to your set as you're streaming to make sure everything sounds as it should.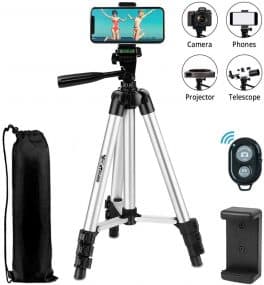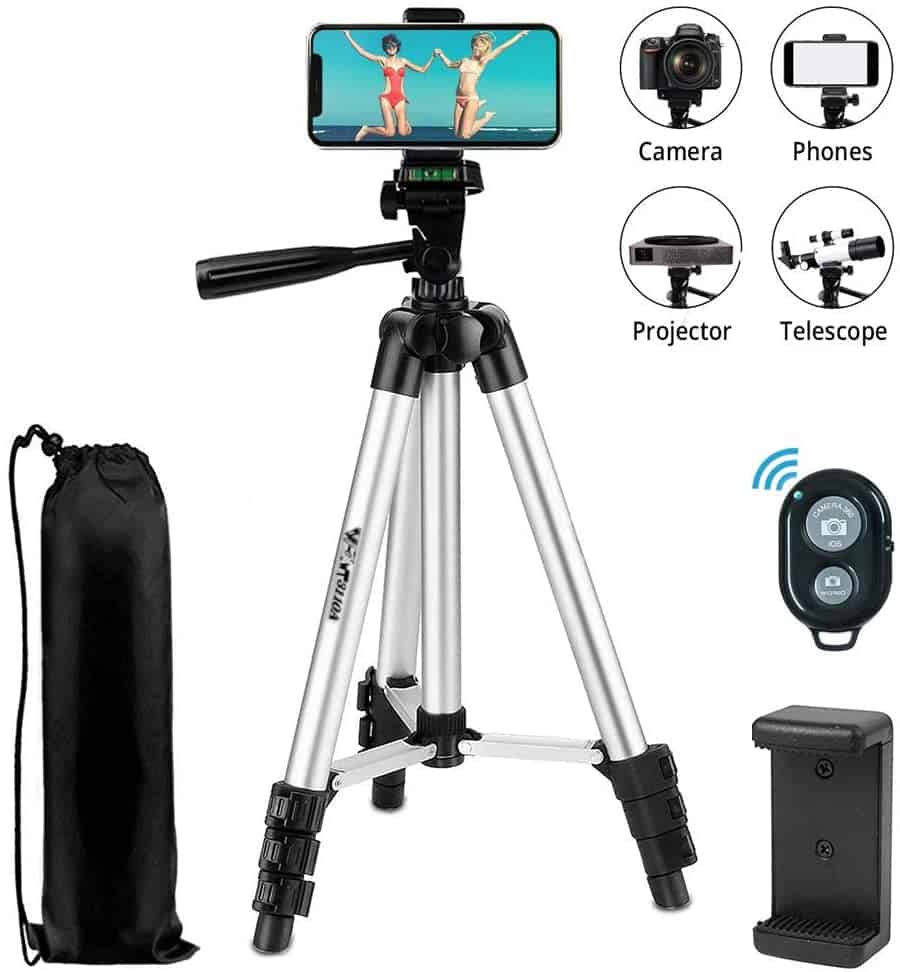 Apart from the essential pieces of equipment that everyone will need if they're thinking of DJing on YouTube, there are also a few extra accessories that you should also consider purchasing.
The first thing is a tripod or some kind of makeshift stand that you can put your recording device on. This will help you get the best angle possible and make your audience feel like they're right in the room with you.
You can use some books to cobble together something that will do the job, but I'd recommend getting something a little more professional that you can easily set up and move around.
Many DJs will also get a microphone so they can speak to the audience during the set. Your device's microphone may not be good enough so you might want to consider getting a USB mic, or another type of microphone that you can plug into your DJ gear.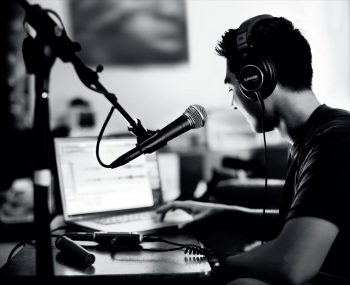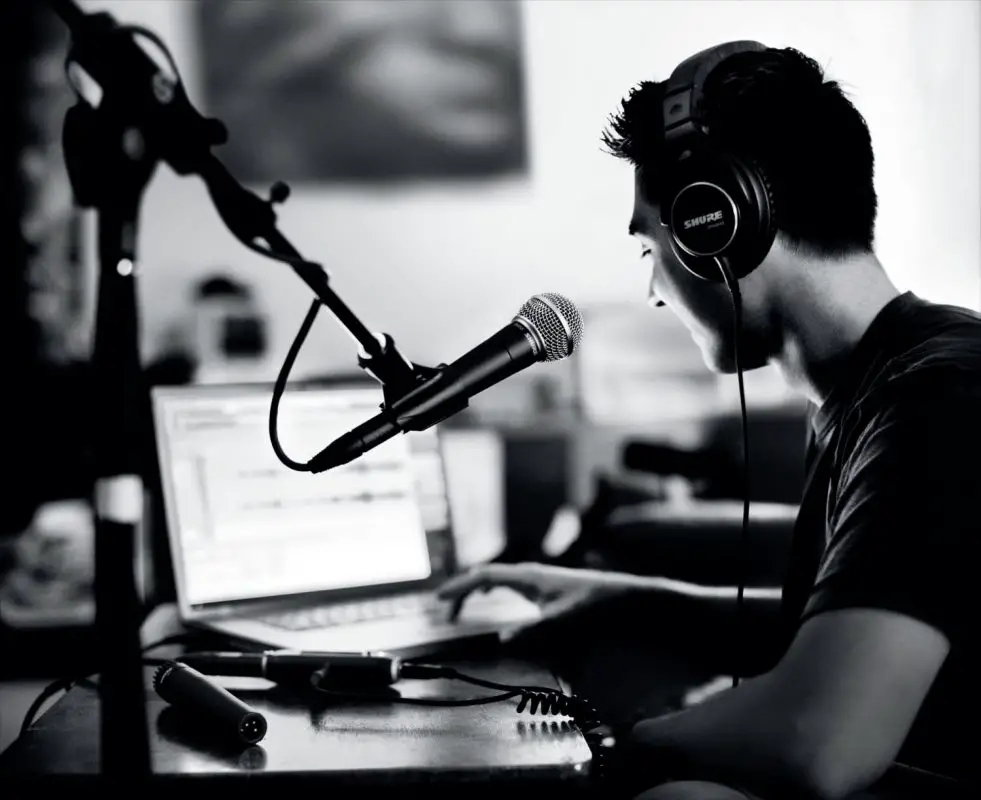 Whatever mic you end up going for, I always say to look out for one that's directional or "cardioid pattern" (ie not omnidirectional). These are the best types of mic for DJs as they prioritise your voice over all the background noise, resulting in a much clearer and crisp sound.
If you want to transport your audience to a club, you could set the scene of your stream with some club lighting or dimmer lights to make things more exciting. Whatever you do, make sure to keep your face and DJ gear well-lit so people can see what you're doing.
This is one of our favourite videos on the subject of lighting your live streams. With great examples and advice on the best lighting positions and colours to make your DJ live streams pop!
For the best setup you'll want something robust and reliable so your YouTube DJ livestream is always working. This software will take your video and audio, then process it into the correct format for the platform you're streaming on.
As mentioned before I highly recommend having a dedicated live-stream computer as this will give you the most flexibility and professionalism that can really help your DJ live streams grow.
There is one app above all others that rules the live streaming world, its also free too, so lets check it out.
OBS Studio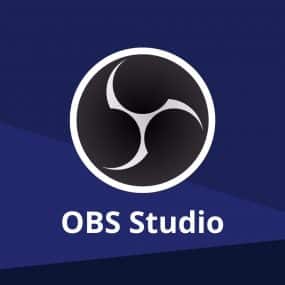 OBS Studio is the most popular DJ live streaming software used by gamers, DJs, traders and many other types of streamers. Its real name is Open Broadcaster Software to give it its full title and is free to download and use.
Its Open Source software which means its free for you to download and use. Its updated by a community of developers and has an incredible number of features many professional streamers use on a daily basis. Form our tests its actually one of the most robust and reliable pieces of live streaming software for DJs too.
This video is a great place to start to understand what OBS is and how it works.
I recommend watching this video on using green screens with your OBS setup to really add to your DJ live stream experience.
Download OBS
There's really no reason not to jump in and get this software as its completely free. You can get it set up in no time and start testing out your DJ live streams. Head to obsproject.com for all the information information on downloading and installing OBS for your DJ sets.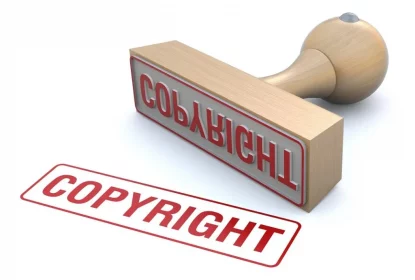 Dealing with copyright issues is one of the biggest issues facing DJs trying to get their sets online. A lot of people get scared with YouTube as they've historically had a 'three strikes out and you're out' policy.
However, it is fairly unusual to get these copyright strikes from livestreaming. The most likely thing is that YouTube will see that your livestream contains copyrighted material and 'flag' it.
In this scenario, YouTube recognises that you're using copyrighted material and takes one of the following steps:
Your set gets barred so no one can watch it
Your set gets barred only in certain areas
Your video stays up worldwide, but you're stopped from making any money from it
The action depends on what the owner of the copyright wants, you'll have no say over the outcome.
The best outcome is going to be number 3. You get to keep your work online and make a name for yourself, it's just unfortunate that you won't be able to make anything from the set.
But, is there a way to know for certain that if you upload copyrighted material it will definitely get outcome 3?
The only real way to test this is by uploading a recording of all the tracks you're using in your recording, then waiting and seeing what YouTube does.
Within a few minutes of your video processing, you'll see "Copyright claim" with a grey eye written by your video in YouTube Studio. If this happens, you're good to go and get to streaming without being blocked.
This video is a great watch on how to remove copyright claims on your Youtube channel.
If you see "Copyright claim" with a yellow or red eye and the words "partially blocked" or "blocked" it means there are some copyright issues you need to look into.
If the red or yellow-eye does come up, you can click on the copyright claim and see what individual tracks are the issue. I'd recommend just taking these songs out of your mix and trying again with a new tracklist.
Even if you've made all of these checks, it might be the case that after you've finished your stream, some tracks trigger a red dot.
If this happens, YouTube will give you the following options; mute the audio when certain songs are playing, cut out the songs completely, or replace the music with something else.
I would say that you should go with the second option, this is the safest way to get rid of the copyrighted music and not have to worry about your video getting blocked in certain countries.
If you're worried about receiving copyright claims on your channel and getting blocked, you could always set up a second channel where you upload your test videos before livestreaming on your main channel.
I'd recommend watching this video to understand more about how you can make sure your Live streams don't fall foul of YouTube's copyright rules.
DJing on YouTube isn't a new thing by any means, there are already plenty of DJs on YouTube who are making lots of money. There are some DJs who only do livestreams, but there are also others who do livestreams and other, more informational, content on their channels.
Here are just a few of the most popular YouTube DJs who I think you should check out if you're thinking about starting your own DJ channel.
DJEarworm. Famous for his mashups, DJ Earworm has almost 1 million subscribers on YouTube where he shares his best mixes and mashups that all rack up hundreds and thousands of views.
Laidback Luke. Luke is Dutch-Filipinio DJ and music producer who has a pretty impressive career history. On his channel, he uploads videos of his sets and behind-the-scene insights into the life of a full-time DJ.
Digital DJ Tips. With over 258K subscribers, this is one of the biggest educational DJ channels that also host livestreams. They do videos on beginner tips, top-rated gear reviews and the industry advice that all DJs should know, whether you're a total beginner or a professional.
https://www.youtube.com/watch?v=J–pZBS5p9I
Disc Jockey News. For all your DJing-related news, this is the go-to channel. Sharing all of the latest information and news that DJs across the world want to know about, this is definitely a channel to keep up with.
DJ Electric Samurai. This channel is a great example of how you can stick to a niche and become extremely successful. DJ Electric Samurai mainly uploads psychedelic mixes that are around an hour long and feature eye-catching visuals that keep the listeners interested. Whether you want to listen to his mixes in the background or let the imagery take you somewhere else, it's a great channel for inspiration.
DJ TLM TV. This channel is a mixture of informational livestreams and mixes. DJ TLM breaks down all of the skills that DJs could need to know, hosts live Q&As and shows you how a good mix is done.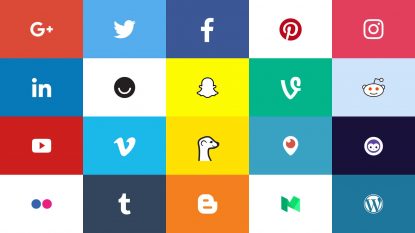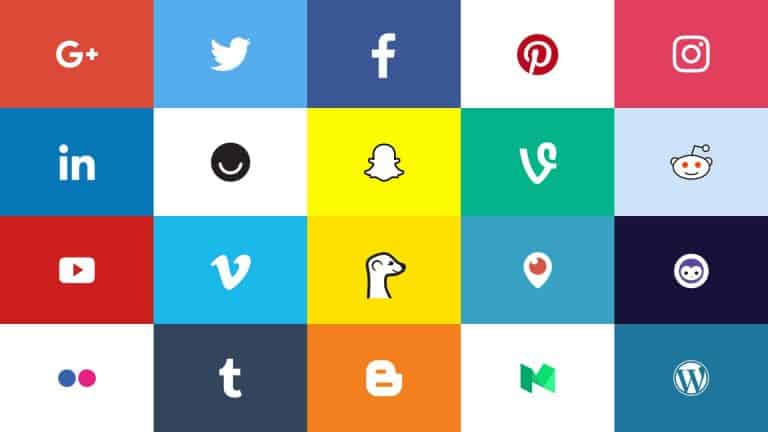 I've told you all about how to set yourself up for an amazing livestream, but even if you have all of the knowledge and skills to pull it off, you might struggle with the most important thing – actually getting people to tune in.
In a mobile gig, you don't have the luxury of walking into a club of people who will be listening to your music. You have to drum up an audience and get people to take time out of their day to listen to your set. This can be quite a challenge.
The first tip I have for people wanting to get into DJing on YouTube is to be very consistent with your streams. Try to pick a certain time, on the same day of the week, and use the same format and title for each stream so people can easily recognise you.
This will make people get into the habit of watching your set every week, and they'll know what to expect every time – which is good!
Promoting on social channels
Start by promoting your sets on Facebook or any other social media platforms that you have. You can also get your friends and family involved, they can help promote your sets and get an even larger audience to tune in.
It might be good to upload some videos of your previous performances before – if you have them – before jumping straight into livestreaming and promoting yourself.
People want to know what you're all about, so giving them a chance to get a taste of your work before tuning into the livestream is a great tactic.
When it comes to promotion, social media really is your best friend. If you don't already have separate accounts for your DJing work, you need to get on that right away!
Post regularly and try to promote your livestreams at every opportunity you have. You can even pay for sponsored posts that can get the word out even further.
Lastly, don't worry if you're not getting thousands of viewers straight away. Starting a gig DJing on YouTube can take time, but if you stick with it you'll naturally grow.
You should be DJing because you love it, not because you want to gain subscribers and make lots of money. So relax, have fun, keep making your amazing music, and the listeners will come.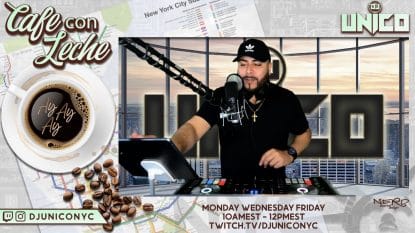 DJing on YouTube will probably be very different to what you're used to. It's completely different to a club atmosphere where you can see people dancing and hear them singing along.
When you're livestreaming it can feel like just you and the camera. You may be getting comments on your stream, but while you're in the zone it can be hard to pay attention to them.
It takes a bit of getting used to, but once you relax and get a feel for things, DJing on YouTube will start to feel like second nature.
Here are my biggest top tips that any YouTube DJ should follow.
Look at the camera
Don't forget to perform to your audience and get them engaged in what you're doing.
No one wants to look at someone who's just got their face down in their DJ gear the whole time so don't forget to look up and into the camera.
Have things moving around in the shot
The worst thing when you're livestreaming is to see the number of listeners dropping down, so try to keep their attention as much as you can throughout the stream. Have flashing lights, props and other interesting things that will keep people interested for longer.
Create an interesting setup
No one wants to see a DJ in an empty room, make it fun! Have an interesting set-up, put on a fun outfit and bring the excitement to wherever your listeners are.
Make sure your face and your equipment are well lit up
When people are at the club or an event, they don't really get the chance to watch what the DJ is doing. Now is the time to give them an inside look into what really goes on with the DJ gear. Make sure all your gear is well lit up so people can have a cheeky look at your deck skills, and remember to shine a bit of light on your face too – people want to see what you look like!
Start some conversations
The best thing about a livestream is the fact that you're live. A lot of the content that people watch on YouTube is pre-filmed, so this is a unique opportunity that you can play on. If you've got people tuning in and leaving comments, interact with them! Give shoutouts and fun comments that keep your listeners involved and interested.
Explain who you are and what you do
If you want people to join your streams every week, you need to give them a bit of information about you so they're interested. Tell them a little bit about yourself, what you're doing and why you're doing it. You can also tell people where to find the tracklist or promote some of your future streams and live performances – just remember to turn the sound down a bit when you want to talk to your audience.
Look like you're having fun, even if you're nervous
Everyone gets a bit nervous, especially doing something like a livestream which feels completely unnatural – but it's OK. Even if you're feeling a bit nervous, try not to let it show too much – no one wants to watch someone being awkward on their screen for an hour. Fake a smile, look like you're having a great time and remember that people want you to do well.
Make sure your internet speed is strong enough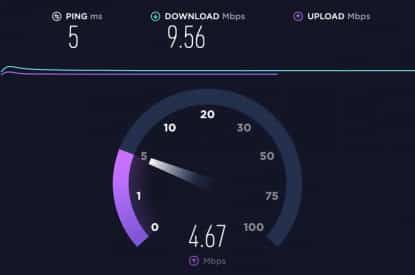 Live-streaming can be pretty power-intensive so you want to make sure you have the equipment, and the internet speed to keep things up and running.
Try to keep it simple to not overload your equipment, and do some tests before you go live.
Prepare your mix in advance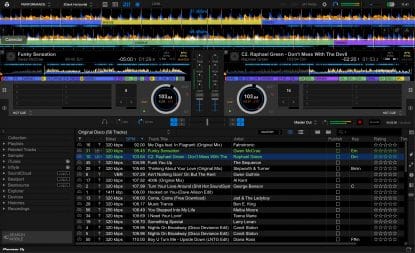 There's nothing wrong with planning and preparing your mix in advance of your stream. Decide how you want to mix songs and what loops you want to try out, you can even practice what you plan to say to your audience. This will also help if you get a bit nervous when you're live, being well-rehearsed will ensure that the whole thing runs smoothly.
Don't paste your tracklisting in the YouTube description
My final tip is to never paste the list of tracks you use in your set directly to your video's description. If you do this, you're far more likely to get your video flagged for copyright infringement. If you want to let your listeners know all about the songs that you used, pin it as a comment instead.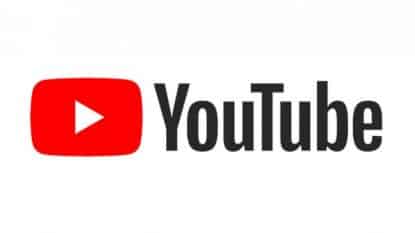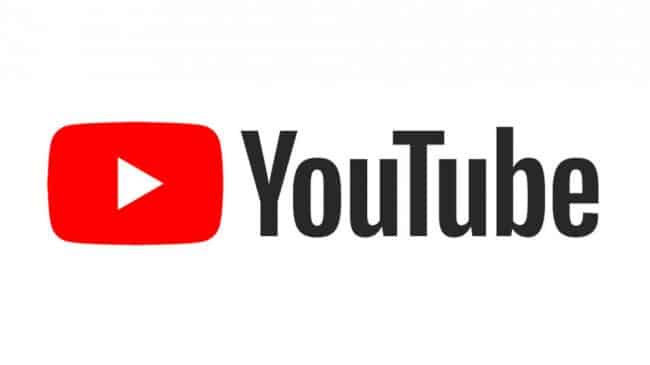 After reading all about DJing on YouTube, you might be wondering to yourself whether it's worth it. To that, I say, YES.
If you've got a passion for DJing, you'll want to be doing it wherever you can and doing it online could be the perfect new avenue to take. If you haven't got as many gigs booked as having some time to play around with, starting out on YouTube could be a great way to learn new skills and potentially create a whole new revenue stream for your DJing business.
Although many DJ streams will often get copyright claims that prevent DJs from getting monetised, it's a great way to promote yourself and get your name out there to a huge audience of people.
One of the best things about DJing on YouTube is that you can get started so easily. If you already have the DJ gear to start creating some amazing tunes, all you need to stream it is your phone. It couldn't be easier.
So whether you're just starting out with DJing, or you're looking for a new place to unleash your creativity, I think YouTube could be the perfect platform to explore.
To summarise, I've taken you through everything you need to know about getting started on YouTube, all the best DJ equipment that I think you should get, and some of my top tips for DJing on YouTube. This should be enough to get you started on your YouTube journey, but if you want some more help when it comes to DJing, you're in the right place!
Take a look at our other DJ guides that are meant to be the ultimate resource for anyone who wants to mix music for a living, I hope you find all the information you need to get started!
Here's one of our favourite videos that will give you even more tips on Live streaming your DJ sets
There are plenty of other ways to improve your DJ skills, check out these articles.