Which DJ software to use?
All the best DJ software apps available
We now live in a technical world. In every profession, there is a lot of software and applications to boost creativity and increase efficiency and DJing is no exception to this.
Gone are the days when DJing was all about turntables, mixers, CD booklets, and loads of USB sticks. DJ software has changed the business, and if you want to stay on top of your game, you need to understand the new tools available and make the most of them.
This article will cover all the top DJ software available right now. Whether you are new to the art of DJing or a seasoned expert looking to try something new, we have you covered.
We have highlighted the history, key features, and the pros and cons of each tool to help you make the best decision.
Now, let's dive in.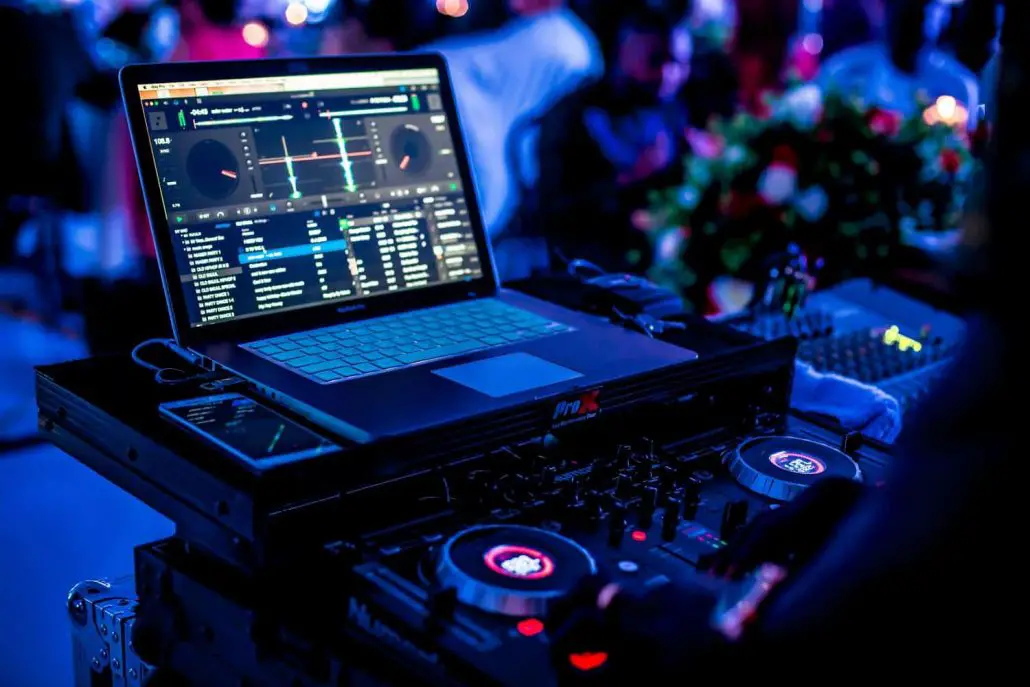 Serato DJ is one of the top software platforms currently available and favoured by many DJs especially in the Hip-Hop, Dancehall and scratch DJ scenes. The software is best known for its use of combining traditional vinyl turntables with digital audio music. Allowing DJs the best of both worlds. While this isn't a feature exclusive to Serato it is one that they've prided themselves on for years and are arguably the best.
Serato was a trailblazer as one of the first DJ software on the market, it has now been around for over a decade. The application works well with many DJ controllers with little to no effort thanks to the plug-and-play compatibility. You'll find a wide range of controllers with Serato compatibility and many others that can connect via midi mappings available online.
Thanks to its longevity and quality build team it's a highly reliable and low latency DJ software package with all the elements of a top DJ app; four-deck mixing, effects, analysis tools, sync, and sampling capabilities to name but a few of its best features.
Although the package is losing its initial popularity to some newer software on the market, many world famous DJs still stake their craft on it. If you are a newcomer to DJing and if you want something you can easily make your own, then Serato is ideal for you.
Serato's Key Features
The user interface is sleek and unambiguous. It displays the BPM of current tracks, the time remaining, and also the time elapsed.
It allows for multiple uses of audio effects in what is known as chaining. This lets you bundle several effects into a single unit creating entirely new sounds
It offers a plug and play support for numerous controllers. You'll see "Serato Compatible" on many controllers these days.
With just a mouse click or touch of the controller, you can easily create hot cues and loops.
You can manually manipulate the BPM to get the right tempo.
The built-in key detection and adjust feature displays current track keys in useful colour codes.
It now has several free extension packs.
Serato's Pros
You can try it for free to learn the ropes before upgrading to the full package.
It offers top-notch quality audio effects like no other.
You can readily tap into the iTunes library to pull up music tracks.
You can create personal playlists easily.
It is frequently updated, does not crash easily, and is reliable under almost any condition.
The software can be used alone but can also be seamlessly integrated with other devices.
Serato's Cons
The software only works best with Serato-approved hardware.
It has a lesser number of samples compared to other DJ applications.
Traktor Pro is another top-rated DJ software that is much talked about within the DJing community. It offers an all-in-one digital DJ package for newbies and pros alike.
The package has been around for over 10 years and many top DJs regard it as their software of choice for the best performance. Traktor is frequently upgraded with each upgrade offering a better experience than the previous one.
It's currently at Version 3, you can dowload Version 2 (legally!) for free.
You can use it in sync with other hardware, thereby giving a mix of the classical and the modern DJing experience. Its quality effects, key analysis algorithm, and solid beats make it the pinnacle of modern DJ software.
The software has a user-friendly interface making it easy to navigate and customise to get it just how you want it.
Traktor's Key Features
It's available for Mac and PC. Great for working on your desktop or iPad.
The mixer is top-notch. All its components are in the right places: between the deck are the crossfader, channel faders, and EQs, while at the adjacent end you will find the filter, keylock, gain, pan, and cue.
It comes with four different types of deck: sample, remix, loop, and stem format. You can configure these to give a four-deck arrangement: the standard A & B set up with an additional C & D pattern.
A simple and reactive browser layout makes it easy for you to create playlists, organise folders, and search for tracks that are elsewhere on your system.
The innovative Stem format offers commercial releases broken down into four excellent stems. This can be played back or separately manipulated to give the best experience.
It supports various file formats of music, from the traditional mp3 to WAV and FLAC formats.
Traktor's Pros
It is free and the enhanced version is priced competitively.
You can use it as a standalone system without any hardware.
It is ideal for both beginners and seasoned professionals with a user-friendly interface.
Traktor offers both flexibility and stability over a wide range of use.
The looping features are excellent and can withstand any situation.
The software is compatible with hardware from other manufacturers.
Traktor's Cons
As it has so many features, it will likely take some time for you to understand the software well enough to fully use it to its maximum potential.
The system can sometimes override your personal metadata with what it thinks is more suitable. This is annoying.
Pioneer DJ is the very first manufacturer of DJ hardware such as controllers and turntables. They have a very good reputation in the industry and their DJ software does not disappoint.
Pioneer DJ Rekordbox DJ needs little introduction. The software was first developed by French developers MixVibes for Pioneer DJ as a music library and track preparation tool.
What started as a piece of simple music prepping tool has been gradually upgraded over the years to become state-of-the-art DJ software. It was fully upgraded in 2015 to serve as a full DJ application.
It is currently available as robust and comprehensive DJ software with a wide range of capabilities. Its powerful features put it among the top DJ software available in the market.
Rekordbox is widely considered the daddy of DJ software as most clubs use Pioneer DJ equipment and Rekordbox, made by Pioneer, is primarily made for it.
Rekordbox Key features
Four-deck platform for track control.
High-quality library browser with tagging and track recommendation system, per track and master effects.
Automix helps you keep performance rehearsals to the barest minimum.
State of the art sync, control, and stage effects.
Beautiful interface with mini waveforms beneath each track allowing you to feel the track before playing it.
Light and dark mode feature to help you cope better whether you are performing at night or in broad daylight.
Unique lighting mode that automatically analyzes tracks and creates a lighting sequence according to their rhythm and tempo.
Rekordbox Pros
It comes with a 30-day free trial and other cost-effective paid versions too.
Great software for beginners with a wide range of options for pros too.
It can be expanded to include digital vinyl, video mixing, and lyric functionality.
Its track library can be easily shared with other tools in the Pioneer platform.
Its range of functionality and stability makes it ideal for karaoke and other live events.
Rekordbox Cons
It does not work well with controller hardware from other manufacturers.
If you are a mobile and event DJ or planning to become one, then DEX 3 was designed for you. Its video mixing and karaoke support give it more flexibility options than other similar software.
Its design is uncomplicated with four virtual decks, beat-sync and key matching capabilities. It also comes with lots of built-in effects, a filter, echo, reverb, pan, Flanger, and much more.
It is perfect for DJs who like to try out new things and test their mettle in various forms of the craft. It comes with live and auto-mixing to create superior sounds and vibes.
The custom sound engine by DEX 3 is one of the best in the industry.
DEX 3 Key Features
Very reactive interface that can display texts, images, and video overlay on the screen.
It offers a seamless mix of music videos as if they were just audios, with scratch, loop, and record options.
It's easy and hassle-free to mix tracks with its Beatgrid based automatic beat mixing and key detection.
The automatic grid-based BPM detection helps you to batch mix and fine-tune the tempo of your tracks.
It supports different MIDI controllers and has a digital vinyl setup.
It has special features for karaoke shows, singer lists, key detection and control.
The clean and multipurpose browser enables you to create playlists, search songs, and tap into your iTunes library.
It can mix music tracks in two or four-deck format, with other essential features such as auto-looping, key lock, auto-mixing, sync, and controller support.
DEX 3 Pros
It has a free version that is great to try it out and learn how to use it.
Dex 3 can be installed on three devices simultaneously.
It offers a versatile platform for a wide range of use.
The no latency playback gives you freedom to be in control.
It allows for video mixing.
It supports the use of Shaders to generate beat visualisations on-screen.
The design is simple, and it is good for karaoke and outdoor DJing.
DEX 3 Cons
There are just too many features, including those you'll never need. This might make it take longer for you to fully master the platform.
The brand name speaks volumes about this amazing DJ software. It is the bee knees' tool for live performance.
When you see your favourite DJ with a laptop on a live set, you can put a bet on it that he's cruising with Ableton Live and you'll be right more than half the time.
The program was initially envisioned as a music production tool rather than a true DJ software. Hence, it serves as a two-in-one platform functioning as a Digital Audio Workstation (DAW) and a complete DJ software. This makes it ideal for both music production and full-time DJing activities.
Ableton Live is at the forefront with something unique. It deviates away from other classical DJ software that seeks to recreate the turntable and mixer experience, instead offering you a flexible program allowing you to create music lists and FX sounds while you're on the go.
A DJ with Ableton has no limits to what they can do, whether they're performing live or in the studio.
Ableton Live Key Features
Its intuitive audio retiming tool, DAW, will blur the line between live and studio performances.
The Session View serving as a window to launch synchronized audio samples, MIDI clips, and also tracks is perfectly designed.
Up to 16 tracks, 29 audio effects, and over 1,500 sounds are embedded into the system.
Other developers can add wire sync to the Ableton software through the new Link Tech tool.
The software works well with instruments that have MIDI control and is perfect for crossfading and arranging in real time while twiddling around with dials and effects.
Ableton Live Pros
It is simple to use, extremely flexible and allows for tons of creativity.
Ableton is able to be used as a DJ software as well as a DAW.
It has lots of built-in instruments and effects.
It can readily host other plugins.
Other controllers and pieces of hardware will work seamlessly with it.
It is regularly updated and integrates well with iOS and other third-party platforms.
Ableton Live Cons
While some functions are easy, if you want to master Ableton to get the full experience, there is a lot to learn. Though it is worth it, this will likely take a while.
You cannot use it for a traditional two-deck and mixer experience.
MixVibes have been around for a while and have a great reputation. Their Cross DJ software is a very affordable digital vinyl system available for Mac and PC and will also work on Android and iOS platforms.
Cross DJ is simple, convenient and effective across all digital platforms. It's simple in format without being bogged down by all the advanced effects that many DJs will most likely never use.
With its user-friendly layout, you can get up and running in no time.
The software has three editions, with each edition being an improvement over the previous one. Cross DJ Free is the basic edition with only 2 decks and 3 effects. The next edition is the Cross DJ with 4 decks and 14 effects.
The latest and most improved edition is simply known as Cross.
Cross DJ Key Features
Its highly reactive interface has 4 decks, 14 effects, 8 assignable cue points, and 2 eight-slot samplers.
It has one of the best editors available in any DJ software with its Beatgrid editor plus has other tools to adjust the primary editor in case of tracks with shaky tempo.
It supports over 75 controllers and digital vinyl set-up.
Integrated to Soundcloud and other options to help you bring your iTunes collection to life.
You can use the deck remotely or as a second screen to browse tracks via its iOS remote control app.
It works well with Pioneer Rekordbox (as that was originally designed by MixVibes).
It has adapted support for Ableton Link and other video mixing features.
Cross DJ Pros
Available as free software – the paid upgraded versions are also affordable.
It provides a true cross-platform with good stability and lots of functionality.
Efficient, easy to use, and reliable.
Highly compatible with features and hardware from other manufacturers.
Helps you recreate previous mixing experiences as it stores a history of previous tracks you have played together.
Cross DJ Cons
Despite its remarkable features, it still trails other digital DJ platforms like Traktor in professional usage.
DJ Player Pro is one of the best DJ software products available for mobile phones. Super flexible and very customisable, it's packed full of features and effects.
The software and all its accompanying accessories are all researched and developed in-house without any third-party parts. This gives it a high level of integration and enhances its performance.
The focus of this software is mainly on professional DJs that perform on stage at events, clubs, or parties. It serves this purpose to the fullest by presenting a clean and straightforward interface with no extra components.
DJ Player Pro Key Features
You can mix tracks from different playlists from your phone's touchscreen.
Plug-and-play support and dedicated editor for multiple MIDI controllers.
The iOS app supports Traktor's Stem format making it one of a kind as no other app can do this, not even Traktor DJ iOS app!
It is a DVS-compatible platform that allows you to connect your turntables to your iOS device.
It comes with all sorts of built-in effects, looping, sync and solid sync tools.
DJ Player Pro Pros
It's free to download (upgradable to a paid version).
It is highly flexible, very responsive and has very low latency.
It is highly compatible with other manufacturer's hardware.
It can be used as a stand-alone system or in combination with MIDI controllers, touchscreen, DVS, external mixers and sound cards.
DJ Player Pro Cons
The paid version is relatively expensive.
Virtual DJ has been around for over two decades and has had over 1.3 million downloads to date. Used by many professional DJs, it has an excellent reputation in the community.
One thing most people like about Virtual DJ is that it lets you project your skills to your audience. The emphasis on visuals lets your crowd better appreciate your skills and fully participate in the experience.
Its clever algorithm can automatically mix tracks and select the next song based on the tempo of the current one.
The user interface has been significantly upgraded on its later version. The automated stem feature tool on it isolates vocals, drums, melody, and baseline on each track. This feature puts it on par with the other top software like Serato DJ.
Virtual DJ Key Features
This software can run as many as 90 virtual decks for mixing several tracks all at once.
The Broadcast feature lets you showcase your set live on Facebook, YouTube, and Twitch.
The event scheduler allows you to arrange each track, video or playlist to play at a predetermined time.
Compatible with ReWire, it is able to run simultaneously with a range of DAWs.
Real-time Stem separation feature which creates room for easy remixes, transitions, and mashups.
Instant BPM detection to adjust your rhythm and tempo as needed.
Virtual DJ Pros
It has a free version (you can optionally upgrade to the fully-functional paid version).
Very versatile tool with video and audio mixing and also karaoke support.
Perfect for newbies and those just willing to experience what being a DJ feels like.
It works perfectly in sync with other hardware equipment.
The focus on visuals and the broadcast functionality help you project your skills better to your audience.
Virtual DJ Cons
It is slightly expensive getting the license for the full package.
There is a need for using CDs as it is not downloadable.
Magix Digital DJ 2 is a good, cost-effective and convenient tool for Mac and PC. If you have ever been attracted to mixing tunes as a professional DJ would do, then this is a great software option giving you all you need to play, scratch, and remix tracks from your playlist with minimum intervention.
The sleek interface, automix function, perfect loop creation, and access to your music library means it's the go-to software for many pro DJs and newbies alike.
Magix Digital DJ Key Features
You can scratch and remix your tracks without needing any extra hardware.
You can import tracks from your iTunes library or other playlists on your computer.
The sound-based music suggestion with integrated Mufin technology lets you select complimentary audio tracks, analyze each track's tempo, and compile them accordingly.
A professional audio engine with perfect delivery and absolute stability.
A snap and quant function that is perfect for creating the perfect loops.
Magix Digital DJ Pros
It is relatively affordable.
It is easy to use and the song manager feature helps with the seamless integration of tracks.
It allows for auto-mixing of predetermined playlists and the adding of extra effects.
It comes with an eight-slot sampler and lots of premium samples.
Magix Digital DJ Cons
It comes with a steep learning curve.
Image Line has been a household name in producing music mixers and workstations since the late '90s. Their software has been gradually updated to also include a full DJ package.
FL Studio 12 was first available for download in 2015 and it leverages some amazing features that separate it from the rest of the pack.
Like the two-in-one Ableton Live, Image Line FL Studio 12 software can be used as a DAW and a DJ platform. This allows you to produce and mix music as well as use it for live performance.
The software is very famous amongst music producers and beatmakers. Its rich features, dual function, and versatility are also making it gain ground within the DJ community too.
Image Line Key Features
It has an all-in-one feature for pitch correction, harmonization, time-stretching, and pitch shifting.
It comes with lifetime updates that let you easily upgrade the software to the latest version.
Simple reactive browser layout with configurable category tabs and improved file management.
Comprehensible interface that allows for easy navigation without affecting how you mix your sounds.
A huge library with all the sounds and loops you'll ever need.
Image Line Pros
The free trial package is fully functional and not time-limited.
Easy to use, it's ideal for beginners.
Usable as both a DAW and a DJ software.
It provides support for MIDI controllers and other hardware.
It offers free lifetime updates which makes it a bargain for just the initial price.
Image Line Cons
The paid edition is needed to boost its compatibility with external hardware
If you are new to being a DJ and just want to experience what it's like mixing music from a laptop, you have lots of options available at your disposal. Many of these tools offer basic services like letting you create a customized playlist that runs automatically as you groove to the music.
But as you advance, you will surely want more and will not be satisfied with playing pre-made tracks. Then it's time to try out a proficient and powerful DJ software called Mixxx.
This DJ tool was first released in 2001 and is a free and open-source software. In a market where your money can buy you the best products, Mixxx offers you a very efficient yet free package.
The software was not designed by a single company but by a community of developers who love the art. It is subsequently maintained and upgraded out of pure devotion.
Don't sneer because this one's free: it's great for what it is!
It has a simple interface and works well with MIDI and HID controllers, vinyl records as well as with a keyboard and mouse.
Mixxx Key Features
Mixxx comes with the classical twin deck. Each deck has a scratchable, scrolling waveform. If you want to mix more tracks, you can adapt it into a four-deck format.
It can support over 80 controllers.
It can timecode vinyl systems.
It comes with all essential DJ software functionalities, iTunes integration, hot cues, and loops. It also supports various track formats.
It has a BPM display, key detection, sync, and an auto DJ function that can help take the strain.
The newly updated version 2.1 offers a solid interface with new and better effects.
Mixxx Pros
It is free and open-sourced.
It can give the vinyl record control experience.
The code can be worked on and adapted to suit your style.
It supports third-party DJ hardware from other manufacturers.
Mixxx Cons
Its functionality and stability in various situations puts it down the pecking order compared to other products.
As an open-source tool, you might need to customize the software to work well with your existing gear and gadgets
Djay Pro software was designed by the German company Algoriddim and has been in production since the early 2000s. It received the Apple design award in 2011 for its IOS design.
The Djay Pro app has taken mobile DJ software to a whole new level. It is one of the best DJ software available for both Androids and iOS platforms.
Building on their laurels, the developers have gone on to further modify the design to a more powerful, yet intuitive interface for the software.
It is a simple software that is quite handy if you are going to a party and want to try out the DJ experience. You don't need any extra equipment and the cost is pocket-friendly.
Djay Pro Key Features
As you can load tracks directly from Spotify, it's ideal for a casual or house party DJing experience.
An Automix AI tool helps suggest and mix playlists for maximum efficiency.
It is a simple software that highlights waveform views, supports four-deck mixing, and also offers a turntable setup.
The Pro version offers native support for over 50 MIDI controllers.
The Neural Mix feature allows you to play and remix single elements from multiple tracks in real-time.
The AI-powered gesture control feature enables you to use hand gestures to create loops, scratch, and apply effects and filters all at the same time.
Djay Pro Pros
Djay Pro helps create playlists of tracks with the same beat and key to make your songs sound better.
Its focus on AI tools creates an overall experience that puts you at the top of your game.
It is affordable and easy to use.
It offers a limited form of the package usable with an Apple watch.
It is highly compatible with devices from other manufacturers.
You can use it with SoundCloud, Tidal, and Spotify.
It comes with an advanced library, a sampler, and loads of effects.
Djay Pro Cons
The AI functions have some DJs sceptical about the future of traditional DJing.
It comes with added cost for extra FX.
There are plenty of other ways to improve your DJ skills, check out these articles.