Gifts for DJs this Christmas
25 DJ gift ideas to suit all budgets
Wondering what to get a DJ for Christmas this year? We've got you covered. There's so many great gadget, accessories and DJ hardware and software that I know DJs would love to get for Christmas.
Let's face it, DJs can be picky about the DJ hardware they use, the music they play and the DJ accessories they want. I know because I am a picky DJ!
So I've carefully selected some gift ideas perfect for the DJ in your life. There's plenty to choose from here to suit all budgets.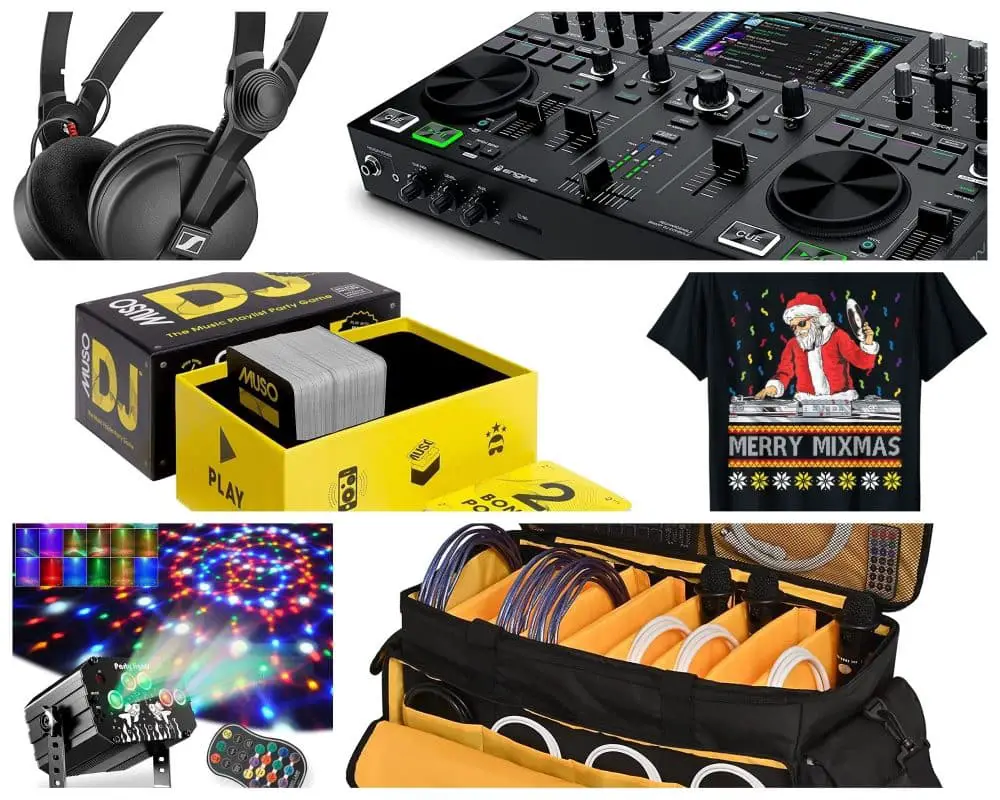 This is a must for any DJ whether you're a beginner or seasoned professional. Keeping your gear safe and your cables well organised is something many DJs don't even think about. I've seen far too many DJs stuff any old bag with badly tangled cables and no protection for their beloved DJ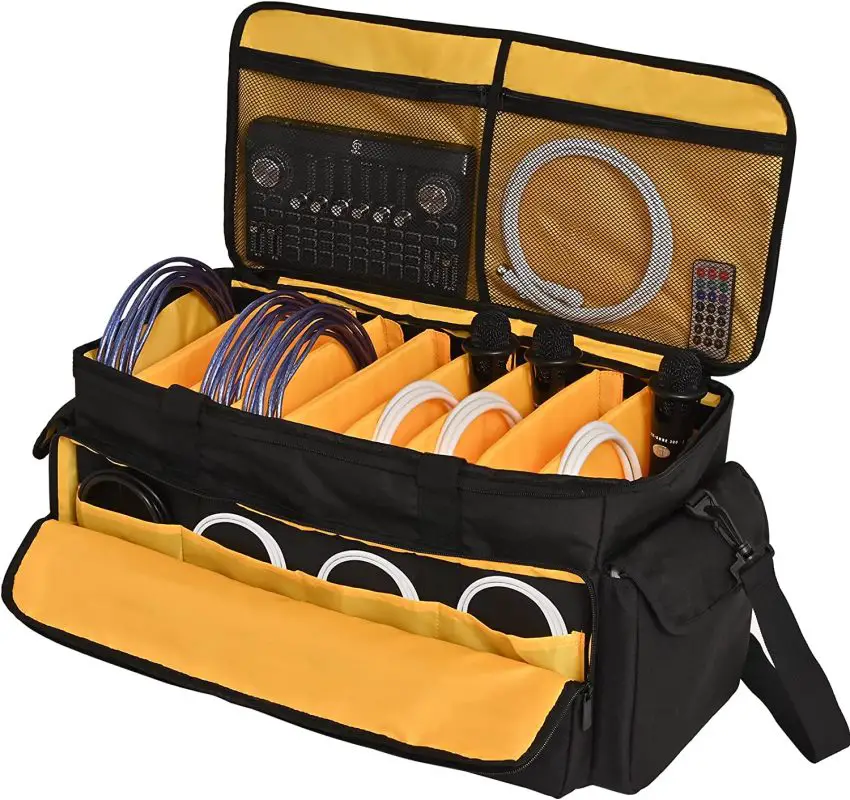 This is an excellent way to keep all those USB cables, phono cables and external hard disc well organised and safe from any drops and bashes.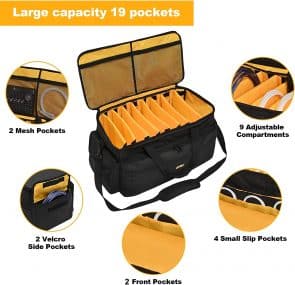 Not only that but it has some extra pouches to keep devices in, some quick access zips too and one very clever feature. A yellow coloured inside. This may sound like an odd feature but trust me as a DJ who's worked in many dark nightclubs and dimly lit venues, having a bright yellow background makes it much easier to identify the object I need and quickly grab  it.
This is one of my favourite DJ gift ideas as it something every DJ needs in their life but quite often doesn't have. If you want to please a DJ this Christmas, "bag" this item. (Sorry I had to haha!)
You can view the best price of this DJ Equipment bag on Amazon here.
Every DJ can improve in some way, whether they're just starting out and want to learn more techniques or they've been in the game a while but want to boost their skills to the next level. There's always something new to learn.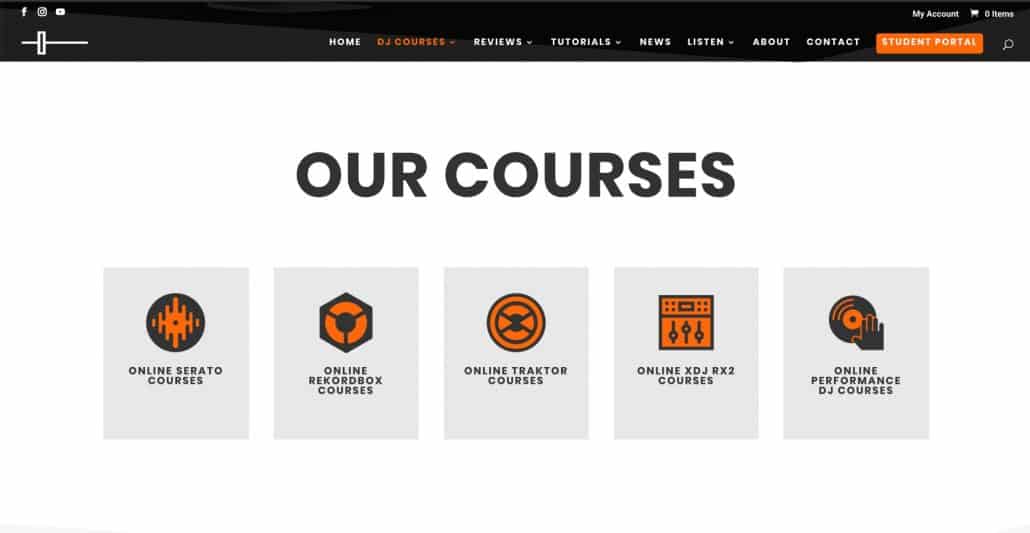 A great way to do this is with online courses that include videos and tutorials. My favourite courses for DJing all come as part of one subscription from the guys at DJ Courses Online. I love their setup as they add new courses to your subscription at no extra cost and have a library full of courses any DJ can take. Their monthly subscription is very well priced and they have both annual and lifetime subscription options too.
You can check out their courses here and subscribe your DJ loved one so they can make the most of their DJing.
I love my laptop stand at home. Its perfectly setup just for me and my height. I'm 6'4" tall so taller than the average guy. As I've mentioned before back problems can plague DJs after a lot of time at the decks, so having everything set up for their height is vitally important.
When I found this laptop stand for DJs it really changed my DJing game. I could now travel easily with this portable DJ laptop stand that comes with its own protective bag.
Not only that but it has an extra shelf for your phone or tablet. I've actually used this extra shelf to mount my  webcam on for live streams as it's so close to my DJ decks.
It's super quick to set up and adjustable to suit the DJ's height. It's also very well priced as I've definitely seen more expensive laptop stands that don't have as many features or portability as this one does.
Check out the latest prices of the Portable Folding Laptop Stand on Amazon here.
I absolutely love these and I can't recommend highly enough how important it is to protect your ears. As a DJ you spend a lot of time in loud environments and while its inevitable you'll be subjected to very high volumes that could damage your ears, there are solutions to help here.
Unlike normal ear plugs you might wear to bed, these ear plugs are designed to reduce the volume without destroying the fidelity of the sound you're hearing. So they're perfect for enjoying the nightclub or loud music venue without damaging your ear drums.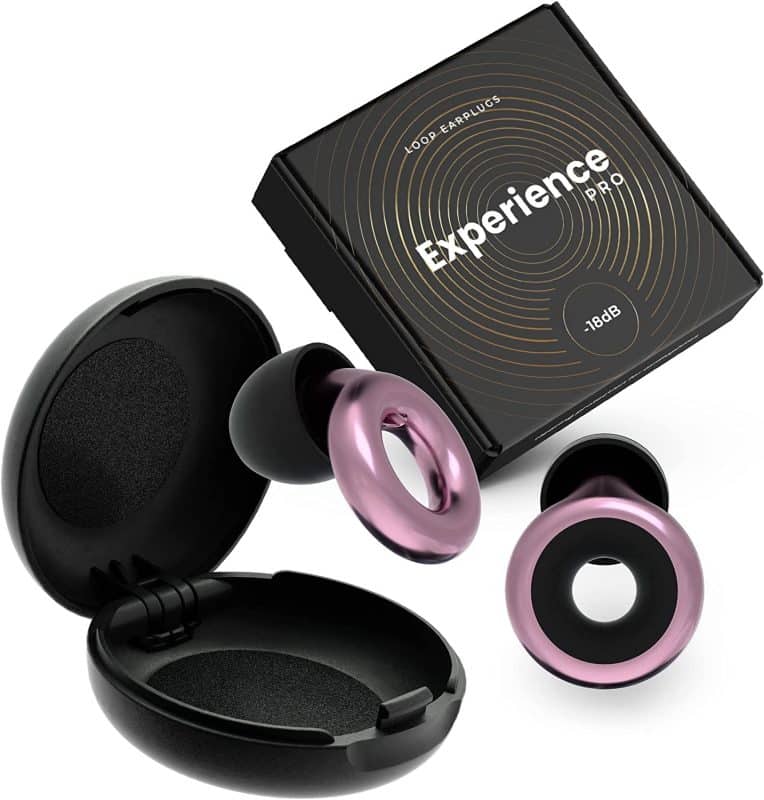 I actually wear these to concerts and festivals too, I love loud music but I also don't want to cause irreparable damage to my ears!
Every DJ should have a pair of these and wear them when they're not DJing but are at loud venues. Often before their set or after if you're staying around for the whole evening.
They come in their own protective case and are precision built so they don't fall out. The sound is allowed in through an acoustic channel and passes through a filter membrane to reduce the volume without reducing the quality of the sound.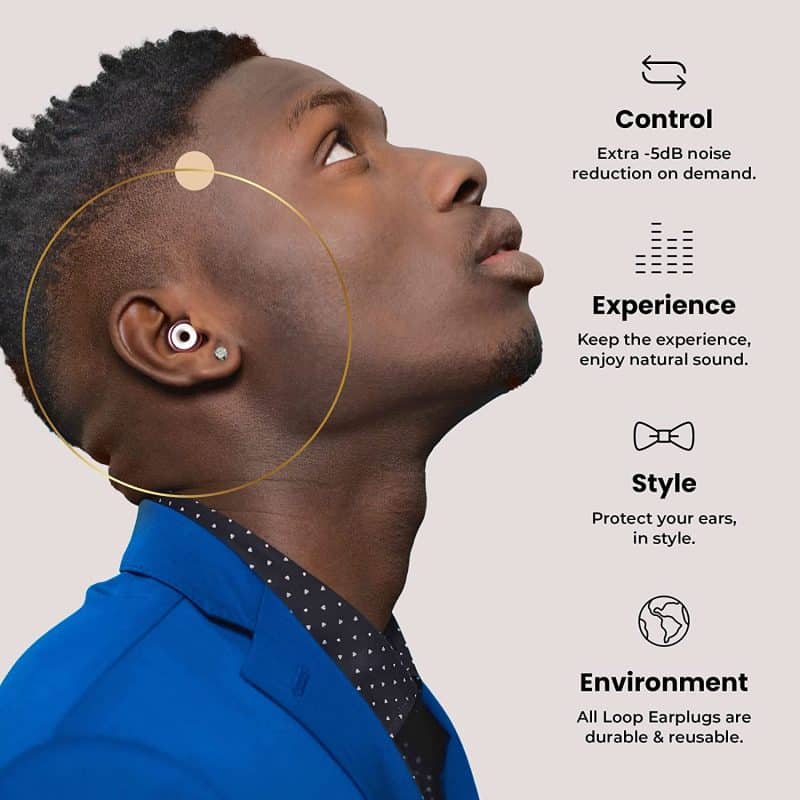 There's so many ear bud choices too with 4 sets of silicone ear tips and 3 sets of foam. I prefer the foam as it moulds so well to my ear. There's also 2 sets of "Mute add-ons" which reduce the volume even further.
Not only that but they look cool too. Every DJ should have a pair of these so grab some now for the DJ in your life.
Grab a pair of these protective ear plugs for DJs here on Amazon.
There's a great review of them here too, well worth watching.
There are so many DJ controllers out there and they all vary in size slightly. This is partly why hardly any DJ controller manufacturer creates a carry case or protective holder for their DJ controllers.
This is an issue as its likely at some point your DJ friend will be travelling with their controller and want to protect it with their lives!
The guys over at UDG Gear have create one very elegant solution. A protective DJ controller bag with adjustable padding to fit many of today's modern DJ controllers.
The bag comes in 3 sizes to perfectly encase the DJ's controller in that added layer of protection. It doesn't fit all DJ controllers of course but it its great for a good many of today's modern controllers like the Pioneer DDJ-XZ the Pioneer DDJ-800, Traktor kontrol S2, DDJ-SR, Numark Mixtrack Pro 2 and Numark NS models. I recommend posting a question on their Amazon page to find out which bag is best for your friend's DJ controller.
Another plus is the egg-crate style foam interior that protects all of the knobs, dials and faders of the DJ controller while in transit. There's also a very strong strap with shoulder protection to make sure the DJ gear can be safely carried to the next gig.
Protecting a DJ's gear is so important and will save a lot of heartache and money in the long run. A perfect gift for your DJing loved one this Christmas.
Check out the latest prices of these protective DJ cases here.
Let's take a look at some other gift options for your DJ friend this year. Books are always a great option and when it comes to DJing there's some really great books your DJing friend would absolutely love.
My favourite right now is The Record Players by Bill Brewster. Released in 2012 this book pays tribute to some of the best DJs in the world and delves deeper in to their world's to find out not just how they got in to DJing but how they changed the very fabric of dance music culture.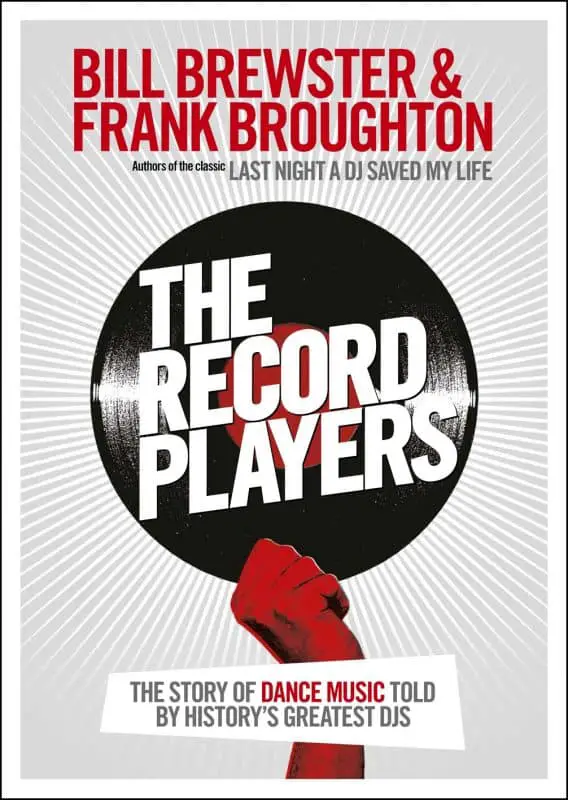 There's over 50 DJs interviewed for this book with so much amazing insight in to the world of DJing and their influence on the dance music scenes they helped pioneer. With notable interviews with the likes of Fat Boy Slim, Paul Oakenfold, Tiesto, The legendary Grandmaster Flash and the UK's voice of dance music, Mr Pete Tong.
The author himself has a wealth of dance music history behind him as the co-founder of Forensic Records. It's a well paced reads full of amazing anecdotes and history about the dance music scenes that have swept the world in the last few decades.
A highly recommend read for any DJ. If you don't get it for them for Christmas then it's a must for their birthday!
Buy a copy of The Record Players on Amazon here.
You may recognise the author Bill Brewster from the previous book recommendation. This time he teamed up with Frank Broughton to create a masterpiece of chronological history telling that's as entertaining as it is informative.
First published in 1999, this book has been refreshed and brought up to date with yet more tales of mavericks creating musical genres, DJs pioneering new sounds and organisers of raves, clubs and festivals all helping to push the dance music scenes to dizzying new heights.
This really is a very comprehensive book that starts with the very birth of dance music, through the ups and downs of the 80s and 90s, right up to date with sub-genres from around the world all included.
There's a wealth of incredible tracks mentioned in this book too that'll have your DJ friend reaching for their phone every 5 minute to hunt them down.
Grab yourself a copy while you're at it too and you'll be entertained and educated in equal measure. You can find it in various formats on Amazon here and preview it on Kindle below.
One last book to recommend for DJs to read. Destination Dancefloor is a geographic encyclopedia of dance music culture. Think of it as the Lonely Planet guide to clubbing across the world.
This incredible book not only tells you about dance music sub-genres you've never heard of, it also gives you a history of their birth, growth and in some cases demise.
It includes some incredible photography too and detailed accounts of historical dance music locations around the world like the Balearic sounds of Ibiza to the early days of house music in Chicago. Some 40 cities are covered in great detail with plenty to make your DJing buddy want to hop on a plane and check them out for themselves.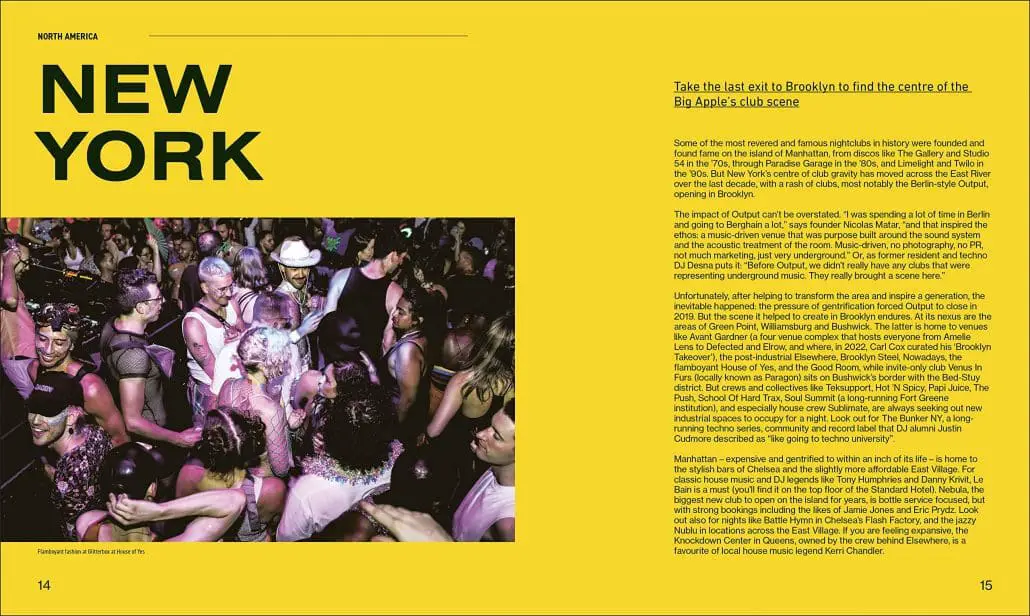 Author Duncan Dick is no stranger to reporting on dance music scenes either, a veteran of the iconic Mixmag magazine in the United Kingdom, Duncan has some 35+ years experience of travelling the world and reviewing the world's best clubs, DJs and music genres.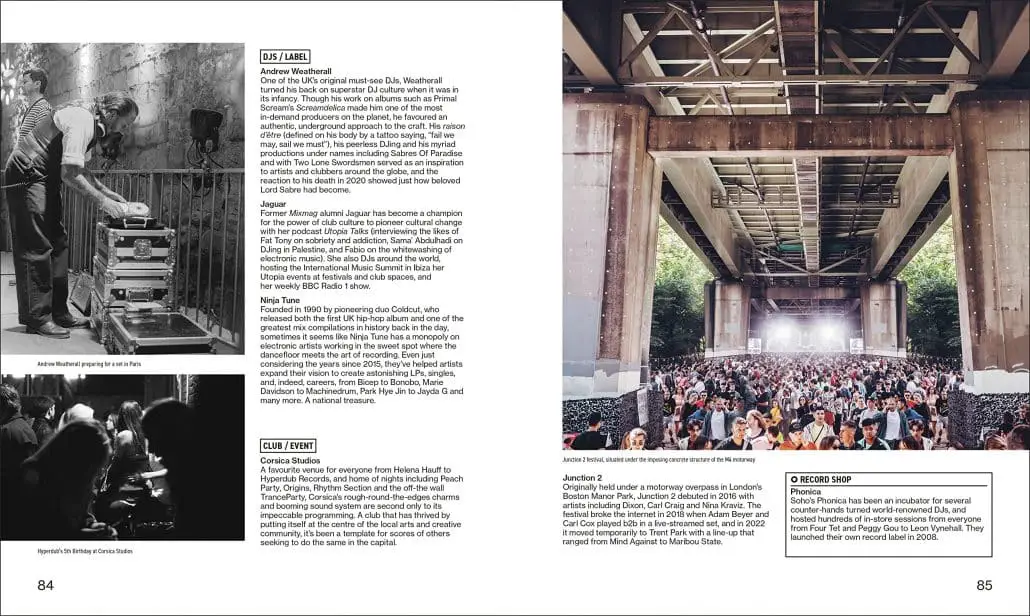 Definitely one for any DJ's bookshelf. You can grab a copy Destination Dancefloor on Amazon here.
Right lets get stuck in to some real desirable items that any budding DJ or veteran pro DJ would want.
Firstly I give you the Akai Midi Pad Controller which will transform DJ sets with extra layers of creativity you just can't get with a DJ controller.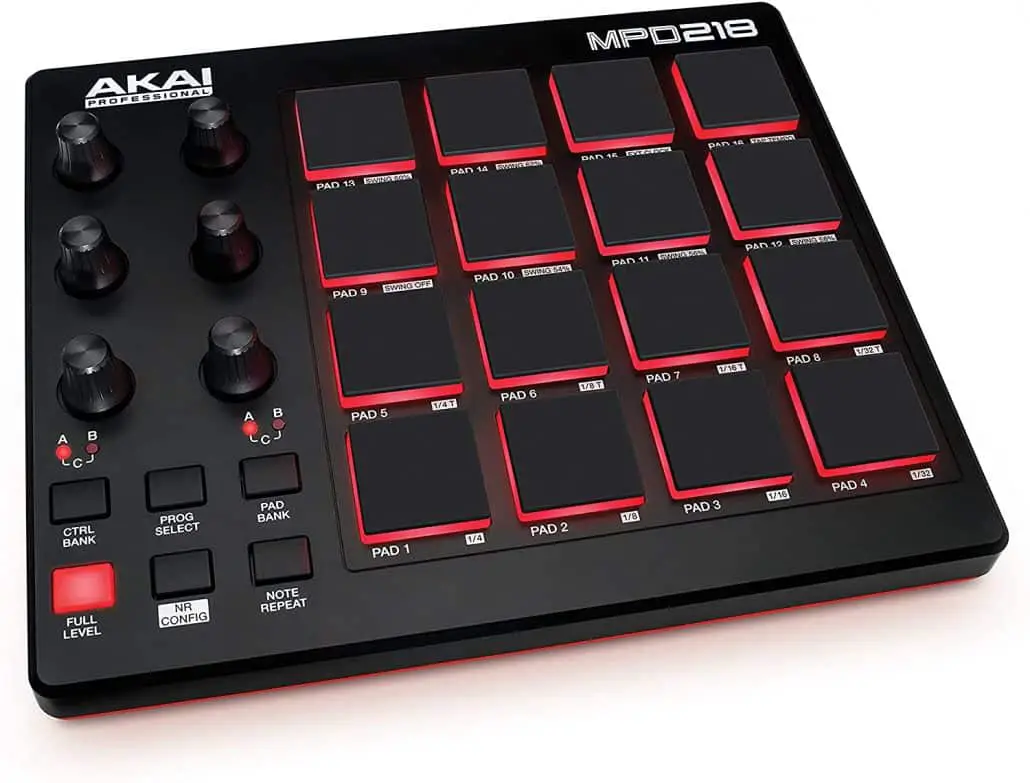 Plug this baby in, map some controls to its 24 pads or 6 knobs and your DJing loved one can now create their own percussion loops, sample goodness and impressive drops like no other.
Modern DJing is fast moving away from simply beat-matching two records together. Now you have the ability to remix your tracks live, add extra layers and instantly sample multiple parts of any track. The Akai Midi Pad is the easiest way to get creative with your DJ sets.
The 6 knobs can also be mapped to effects controls, adding an extra layer of diversity and creativity that your standard controller just can't handle by itself.
I love this little controller, small enough to travel with and robust enough to handle any gig. Akai are a strong player in the DJ hardware scene now so this little device is definitely what your DJ friend needs in their life.
Find the latest Prices of the Akai Midi Pad Controller on Amazon here.
Here's a very useful video you might want to show them in order to help them set it up on Serato DJ.
Words cannot describe how much i love these headphones. The absolute don of DJing headphones that any reputable DJ would definitely want for Christmas or Birthday.
Not only are they super comfortable, their sound quality is truly awesome. I've had these bad boys for many years now they've served me well. Durable and high quality enough to last for many years.
With a 70ohm impedence level they are compatible with pretty much every piece of DJ hardware ever created, they're loud and exceptionally good audio quality too. When you're DJing you want to be able to hear all the crisp high hats and percussive sounds as well as the deep thuds of the kick drums and rumbling sub-bass frequencies.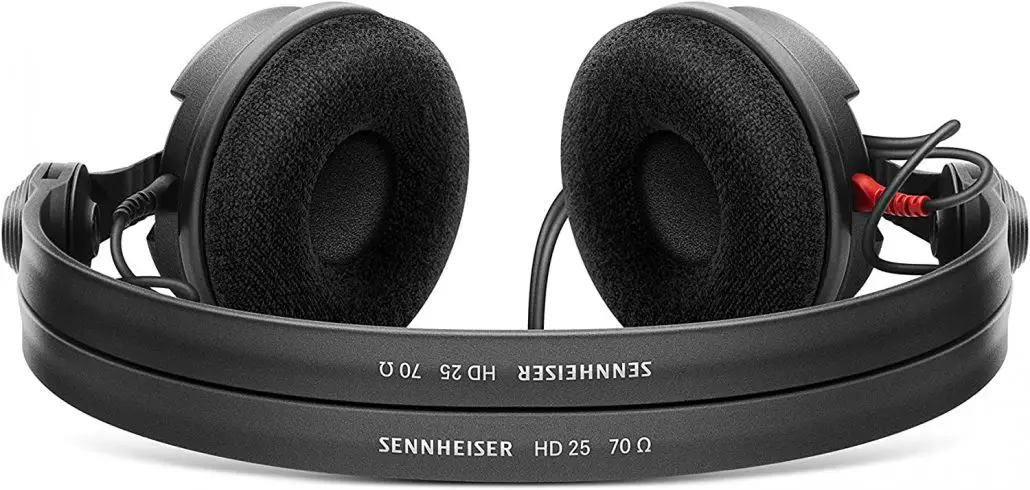 I guarantee any DJ will love these headphones so if you're looking to put a smile on a DJ's face, get them the Sennheiser HD 25 headphones from Amazon now.
There are of course many headphone options out there and another that may more to your budget is the unusual looking Lollipop headphone from Reloop.
Some of the best DJs in the world love to use lollipop headphones, specifically designed for DJ use. Either hold it in your hand and place it against your ear, or squeeze it against your shoulder with  your cheek. I've done both and it has to be said the lollipop headphone is a much less bulky item to use and carry than over the ear headphones.
It's also easier to carry, more durable as it has less parts that could break, and has fantastic sound quality. For some this is all they'll ever want from a headphone.
This particular lollipop DJ headphone features a strong XLR connection type for professional use and easy storage. long lasting feux-leather for the headphone itself and a swivel mount so you can comfortably use it on either ear.
Definitely a winning combination for your DJ. You'll find the Reloop RHP-10 MONO Lollipop DJ Headphone on Amazon here.
If the budding DJ in your life is just starting out on their musical career then they'll be needing a decent quality but budget priced DJ controller. Ladies and Gentlemen I give you the Pioneer DDJ-200.
It's an entry level DJ Controller that packs an awesome punch and has plenty of perks to help get your DJing loved one off to the right start.
It's a 2 channel DJ controller with jog wheels, tempo faders, frequency controls and effects controls too. You can also create samples, jump to cue points and scratch mix with this little gem of a budget controller.
Pioneer is also the industry standard for professional DJ setups, so starting your friend of with a familiar setup that translates to the more higher grade professional Pioneer hardware is a definite bonus.

It works with a number of DJ apps including Pioneer's very own Rekordbox. There's compatible apps for smartphones and tablets too so you don't need a computer or laptop to get this thing up and running.
If you're looking for a budget DJ controller to get your music lover off to the right start, the DDJ200 is the best place to start.
For the latest prices of the Pioneer DDJ200 head over to Amazon here.
For something a little beefier and professional I can highly recommend the Native Instruments Traktor Kontrol S3.
This DJ controller will take your DJing friend's game to the next level, with advanced controls for up to 4 turntables at the same time, it features precision jog-wheels and incredible sampling and loop capabilities.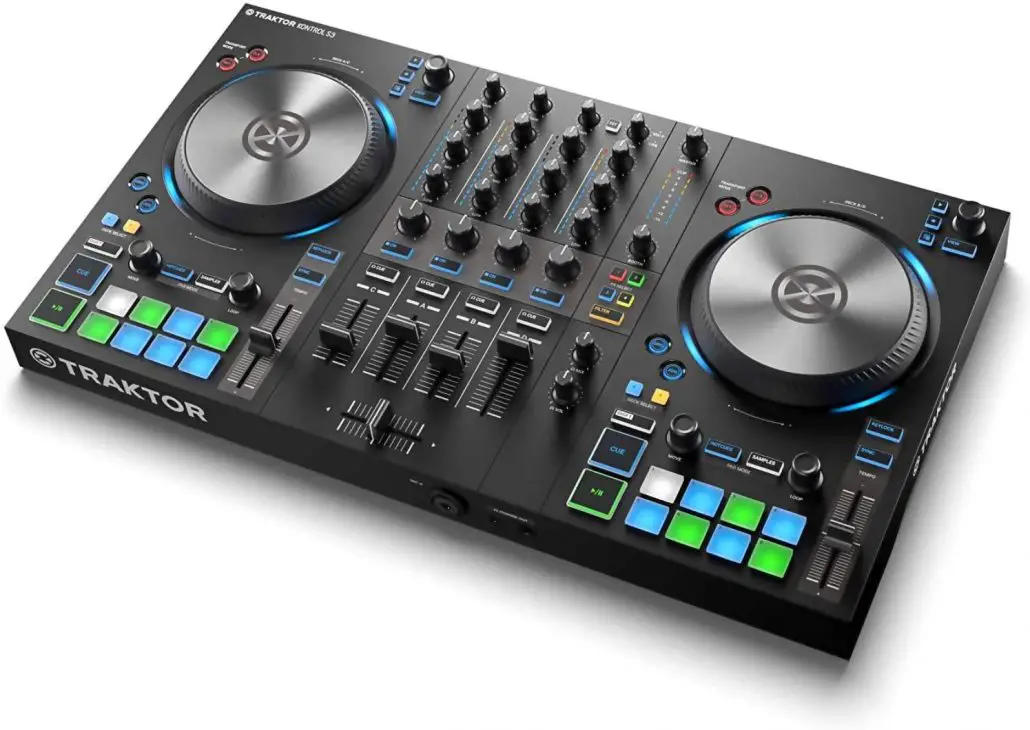 Native Instruments have long been a serious player in the DJ industry with some truly epic controllers available. The S3 is probably the most compatible controller they have, offering advanced level midi control to work with Serato DJ, Pioneer Rekordbox and plenty of other DJing apps and software.
This DJ controller has a real pro feel about it with pinpoint accuracy you wont find in entry point models from competitors. In fact I'd say its one of the most intuitive DJ controllers on the market, with everything in the right place and plenty of features packed in without feeling too cluttered.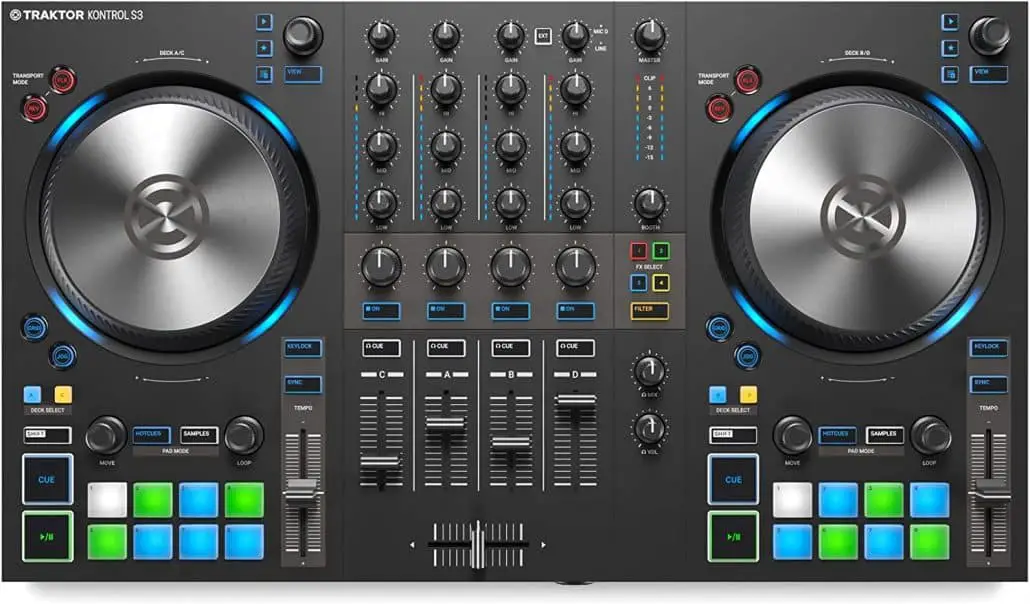 If you're looking to help your music lover's DJ advance then the Traktor Kontrol S3 will certainly do that for them.
For the latest price in your region check out the Kontrol S3 on Amazon here.
I just had to mention this DJ controller as it's such a unique item and one that I'm sure your DJ friend has heard about. The Denon DJ Prime Go is the world's first and best truly portable DJ controller.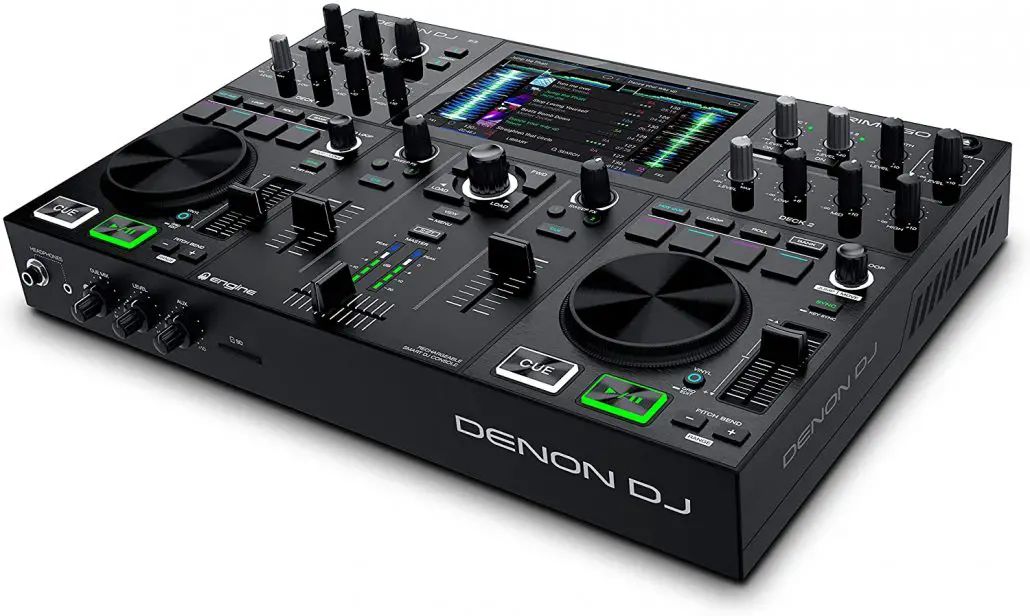 This incredible device can be battery powered and is pro grade enough to work in any DJing environment. It's a standalone unit with DJ software built in, meaning you could literally DJ in a plane with this thing!
It features high grade durability as portable means this thing is gonna travel! Its rammed full of professional connectivity on the back and features some industry quality DJ software from the moment you power this thing on.
It's high definition display will let you browse music and use waveforms to help que and mix your music. Its effects panel is high quality, its performance pads are feature packed with loops, rolls and slicers, all ready to go.
Basically this thing is a serious piece of kit that can be powered by batteries or mains and fit in any travel bag. Amazing!
If you're really looking to impress your DJing loved one with some serious DJ gear then the Denon DJ Prime Go will certainly do that.
Check out the full details and prices of the Denon Prime Go on Amazon here.
Before we move on to other gift ideas I thought I'd just include this fun little device that might be just your budget.
You're not going to DJ professionally with this bit of kit but it you want a super portably, small and simple DJ controller for parties of just playing around, the Hercules could be perfect.

This tiny controller connects via Bluetooth to your smartphone or tablet and is compatible with Algoriddim's djay app that you'll find on both Apple and Android devices.
There's not many features here, its just a simple slimline Dj controller device that will at least let you cue records, mix tracks and have a little fun with your tunes.
Don't expect miracles with this thing, you get what you pay for after all. But if you want a semi-serious toy for your wannabe DJ or just something super portable for the occasional party, this might just be the perfect DJ Christmas gift idea.
You can order the Hercules mini DJ controller on Amazon here.
This video is a fantastic demonstration of the Hercules controller in action
Right lets move on from controllers and talk about music library storage devices!
I've written a long article about the ultimate checklist for any DJ and within that article you'll see me mention music library backups. They are absolutely essential for any serious DJ who doesn't want to lose their entire music collection!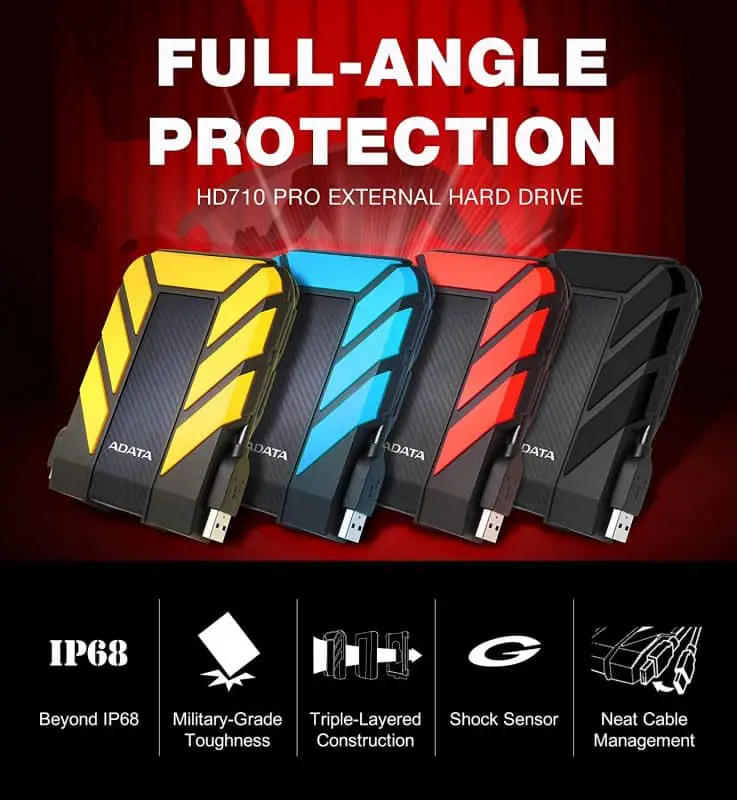 External hard drives are the best way to store their growing music library so they're going to need something strong that can withstand the occasional bash or drop.
I highly recommend the ADATA HD710 Pro 2TB USB external hard drive as its one of the most ruggedised USB drives I've ever had. It's shock proof and dust proof but also somehow waterproof too! That's not a feature I plan to test any time soon but its good to know if thing gets stuck out in the rain it'll be just fine.
It featured military grade toughness and 3 layers of protection to make sure that DJ music library say safe and uncorrupted.
2 terabytes is enough to keep any DJ happy too, even if they're using lossless WAV or FLAC files.
You really can't put a price on peace of mind, I personally have 2 of these devices and clone one drive to another to ensure I'm never caught without my beloved music collection.
You can get the best price on the ADATA HD710 Pro 2TB USB external hard drive on Amazon here.
Speaking of ruggedised protection, if your DJing friend is a pro they'll know all about putting their DJ set on USB sticks and taking them to gigs.
Even if they're not a pro they'll probably have a use for these little gadgets.
Most DJ booths will feature a set of Pioneer DJ decks that have USB ports on them for easy access to your DJ set. Just pop your USB stick in and away you go.
Of course 2 decks or more will need 2 or more USB sticks, so this handy set is actually a pack of 5. It's always good to have a backup!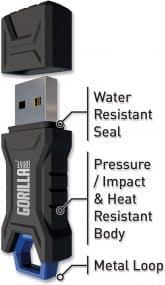 The most important thing here is that they're ruggedised so they can withstand being carried around, thrown in bags, shoved in USB slots and dropped plenty of times. Normal USB sticks just aren't built for DJ environments. DJs need to know their musical data is safe.
32GB is also plenty of space for even your best friend's 24 hour DJ-a-thon for charity so don't worry about capacity, they've got you covered.
Every DJ should have a set of these. They're an absolute DJ gift no-brainer. You can find the best price for the GorillaDrive Ruggedized USB drives here on Amazon.
What is a DJ if he can't scratch? A serious question you should be asking your DJing buddy. If they have vinyl turntables then they'll be needing a couple of these beauties.
DJ cartridges differ from normal Vinyl turntable stylus in that the cause less damage to repeated plays of records and are much less prone to jumping out of the groove. This makes them perfect for scratch DJs and vinyl lovers.
This "Concorde" nose design is famous in the DJing world and Stanton is the absolute GOAT of turntable cartridges.
Grab a couple of the Stanton DS4's from Amazon today and your DJing partner will love you forever.
Let's get a little silly now and find some fun Christmas and birthday gifts that any DJ would enjoy.
Firstly we have the Dj Disco Lights Party Light, essentially a budget cost one-stop-shop of disco lighting effects.
This is perfect for the DJ that loves to live stream on twitch or maybe throws streaming parties on TikTok. Pop one of these disco lights in the background and they are sure to get more follows and likes!
Featuring some simple red and green laser patterns, some RGB LED lighting effects and a few cheap sound-to-light effects thrown in. You can turn this little device on and let it do its own thing while you impress our house party or live stream with your DJ skills.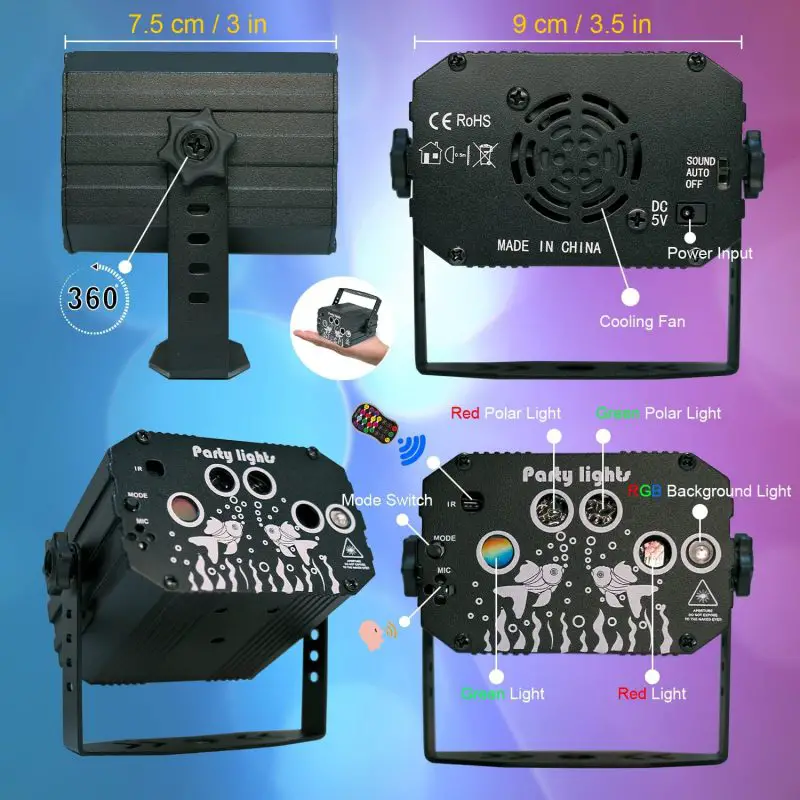 It's a cute enough budget DJ lighting effect that's sure to put a smile on your DJ's face. While not costing you too much in the process.
For more on this great gift and other disco lights like this go here.
Here's the disco light in action so you can see just what it looks like.
I mean who doesn't love bubbles right? Whether its an outdoor BBQ,  house party or mobile DJ setup, a bubble machine is always welcome. Kids love them, hell adults love them too. They're really just a win win!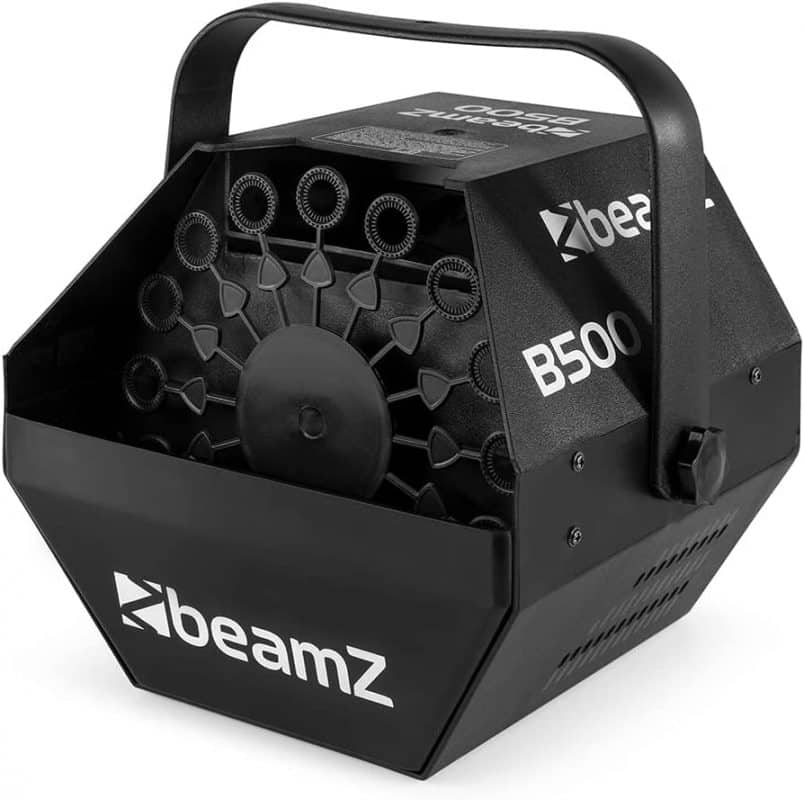 Your DJ friend is sure to appreciate them too as its a great added effect for any party and a device so simple they're always in budget.
There are some super cheap bubble machines out there but they always let you down. Either getting clogged up with bubble mixture or parts failing pretty quickly as the mixture tends to get everywhere!
I highly recommend this more pro quality bubble machine from Beams. It features a large mixture container so your cloud of bubbles will last longer. You can hang it too with its adjustable mount, perfect for lighting stands. Or just rest it on the floor and angle it.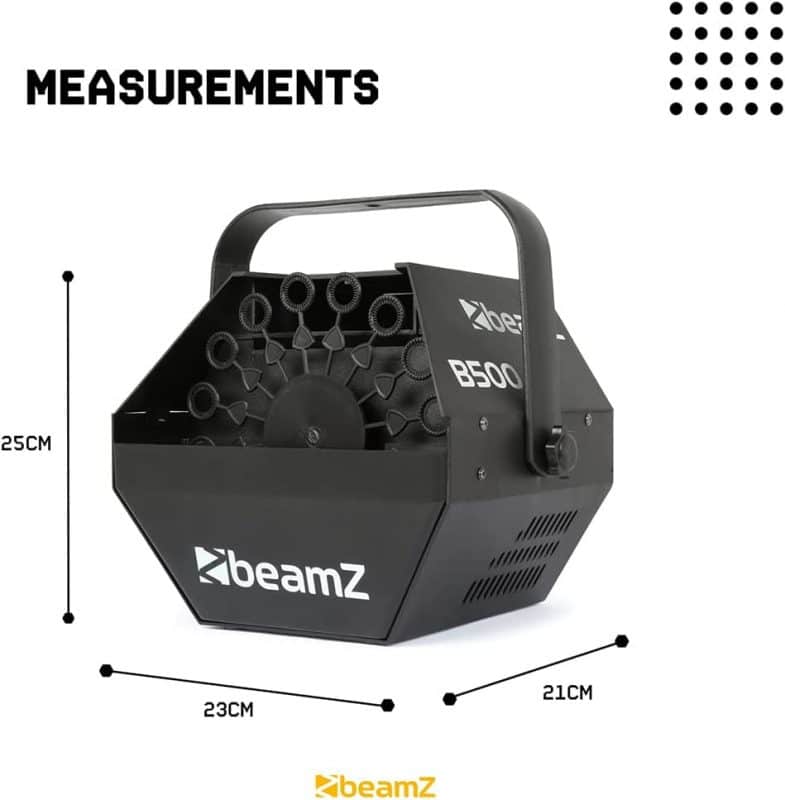 The rotating bubble heads turn at 24 revolutions a minute, with plenty of heads in one rotation and plenty of bubbles per head too. This thing will be spewing out hundreds of bubbles in seconds.
Don't forget to by bubble mixture too. You can grab 5 litre bottles of the stuff, specially formulated to produce maximum bubbles!
For the latest prices on this bubble machine and others like it head to Amazon here.
Let's move on to a few fun and silly ideas for presents for DJs now. Starting off with this one, the Mr DJ mug!
I grew up reading the Mr Men books so when I discovered there was a "Mr DJ" my life was complete!
Every DJ deserves their own mug right? So what better way to say "I think you're the world's best DJ" than by proving it in mug form.
A mug is a perfect Christmas gift for a DJ too, small, cheap and sure to put a smile on their face.
What more can you say about a mug? Well it holds 250ml of your DJ's favourite brew. It's microwave safe and fits in any DJ carry case!
For the discerning DJ who loves a cuppa while they blast out some fat beats.
Grab this Mr DJ mug on Amazon here.
It wouldn't be Christmas without an ugly jumper or T-shirt, and what better gift for a DJ at Christmas than a "Merry Mixmas" T-Shirt.
DJs always think they're cool, well let's see if they still think that once they're wearing this beauty.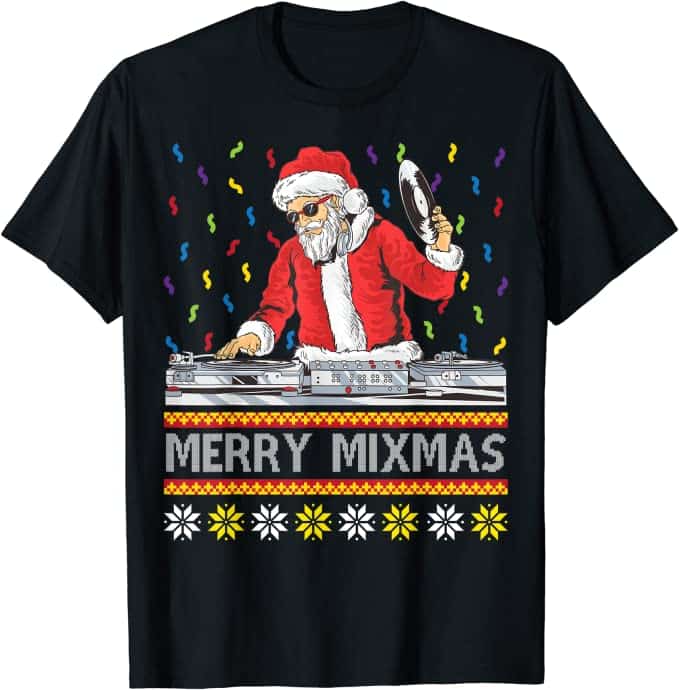 Available in 10 different colours and also in Women's Tee, Hoodie, Sweatshirt, and tank top  form. It's the perfect Christmas gift for a DJ.
Dare them to wear it to their next Christmas gig! You can grab this fun DJ T-Shirt right here right now grab this fun DJ T-Shirt right here right now.
If the DJ in your life is a veteran of the musical arts (like myself) the this T-Shirt may be more appropriate.
Never has a truer word been printed on a T-Shirt. Buy this for your loved one and watch the nod in agreement and wear this with pride.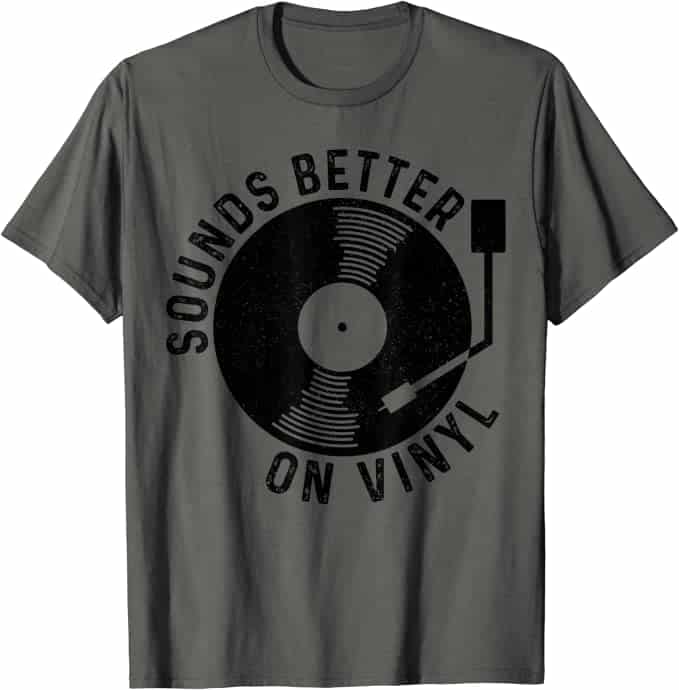 Aside from the crackling scratches, dust buildup, occasional jumping needle and sizeable hardware setup, this T-Shirt makes a very valid point that any self-respecting DJ should agree with.
Available in White, grey, dark grey and even darker grey. Because us old timer DJs like our colourless t-shirts the old fashioned way.
You can order this T-shirt on Amazon today.
I love the tag line "It's not about what you know, its about who you are". Clearly a game perfect for DJs then!
This simple but oh so enjoyable card game for adults will have you singing along to your favourite tunes, digging out cult classics and sharing music like never before.
Featuring 150 playlist cards covering all sorts of topics like "Guilty Pleasures", "Disco Fever" and "I know all the words". Inviting you to fire up your streaming service of choice and earning points as you listen, play and sing.
Thee gameplay is simple The 'DJ' takes a card which has a playlist title. Use this to select a song on your streaming service that fits the description. Players must guess the song, artist and what the playlist might be. Points are awarded for correct guesses and a bonus point for singing the song.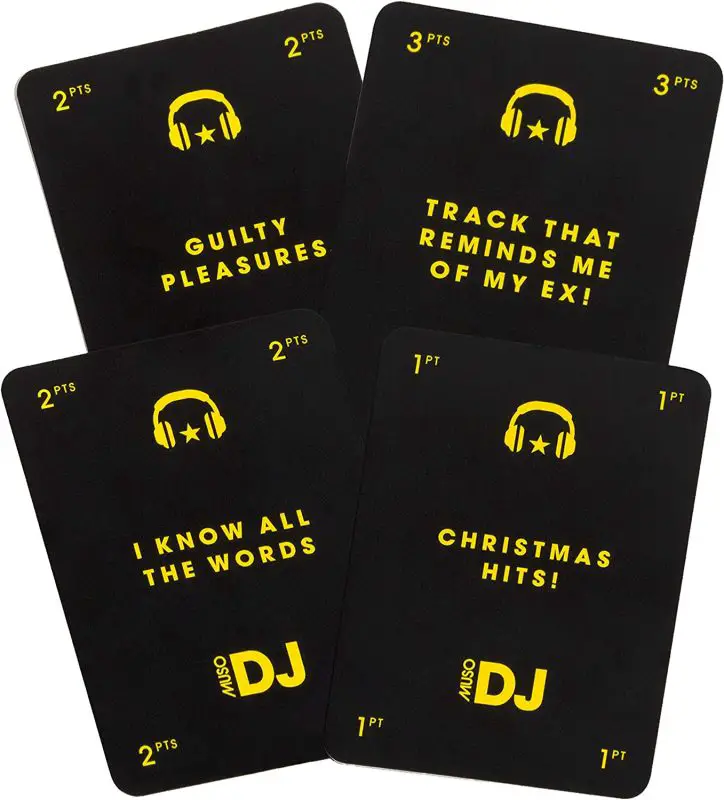 Its a brilliant little game that any worthy DJ should be an absolute master at.
Even if you're not a DJ this is one of the best music based card games you'll find and a super cheap option for a DJ gift.
Grab this perfect game for DJs on Amazon right now.
Whether they are actually cool, your DJ friend will have to decide, but there's no denying if you want to make any impression while you DJ then some sort of destinctive headgear is apparently the way forward!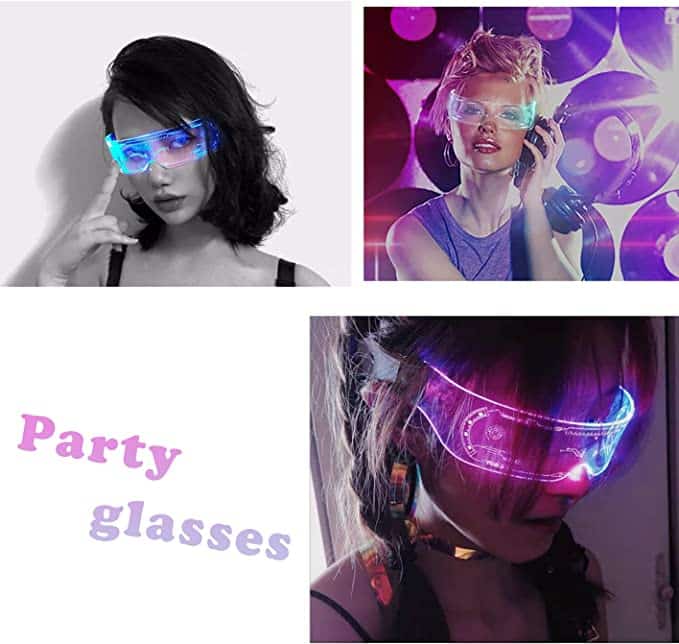 Move over Marshmallow, get out the way deadmau5, with these epic looking LED illuminated wrap around glasses there's a new stylish looking DJ in town.
They're cheap, they're fun, they're slightly rediculous and great for parties. If that doesn't sound like something your DJ buddy would love then there's something wrong with them.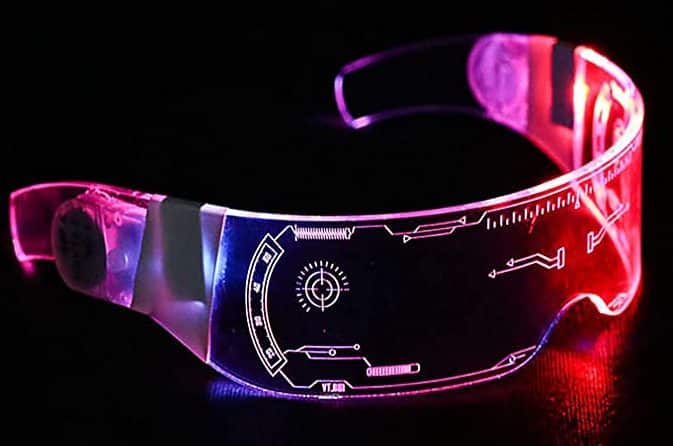 Christmas is a time of giving pointless presents to loved ones, what could be more pointless than this one.
Order these funky DJ glasses here on Amazon here.
Hopefully these great DJ gifts have proved useful for your online shopping this year and you've found numerous items worthy of your DJ's Christmas gift list.
If you're looking for more DJ hardware ideas we have more. Check out the links below.