Which iPhone DJ apps are best?
So you love to DJ and you're wondering if you really can DJ with an iPhone? The short answer is yes you can!
But there's a much bigger question here which is, should you DJ with an iPhone?
Not only that but how do you DJ with an iPhone? What DJ apps are the best and what are the downsides to DJing with iPhone?
We cover all of these and more in our complete guide to DJing on an iPhone. With links to our favourite iPhone DJ apps and even some recommendations on DJ hardware that works with iPhone.
So let's get to it!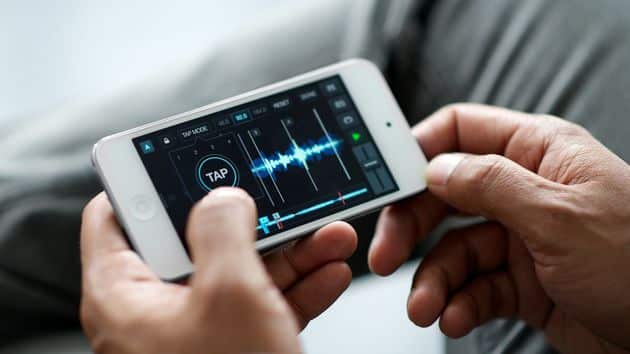 This is the first question you're no doubt asking and it would be all too easy to just say "Yes of course you can DJ with an iPhone". But it really depends on what your definition of DJing is and exactly what DJ experience you're hoping to get from an iPhone.
So let's start with some of the basics of DJing and see of DJ apps for iPhone can handle these DJ techniques.
Beat matching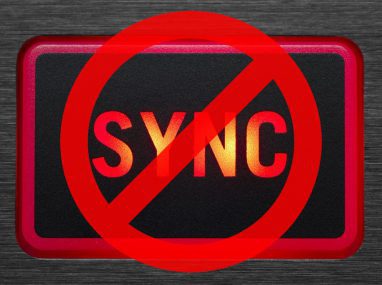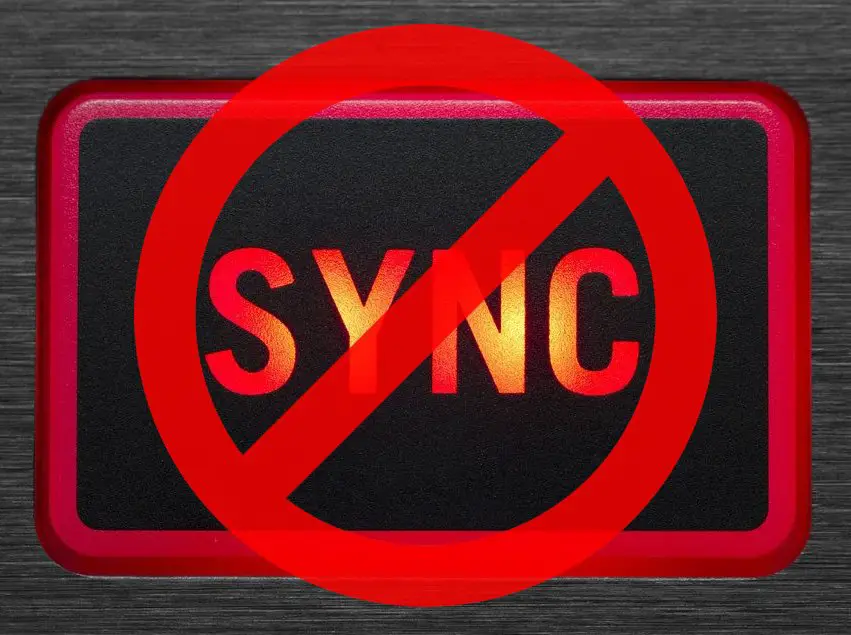 The core of all DJ skills is without doubt the ability to adjust the tempo of tracks in order to synchronize their beat patterns. This is most definitely possible and all good DJ apps for iOS have slider controls to adjust the tempo.
Most can also lock the key so that the pitch of the tracks doesn't change from the original.
You can manually set the tempo to anything you like by adjusting the sliders, but more often than not I'm sure you'll just hit the "sync" button and let the DJ app do the beat matching for you.
Should you do this? Well that's up to you but we definitely recommend learning to beatmatch by reading our full guide to beatmatching as its a great skill to fall back on when software fails you.
Playing more than one track at once.
DJing involves blending multiple tracks together to transition from one to the other or create an entirely new sound. You can definitely do this with all the best DJ apps on iOS. Admittedly most only allow 2 tracks to be played at the same time.
This isn't really down to technical limitations of the hardware, modern iPhones can more than handle the processing power. The bigger issue is controlling more than 2 decks at the same time on such a small screen. We'll have more on this topic later but for now you're usually limited to mixing 2 decks.
Looping and sampling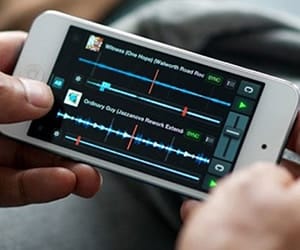 This is where DJing on touch screen devices is actually a benefit over traditional methods of capturing samples and looping.
There's some great DJ software for iPhones that can easily set loops from your favourite tracks, adjust their length and effects applied to them all just by swiping your finger, pinching and zooming, tapping and adjusting to create new interesting sounds.
Again touch screen real-estate is at a premium so if this is your thing you may find DJing with an iPad works better for you, but either way rest assured that you can indeed sample, loop and edit your audio in a live environment on the best DJ apps for iPhone currently available.
DJing with streaming services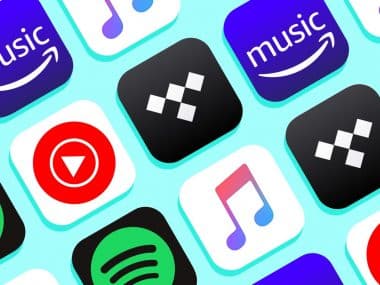 It could be argued this is what DJing on an iPhone does best. You're already used to streaming your music on your smart phone so it makes perfect sense that you'd want to do the same when using iPhone DJ apps.
Some of the best can integrate easily with some of the best music streaming services available like Tidal, Soundcloud Go+ and Beatport.
If you download music from Apple music to your phone that can also be played. Unfortunately you can't DJ with Spotify at this time but there are solutions to this for laptop users.
There's never been so much musical choice right at your fingertips so if you're totally in to streaming music on your iPhone then DJing on your iPhone might be a great fit for you!
Why would you consider using an iPhone for DJing?
The bigger question for you may be why would you even want to use an iPhone to DJ? Well there's some great reasons why so many DJ app makers have made iPhone friendly versions. So let's explore a few of these to see if they suit you too.
Highly portable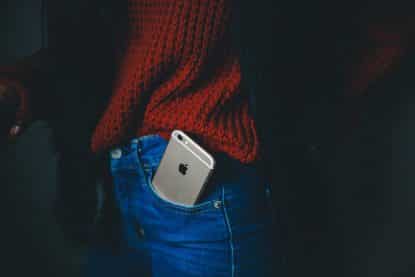 With so much power in your pocket the iPhone is a more than capable computer when it comes to playing music and DJing with it too.
The latest iPhones are highly robust mini computers that you can take literally anywhere. You never need to worry about dragging your laptop around with you or keeping everything safe too.
The same cannot be said for bulky decks, mixers, controllers, laptops and all the cables you need to make DJing possible the traditional way. This portability cannot be underestimated.
Highly intuitive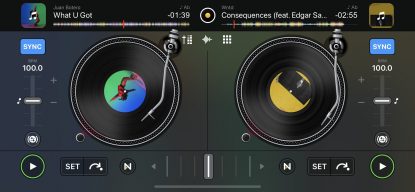 iPhones have been around for more than a decade now and the interface remains largely the same. There's good reason for that too as Apple pretty much nailed it when they created their touch screen interface.
Buttons may have changed design but the notion of swiping, scrolling, pinching, zooming and tapping is something we've all grown up with and is part of our daily life for so many other uses.
So when it comes to DJing on an iPhone it feels natural, normal and totally intuitive. Its quick and easy to browse for songs, load up tracks and use your fingers to control virtual decks on your iPhone display.
We've all gotten used to using smartphones now so loading up a new DJ app and diving right in takes just seconds. This has drastically reduced the barrier to entry for many budding newbie DJs.
Reliable hardware and software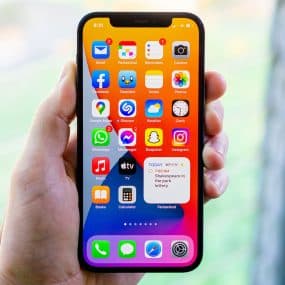 The latest iPhones are absolute beasts when it comes to robust hardware you can depend on. Whether you protect it with a rubber case or not, think about it for a moment. If you dropped your DJ controller or laptop on the floor would you still expect it to work perfectly?
I've dropped my iPhone countless times and it barely has a scratch on it. The hardware still works and so does the software. I can pick up my little DJing device and know it'll keep on working.
The software too is now so reliable that apps crashing is something you rarely ever see.
You can DJ on iPhone safe in the knowledge it won't suddenly let you down. The latest iPhones have more than enough grunt to take on the most complex of DJ performances so you can be sure that your iOS device can handle it.
Hopefully that's answered a few of your burning questions about whether an iPhone is good for DJing. So now let's take a look at exactly what DJ apps there are for iPhone and which offer the best DJing experience.
Its worth noting that there are a lot of bad DJ apps for iPhone on the app store so I highly recommend you check out the apps we've selected below. We've tried all of these and they are by far the best in a crowded category of DJ apps.
djay by Algoriddim

We have to start with the absolute master of DJing apps on the iPhone, iPhone and laptops for that matter. Algoriddim have been relentless in their pursuit of DJ dominance in recent years, pushing their app to the absolute limit of cutting technology and making sure they are compatible with as many platforms and hardware manufacturers as possible.
This relentless development and push for ubiquity has worked wonders for them and they are currently the envy of a lot of developers with some incredible features available in all of their DJ apps, including for iPhone.
You can even scratch mix with this app and some simple DJ hardware for iPhone. Check out this quick demo.
You'll find a familiar interface when you load up the djay app and it's very easy to integrate multiple streaming services and file browsing options in to your musical collection.
They currently support the following music streaming services. We've added links to tutorials on this site for more information.
Soundcloud (With a Go+ subscription)
Apple Music (Downloaded files only)
Beatport
beatsource
Files stored on iPhone or iCloud
Videos in your Camera roll
Yes you read that correctly the djay app can even mix music in video files as well as stream music from multiple sources at once. Needless to say djay is a more than capable DJ app for iPhone.
Beyond just great streaming service integration the design of this DJ app is one of the best you'll find in the App Store. It works best in landscape mode where you'll see more controls than portrait mode. Some of the buttons can be a bit small but thats more a limitation of iPhone's screen size than anything else.
I recommend setting the tempo controls to give a maximum of 8% in either direction. Any more than that and it becomes hard to control.
Here's a quick example of hooking up your iPhone to DJ hardware.
It has some great little hidden tricks too. Like holding down your finger on either side of the crossfader will make it slowly fade from one side to the other giving a great seamless mix options for you.
Personally I recommend switching from the default view of 2 spinning records, to the more useful waveform view which will show you both decks side by side with colour coded frequencies too. This is much more useful for accurate beat matching, looping and understand exactly what's happening to your music. You'll find the button for this in the centre of the display.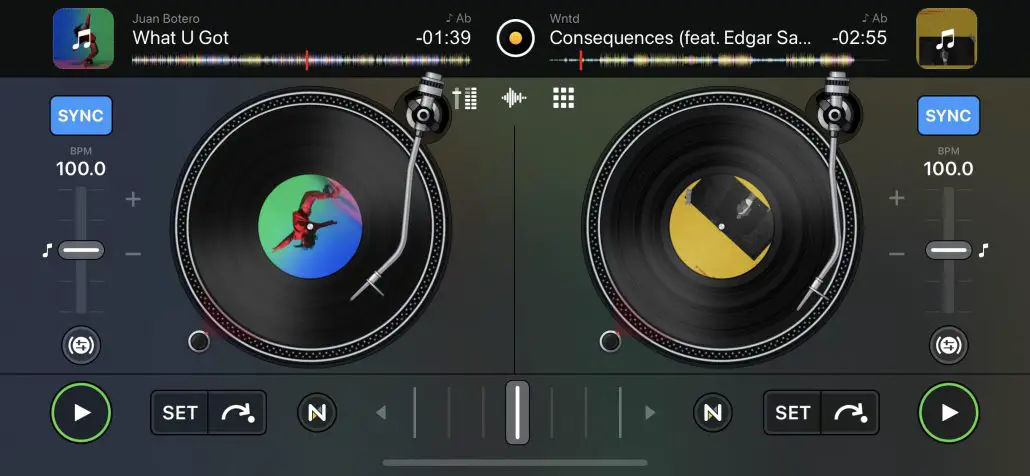 Killer features
The djay app has some amazing features that do make this stand out from the crowd. Here's a couple of them that I think you're going to love.
Neural Mix
Without doubt this is a industry leading feature that I can see a lot of the competitors scrambling to catch up with. The powerful software inside djay AI can isolate vocals, percussion and melodies from any track and play just those sounds, with the ability to control the volumes and effects on each.
Its an immensely powerful feature that means you can instantly create acapellas or instrumentals of your selected tracks, mixing percussion from one to the vocals of another all with easy intuitive controls. There's currently no other app on the AppStore that can do this, let alone any other DJ hardware or laptop based software that can handle this.
For this feature alone its worth downloading djay for iPhone and having a play around. It just might change the way you DJ.
Quick looping controls
As mentioned earlier, touch screen displays are a great way to control, create and manipulate samples and loops. the djay app does a great job of this with plenty of quick options, auto splitting the track in to segments you can jump to without losing your position in the playing track. You can play 1 beat, half beats or even quarter beats with just a quick tap.
There's no need to set your loop length, just jump right on in and start remixing. This is a very powerful approach to looping and can help you create entirely new tracks from parts of others. You're only limited by your imagination.
You can check out djay AI for iPhone here.
I'd recommend watching this great vido from A-Trak on the amazing creative uses for djay's Neural Mix feature and why its game changing!
---
edjaying Mix
Next on the list is edjaying Mix which is a rather odd example of a DJ app native to iPhone. While it has many of the same features as djay AI its execution isn't quite as slick. Never the less it is jammed with cool features like preset sound effects (air horn anyone?) and quick loading of tracks.
It can also easily connect to the Pioneer DDJ-200 controller via bluetooth which means you can quickly start DJing with actual DJ hardware while using your iPhone as the computer.
You can even use time-coded records on vinyl turntables to control the digital music you're playing. That's pretty neat for a compact iPhone based app, although you will need an audio input device to make this possible. edjaying Mix doesn't make that entirely clear but once you get it working its pretty cool to see.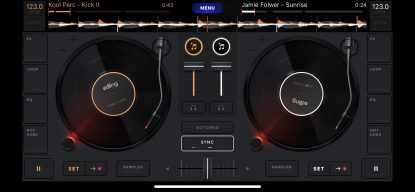 edjaying Mix has less streaming options unfortunately but does at least include Soundcloud. You can also stream music directly from a Google Drive or Dropbox account which means you can backup all your music to the cloud and then stream directly to your phone. Great if you prefer to curate offline music playlists.
One downside to this app is that they push their premium service pretty hard. In fact when you first load the app it isn't abundantly clear that you don't need to sign up for their £49 GBP a year premium service. You'll find the close icon top left of your screen but expect more pushes to purchase a premium account while you're DJing.
One neat feature is the ability to queue a new track whilst broadcasting another. Not many apps offer this although it does require an audio cable that can split your stereo output in to two mono outputs. The obvious downside is that your broadcast will then be in mono rather than stereo which isn't very professional.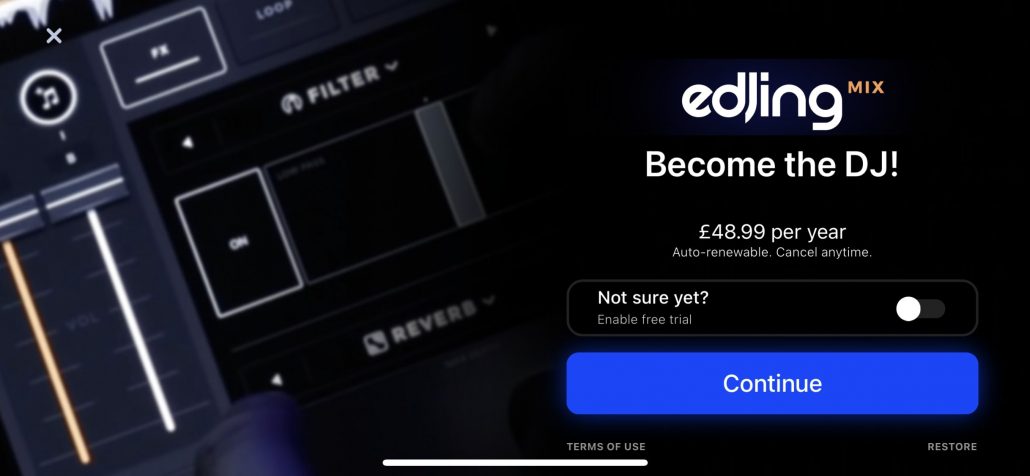 Have a play with this DJ app and see if its right for you. There's some promising features here but the hard sell on their premium services might be a turn off for some. Some of their premium features can be found elsewhere on other apps without the premium subscription cost, but you may find the layout and features are just what you're after. Especially if connecting to time code records or midi controllers is something you're keen on.
Check out this promo video to see just why edjing Mix is considered one of the best DJ apps for iPhone.
Cross DJ by MixVibe
While this app has been around a while its interface hasn't changed all that much. With its big orange and blue virtual turntables and chunky tempo faders its easy to control the fundamental things a DJ needs to perform mixes.
They've definitely gone for a no nonsense user experience, its clear to see where all the controls are and you'll always find you can add new tracks with the big plus symbols in the top corners.
Personally I'd prefer more view options than just the big jog wheels but they are at least easy to use. I recommend switching the full track view at the top to the more useful current waveform view so you can see if tracks are beat matching and flowing together nicely.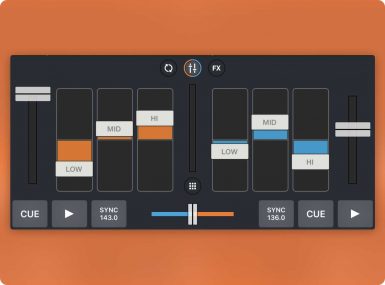 There's also some easy to use hot cue buttons and with the premium version there's extra controls for auto cue points and more effect types.
The great thing is their premium version is not subscription based so you just pay a one off fee to get access to all of the "pro" features.
While it can feel a little rough around the edges its a pretty solid user experience that may suit your preferred user experience style. One to check out and see if it suits you.
YOU.DJ

This one is worth a mention as its made by just one programmer and is impressive given the limited budget, made up for with a geeky passion to create something useful for DJs with iPhones!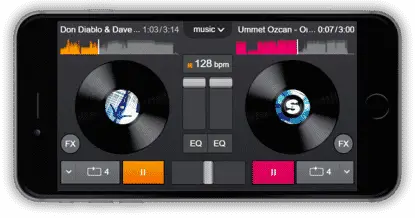 The user interface design is wonderfully minimalist. sticking to the traditional vinyl records you see on so many apps. Press play and the spin, rewind and scratch the playing track just like a real turntable. You can tap the middle of the turntable to do a quick spinback effect too which is kinda retro.
The 2 faders for the channel volumes doubles as an EQ meter which is a nice touch and there's some clever features like jumping to any point in the track just by tapping on the waveform at the top of the screen.
One other feature I found compelling is that new tracks are auto sync-ed and start playing automatically when you click on them in the music browser. This means you can get super creative with multiple track samples saved in your music folders.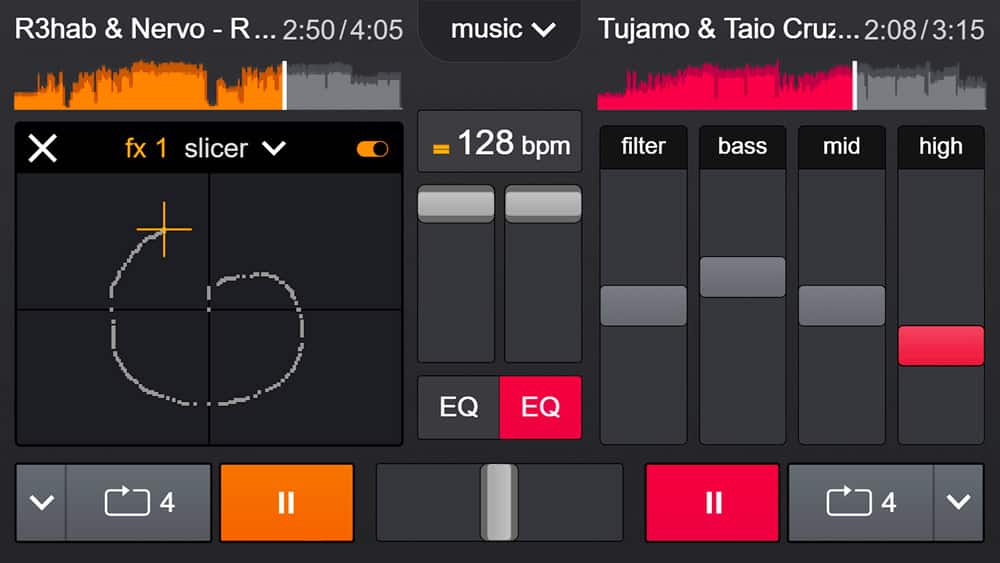 Other apps to look out for
ReckordBox
While this one isn't strictly DJ software it is software made for DJs. It's also made by Pioneer, the industry leaders in DJ hardware so it would be crazy of us not to mention it.
Rekordbox for iOS allows you to access your cloud library of music and set cue points, loop points, hot cues and memory cues right from within the app.
You can create and edit playlists, getting your set ready for your next gig, even if you just have your phone handy and no DJ gear.
While it does have basic DJ-ing controls too so you can hear what two tracks may sound like together, its not specifically made for DJing. Rekordbox's creator Pioneer fully admit that this is not a DJing app for iPhone. Just a way to prepare your DJ sets with ease.
The user interface is a solid design with everything you'd need to prep your set lists. While its definitely not as feature rich as other DJ apps it still proves very useful for anyone using Rekordbox's cloud sync system.
You'll need a subscription for the cloud service so if you don't have that you may want to get it.
While its a cumbersome setup it is entirely possible to connect your phone directly to your Pioneer CDJ hardware and use your phone like a USB flash drive. The added bonus being that your phone is connected to the cloud so any edits you make to your setlist will be instantly available on your DJ hardware.
Here's a very useful tutorial on how to make the most of the Rekordbox app. Definitely worth a watch.
Judging by the apps available for iPhone its clear to see that software wise, you're covered. There's some great options out there and the iPhone is more than capable of handling the processing of mixing tracks, looping and adding some seriously cool effects.
But software is only on part of DJing. The other is DJ hardware, so do any of them work with an iPhone? You'd be surprised just how many do!
Now here's one quick caveat before we get stuck in. The high end DJ hardware currently available doesn't work with iPhones. Mostly because they come with either integrated software inside the hardware or they work with industry leading software usually loaded on to a laptop.
There are still plenty of options for DJ hardware for iPhones so let's explore some of the best available and how you can create the perfect DJ setup with your iPhone.
Pioneer DDJ-200 DJ Controller
Let's start with the daddy of the budget DJ controller world. Its safe to say this particular controller is very popular with bedroom DJs and entry-level pro DJs too. Part of this reason is its compatibility with so many devices and setups. It's also a steal at around £190 GBP ($250 USD).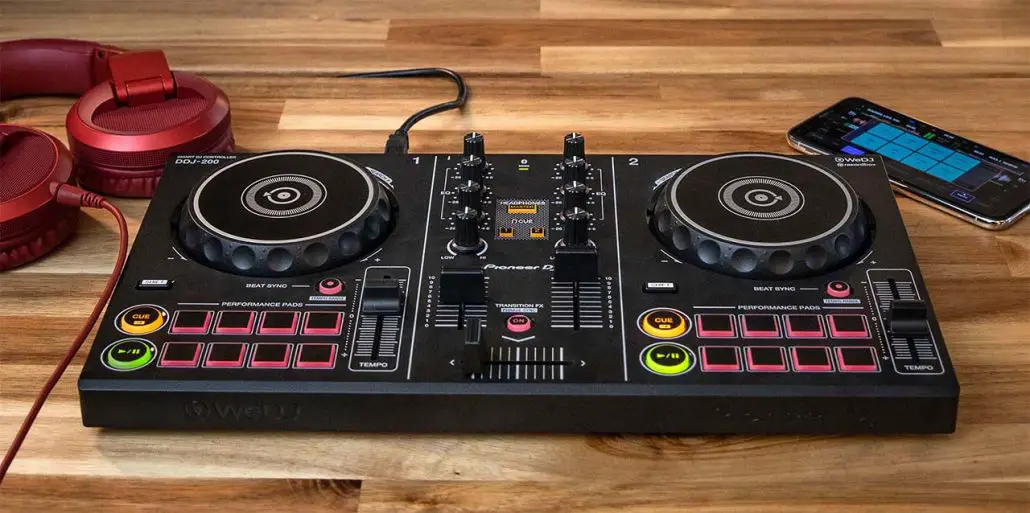 Its compact size and simple layout compliments the small size of your iPhone making this a very portable setup. You get 2 full decks to play with that include hot cue buttons, loop controls and sync functionality.
As the iPhone is doing most of the work the controller is merely a device sending signals to the iPhone to tell it what to control. There's no extra lights, displays, bells or whistles here.
Its worth noting that it doesn't cover every control you'll find in your DJ iPhone app of choice. The Neural Mix feature on djay AI for example will still need to be controlled on the iPhone.
The great thing about the DDJ-200 is that its very easy to set up. You just plug in the USB power, use the splitter cable provided and you're good to go.
Here's a quick demo video of the DDJ-200 in action.
This controller is perfect for house parties, bedroom DJs and highly portable DJing scenarios where compact size really makes a difference. With a low price point too its definitely worth considering as it adds a lot of creative opportunities to your iPhone DJ apps.
You can find the latest price on Amazon for the DDJ-200 here.
Reloop Beatpad 2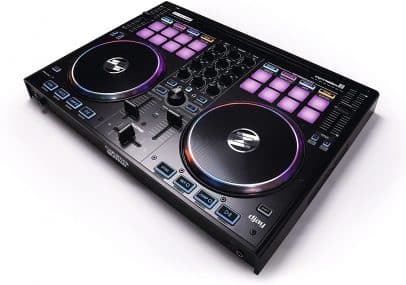 Probably one of the most iPhone and iPad friendly controllers you'll ever meet. This is truly designed to be tablet and phone compatible.
With its built in iPad and iPhone holder that angles your device perfectly at the back of the DJ controller, this device simply plugs in and takes control.
In fact it was built with Algoriddm's djay AI software in mind and features extra buttons for a number of their looping and effects features. It'll work with other apps too but you'll definitely get the most out of it with djay AI.
It has a rather unusual layout compared to almost every other controller on the market, putting the pitch faders and performance pads at the top and the jog wheels at the bottom. This is an odd choice as its entirely possible you could jog one of the tracks while reaching over for one of the hot cue or loop pad controls.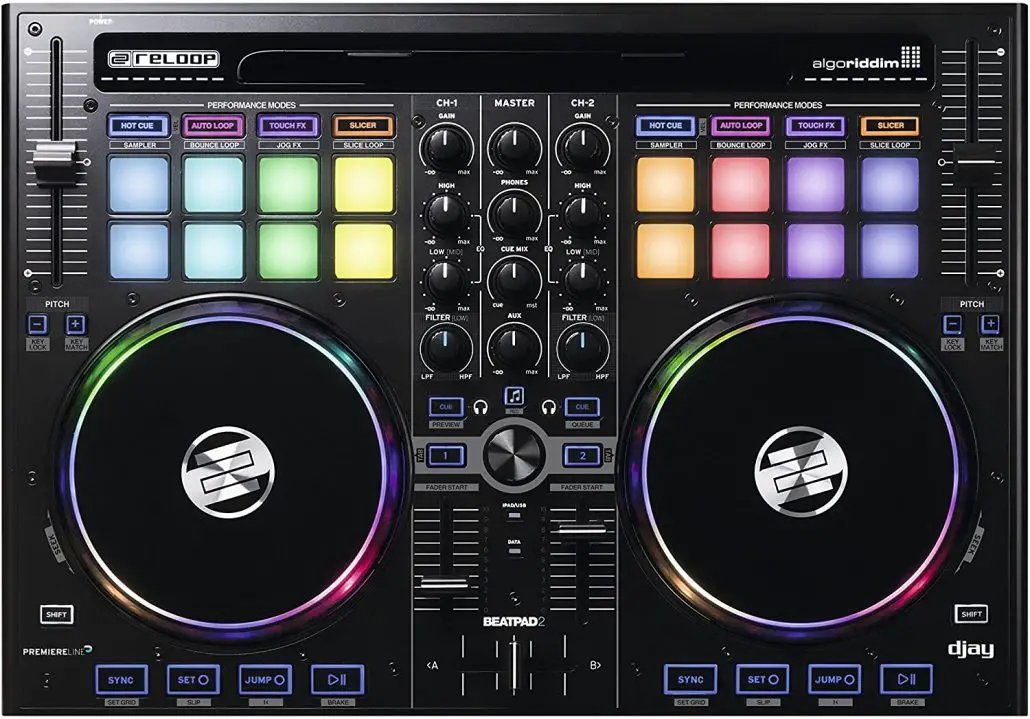 Other than that its an incredibly capable and professional piece of DJ gear compatible with the latest iPhone and iPads. The level of integration and control with just an iPhone is incredible and really adds to the user experience of DJing with an iPhone. The fact that you can switch between iPhone and iPad makes this controller even better.
You can find the latest prices for the Reloop Beatpad 2 on Amazon here.
Now that you've seen what software and hardware is available for DJing on an iPhone we need to get down to the nitty gritty of just how his DJ setup with influence how you play.
Firstly let's deal with the elephant in the room. iPhones are small, even the Pro Max is just a 6.7 inch screen. That's a lot smaller a space to deal with than a full DJ controller or even an iPad. So the on screen controls are going to be small.
Getting an iPhone compatible DJ controller will help with this issue but you'll likely still need to use the phone to scroll through your music library, search for songs using the on screen keyboard and possibly control some of the extra features of your chosen DJ app.
So with all these possibilities on such a small screen here's a few pointers to help you make the most of DJing on an iPhone.
Keep things simple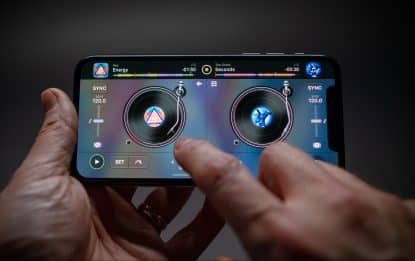 The more buttons you need to push the more chances there are for mistakes, so keeping your mixes simple will help reduce those chances. On full DJ controllers its possible to mix with 4 decks, all looping with added effects and drum patterns, on an iPhone you can still do all those things, but it gets super fiddly super quickly!
Stick to just 2 decks with simple transitions between the two. Seamless mixes work great on iPhones as you're just adjusting a few simple controls like volume and maybe EQ controls.
Looping works best if you've preset your hot cues and loop locations. But the more you need to control during a transition the more likely you are to mess things up.
Press buttons with confidence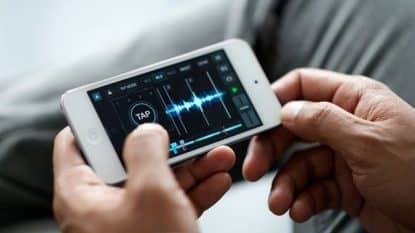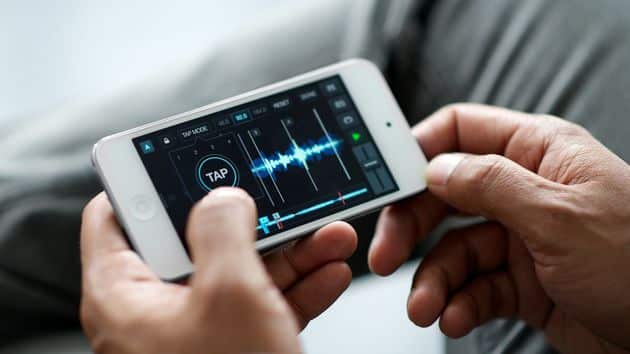 When there's no physical controls, just a flat screen and virtual buttons, its all too easy to tap the screen and accidentally set off the control next to the one you wanted.
The smaller the screen the more likely you are to do this. But there are ways to combat this
Use a robust stand to hold your iPhone in place, preferably around waist height or higher. This allows you to move your arms freely and aim for the right button on your little iPhone screen. It keeps your iPhone steady and muscle memory ensures your iPhone is always in the same place for you to locate those tricky virtual buttons.
Take a moment before pressing buttons to make sure you're aiming just right and press that button once with confidence. A light tough or inaccurate aim can lead to messy DJ mixes!
One page at a time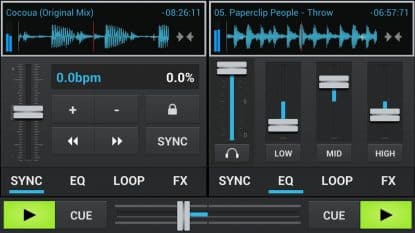 Most DJ apps for iPhone have features and buttons spread across multiple "pages" that toggle in to view depending on the buttons you press. I highly recommend that whatever transition or effect you're trying to perform, you do it all within one page. If you're looping, EQ changing, adding filters and effects and trying to transition at the same time then its going to get messy fast.
Just control some effects over your track, or loop and seamless mix, the less switching between pages on the tiny iPhone display, the less mistakes will be made. Its all too easy to leave effects turned on because you can no longer see the controls because the "effects" page is hidden.
We've covered so much in this article from how you can DJ with an iPhone to exactly what apps are the best and what hardware will work with iPhone DJ apps too. But there's one burning question about all else. Should you be DJ-ing with an iPhone?
The answer really depends on what you plan to do.
If you're looking for an easy setup for a house party or a simple bedroom DJ setup then yes DJing with an iPhone might be the right setup for you. Its quick and easy to setup, there's less choice of compatible hardware (at least thats plug and play) so buying DJ gear to work with your iPhone is easy too.
DJing with an iPhone has numerous limitations which may hamper your growth as a DJ. iPhones only have one audio output so without DJ hardware there's no way to preview and cue your next tracks. Beat matching without broadcasting the out-of-sync tracks is impossible with just an iPhone.
Compatible hardware can at least give you this functionality but the iPhones small display makes browsing for tracks and making use of features not controllable by your DJ gear, a bit of a hit and miss experience.
On thing that is apparent is that the iPhone is more than capable of handling the audio processing, syncing, Neural Mix and effects features of modern DJ software. But controlling all of these features can be clumsy.
Would I advise using an iPhone for professional DJ use?
Definitely not. At least at the moment as iPhone compatible DJ hardware is rare and still a niche market. This may change as iPad use for DJing increases. You can read all about how to DJ with an iPad here.
There is an amazing array of professional DJ gear that is robust, reliable and very intuitive to use, with none of the display limitations or control surface clumsiness.
If someone is paying you to be a professional DJ then I strongly recommend you use professional DJ hardware.
With that being said there is definitely a time and a place for DJing with an iPhone. Here's some great uses.
Preparing for a DJ set
You have a playlist in mind but you want to make sure the selection of tracks and the order you want to play them in works perfectly. You're in an environment where access to your pro DJ gear just isn't possible (think train, plane, park bench!).
An iPhone is a great solution in this scenario as you can quite simply sync your beats, try out a few transitions and quickly rework your set list. We have more on how to build the perfect set list here.
An impromptu party setup
A party in the kitchen, a house party or small apartment party that doesn't offer much space to DJ in. All you need is your iPhone and maybe a small DJ controller. Plug it in and load up your favourite DJ app for iOS and the party starts! What could be easier?!
Try doing this with a big cumbersome professional DJ controller. You'll be guarding it with your life all night hoping nobody spills a drink on it. It'll take up most of the kitchen counter and you'll probably still need a laptop, various power outlets and pro speaker setup.
Practice Practice Practice
Nobody ever became a world famous DJ by luck. It takes thousands of hours of practice and rehearsal. While you're unlikely to perform your DJ sets with your iPhone it is a great tool for practicing. You can take it anywhere and have a quick 10 minute mix in your break time.
You can try out new transition techniques, get to grips with frequency, filter and effect controls, learn to use hot cues and loops, understand waveforms and memorise the structure of your favourite songs.
The more you do this the better a DJ you will be, so there are valid reasons for DJing with an iPhone.
An iPhone is just one tool a DJ can use to improve DJ skills and be a better DJ. We've written lots of great articles to help you do just that so take a look around our site for more articles worth a read.
There are plenty of other ways to improve your DJ skills, check out these articles.