Tidal DJ software and hardware
So you want to DJ with Tidal music? The popular streaming platform that integrates with DJ setup. 
This article gives you all the information on thee best Tidal DJ software, hardware, top tips, and a few words on those legality of DJing commercially with Tidal.
So if you've ever thought How can I DJ with Tidal music? This is the advice you should read. So lets gets tuck in to the all important DJ software and find out what DJ apps work with Tidal. The great news is there's a growing number of high quality DJ apps that have Tidal streaming services built right in to the user interface.
It's just a matter of signing in to your Tidal account and you can access 70 million tracks. Of course navigating through so many tracks is the tricky part and this can vary from app to app. So lets cover some of the best.
Algoriddim djay

An increasingly popular DJ app, Algoriddim djay is really taking over the DJ software industry by innovating a number of new incredible features, all packed in to a very intuitive interface. Not only that but they have jumped on every streaming service worth subscribing to and integrated their libraries straight in to the djay music library.
This means you have full access to the 70 million songs on Tidal and can also DJ-ing with over 250,000 music videos too. yes Algoriddim djay can handle visual DJing too.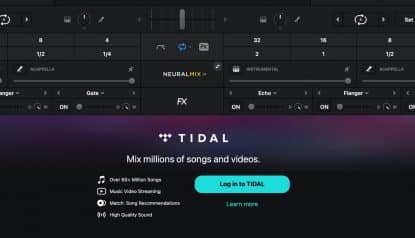 You'll need at least a Tidal Premium account to access the music and for the pro DJs there's Tidal HiFi which allows you to stream uncompressed higher quality audio files. A must for any serious DJ.
Whether you're a member of Tidal or not, signing up and signing in is super easy and can be done directly from the Algoriddim djay user interface.
You'll be presented with an empty Favourites library and a search box on the right. Search for anything you like and it'll appear in a results box on the right. You can then load tracks directly in to 1 of the 2 decks and also add it to your favourites library for re-use in the future.
Music starts streaming instantly and you're good to go. It's a super intuitive interface and will get you DJing with Tidal music in no time.
You can also use Algoriddim djay's incredible flagship feature, the "Neural Mix" where advanced AI allows you to remove percussion or vocals from tracks live so you can be super creative with your mixes. A feature that makes djay one of the hottest DJ apps around at the moment.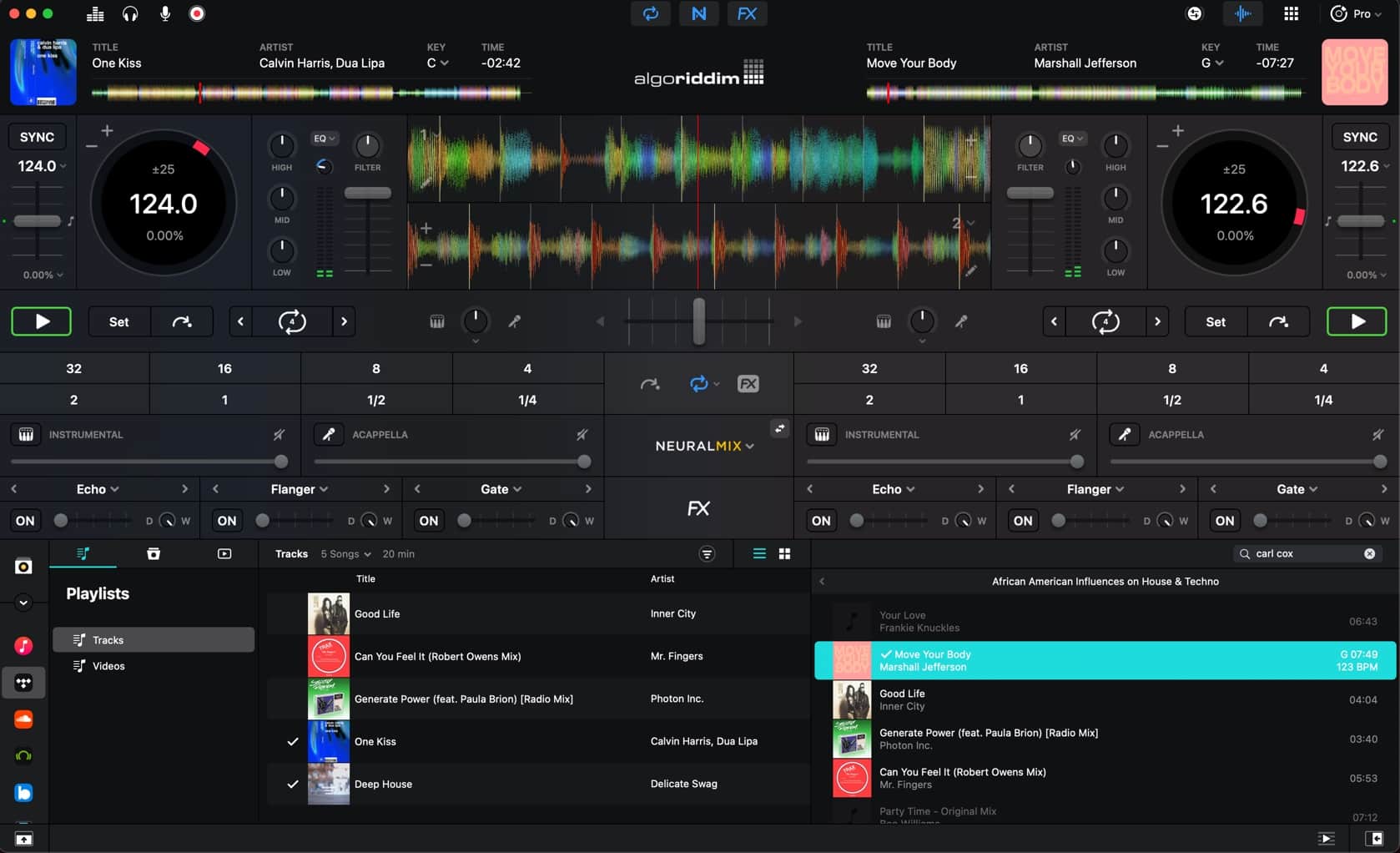 Serato DJ

One of the industry leading DJ apps, Serato is a firm favourite with many professional DJs with its feature rich software and well supported hardware lineup.
While Serato's user experience isn't quite as slick as Algoriddim djay's it works just fine for logging in to your Tidal account and accessing their vast library of music. Serato do recommend you still download the Tidal app for playlist creation and discovering new music, since the DJ app is more suited to quick searches and basic playlist management.
You'll find Tidal integration in both the Serato DJ Lite and Serato DJ Pro apps with the Tidal logo appearing in the left hand column next to your music libraries. Just click on the icon, log in to Tidal (it'll take you to your web browser of choice) and bring you back to the app once you're signed in. With a handy screen to let you know how to work with Tidal in Serato.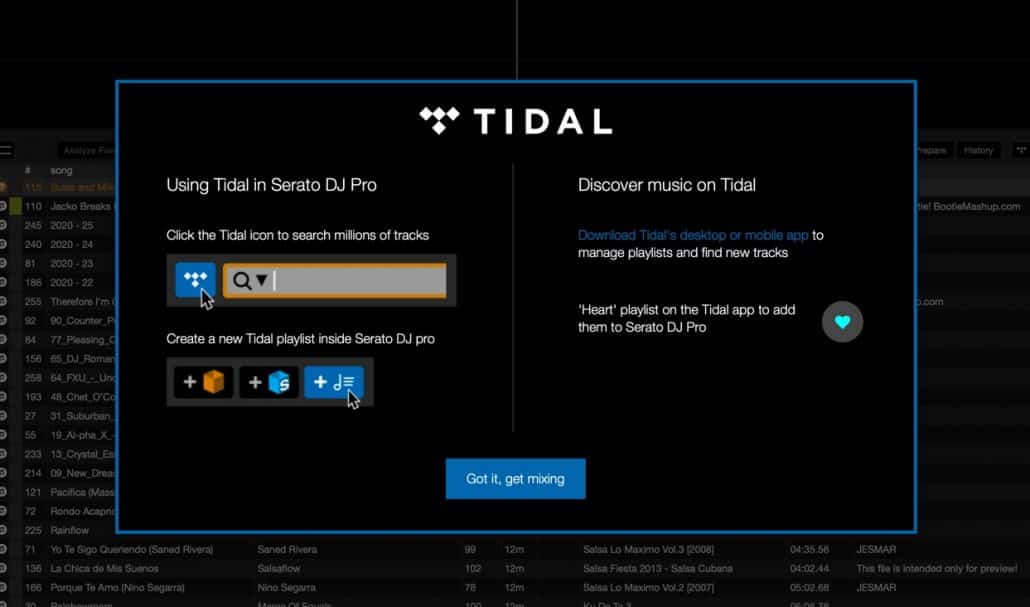 The process here is a bit cumbersome compared to rival software but with the power of Serato at your fingertips its well worth the slightly clunky user experience.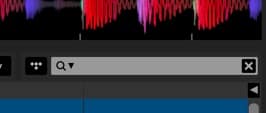 In order to search Tidal you'll need to click the Tidal icon next to the search box on the right. This will enable you to search through Tidal's 70 million tracks. it'll also search through your playlists and music library too.
Once you've found the track you want you can drag it straight to a Tidal playlist in the left column. There's no right clicking options so be sure you drag to the correct playlist.
You can load a track straight in to a deck and start playing it but its also analysing the track at the same time so you wont be able to use some features until this is complete. It usually only takes around 10 seconds but it does mean things like sync-ing tempos is disabled until its complete.
I highly recommend using the Tidal app to more fully explore their music library and playlists. You can create your own there in a much more intuitive and pleasing environment, then just restart your Serato app to see your playlists available there.
You'll need at least Tidal Pro account to access the music. Serato can also handle the HiFi subscription offering much higher quality audio files. Just remember these will take longer to load in to your app.
The great thing is that the music files download completely to your computer so you wont have any problems playing back the files if your internet goes down, although you wont be able to access any more so its definitely not a fully robust solution should that happen.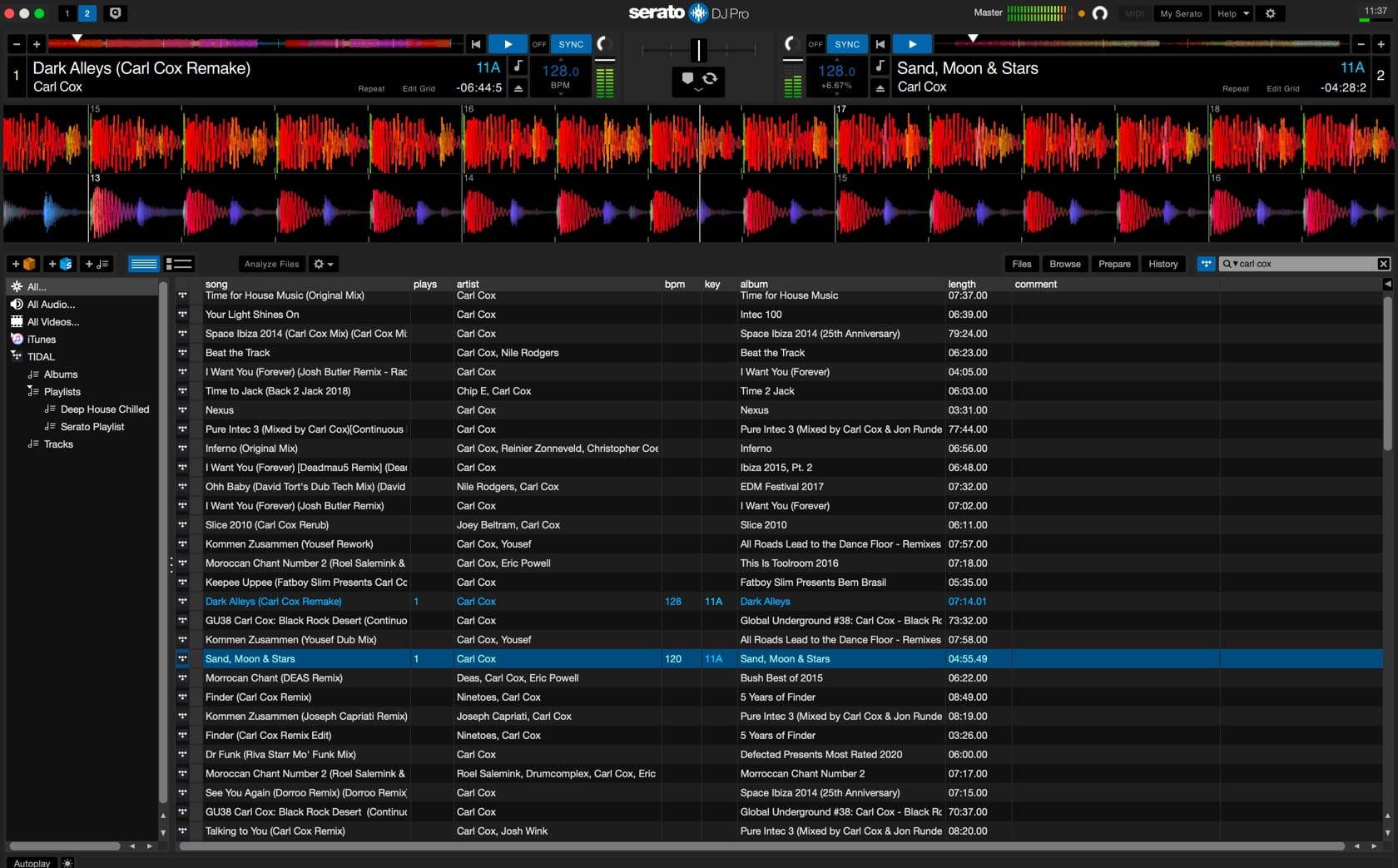 Rekordbox

Pioneer's flagship software now supports Tidal music streaming, so all of their incredible DJ hardware that uses Rekordbox now has full access to Tidal's huge library. Amazing!
Largely considered the industry leader when it comes to DJ equipment, Pioneer have integrated Tidal in to their software so that you can search for tracks and stream them effortlessly right from within Rekordbox.
They've made it super easy to browse collections, genres and much more from the tree style structure of the browser. You can drill down in to the genres and find collections there to suit you.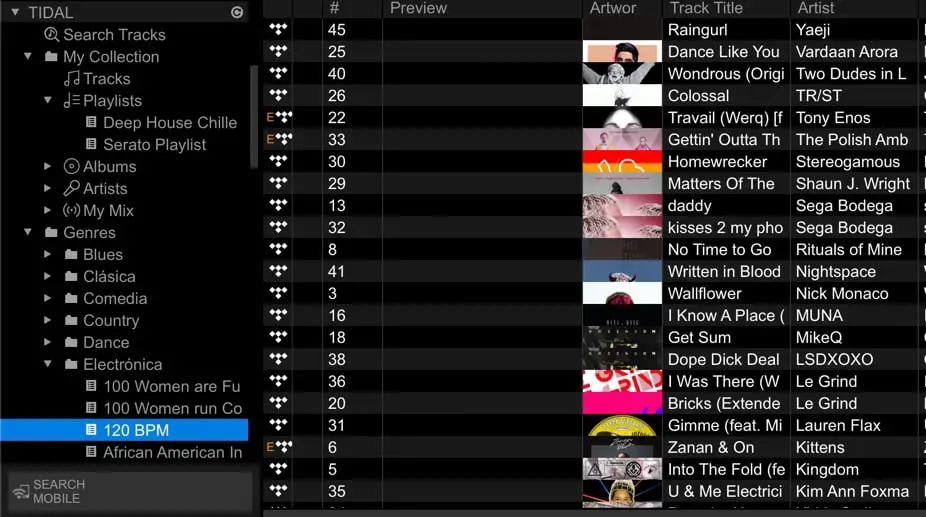 Its surprising that the data downloaded when browsing doesn't include BPM or key so you'll need to get rekordbox to analyse the tracks before playing them. Rekordbox can do this live while you're DJing but keep in mind it can use up resources on your computer so there's an outside chance it could cause playback issues. Make sure your computer is powerful enough to handle this with a few tests.
It also means playing DJ sets in a particular key are not possible if you're browsing for music, since there's no collections for musical keys. Harmonic mixing requires knowing what key each track is. You can do this by creating playlists and loading every track to analyse its key but this isn't a quick process if you're in the middle of DJing.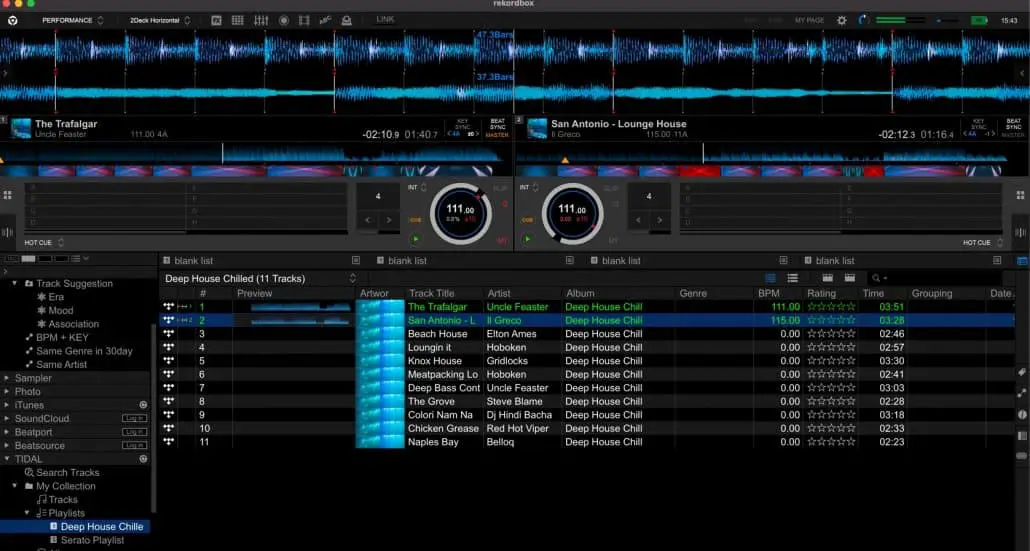 The best thing to do is use the search facility to find the exact tracks you want. The only downside is you'll need to be pretty specific with the name of the track, there's no searching for niche musical genres here. For example typing in "deep house" will return tracks titles that include either "deep" or "house" which isn't much use.
The ability to use high quality professional grade DJ hardware and Software is a game-changer for streaming services like Tidal where their fast musical libraries are now available to mix and DJ with, remixing on the fly, looping and adding effects in new and creative ways.
Thanks to the great DJ software support with some of the major players, there's really good DJ hardware for Tidal too. All of the big 3 mentioned above are highly compatible with DJ hardware of many types to suit all budgets. This means you can get straight to work DJing on the hardware that suits you and the music you love from Tidal.
Here's some great Tidal compatible DJ hardware options for you.
Reloop MIXTOUR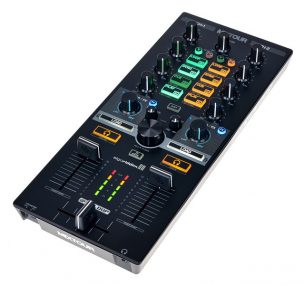 The Reloop MIXTOUR is a 2-channel controller that has. very compact yet feature rich interface. I'd categorise this as perfect for those on a budget or where portability is absolutely key.
With a built in soundcard for high quality audio output, its built with Algoriddim djay in mind and works straight out of the box with their latest software version.
It offers basic controls for 2 channels, with frequency controls and effects dials too. You can browse your Tidal music libraries with the main central dial and load up your next track with ease.
This is your basic entry level Dj hardware for Tidal to get you going. Great for new DJs and kids too. Packed with plenty of features considering its low price. For the latest price take a look on Amazon.
Beatpad 2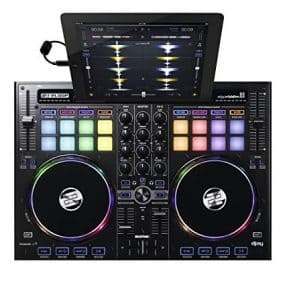 Also built for  Algoriddim djay check out the much more advanced Beatpad 2 with iPad integration. Another great piece of DJ hardware from Reloop, you can slot your iPad in its special holder, load up the djay app and control your Tidal music directly with the DJ hardware.
What makes this much more advanced is the ability to splice, sample and loop parts of your playing tracks with ease. The multi-coloured LED pads can be assigned loops and hot cues so you can jump around your music and create entirely new sounds. All with your Tidal music library too!
The extra buttons and dials can take a little getting used to, and why the pitch bend faders are above the jog wheels is anyone's guess, but this step up from the entry level gear is evident in its great execution. The extra a cost gives you extra power over your Tidal DJ experience. You can check out here for the latest prices.
Pioneer DDJ-400
Let's talk about more professional hardware you can use for gigs. Portable enough to take to parties and clubs but powerful enough to handle everything you'll need in a 2 channel controller.
The DDJ-400 blurs the lines between bedroom DJ controller and pro, allowing you to grow your skills with your controller without being overwhelmed with too many controls.
The DDJ 400 is a 2 channel mixer with 2 decks build in to the panel. It unlocks all of the potential of Pioneer's Rekordbox software I mentioned in the previous chapter. Seamless integration means you'll have quick access to all your Tidal playlists and music as soon as you plug this beast in.

You can set hot cues and loops right from the hardware and recall them whenever you want with dedicated pads and controls. There's also some great controls for Rekordbox's effects options which you can layer over your Tidal music.
The Pioneer DDJ 400 is a great option if you want to really push your DJ skills to the next level with out breaking the budget or scaring yourself with too much control. View Amazon's latest prices here.
It also works with other DJ software like Algoriddim djay. Here's a great demo of it in action. So you get great flexibility with this DJ hardware.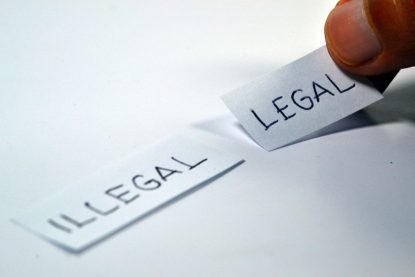 The question of legality over using streamed music commercially is an important subject to tackle. Some may be forgiven for thinking you can just plug in your Tidal compatible DJ hardware and hit play without any consequences. As a commercial DJ its your legal duty to understand exactly what you're allowed to do with Tidal music.
Firstly let's look at the terms and conditions set out by Tidal themselves and see exactly what they allow. In their terms of service web page you'll find the following
The Services are for private use only and use of the Services in a public or commercial setting is prohibited.

The Services will not be used in any way that violates the applicable restrictions on the use of the Service Content (as defined in section 8). These include, but are not limited to, prohibitions against the following: (i) any form of technical intervention in the Services for the purpose of using the Services in a manner other than that intended and permitted in accordance with the Agreement; (ii) copy or post any Content on the service; (iii) assign a username or password to another person; (iv) circumvent any technical mechanism within the Services that has been established to protect the Service Content from reproduction / distribution; (v) use the Services in violation of applicable law; and (vi) not respecting the applicable territorial / geographic restrictions.

The Services may include components that use temporary storage of certain Service Content on various platforms (also referred to as "offline mode"). You have access to this Service Content as long as you have a valid Subscription.
Understanding the legal jargon here is important so you understand exactly what they allow. Firstly the opening sentence makes it clear that commercial setting use is not allowed, but that private is. This is much the same warning you'll see on pretty much any music ever published. Yet for decades people have been DJs playing music with this term of use. I'll explain more on that in a moment.
The large paragraph in the middle is the important one especially "in a manner other than that intended and permitted in accordance with the Agreement". Its important to understand that Tidally wholly support the use of their service in DJ software and hardware. Since they themselves intended to make this possible. The software they support shows that you are allowed to use software and hardware that supports Tidal.
Lastly they point out that software which tries to download and keep music offline is not permitted. This is why in some Rekordbox hardware you'll find certain features like the "record" functionality are disabled, making it impossible for you to effectively keep their music offline in a file. This is annoying but also makes perfect sense since their music is intended for streaming only.
So whats the grey area when it comes to playing Tidal music commercially? Well this is where it gets a little murky. Since every country has their own copyright and broadcast laws its difficult to offer a definitive answer here. But essentially the venue you're playing, unless its a private party, will require a commercial licence to play music.
If the venue doesn't have one then you as a DJ will be legally required to have a license to play music commercially. Sounds ominous right? But this has been standard practice for many years now.
Generally a music venue is likely to have its own licence in place already, in accordance with local laws requiring it. This may or may not cover digital music or streaming services so if in doubt you might want to check on this. Having said that, I've yet to hear of a single court case involving a DJ using a streaming service like Tidal. Although checks on venues are regularly performed so it might be something that could get the venue in hot water rather than the DJs that play there.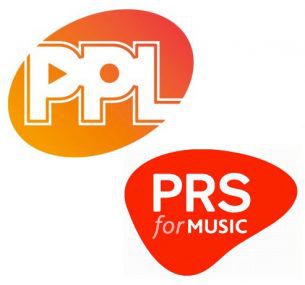 So on to the subject of you needing a licence. As a pro DJ its best to have a licence in place and its much easier than you think to obtain. For instance the ProDub licence from PRS is easy to sign up to and pays royalties to all of its music publishers to cover you legally.
There is some legal confusion over whether this covers streaming music too like Tidal. Since the licence primarily covers the copying of music from one digital format to another like CDs to audio files. Since thats not what streaming services do its not entirely clear if they are covered. Still its best to make sure you can cover yourself as much as possible.
Of course Tidal's right to stream the music they have in their library depends entirely on their current agreements with record labels and distributors. This could change in the future so your access to 70 million songs isn't guaranteed forever.
Working with Tidal music for DJing depends entirely on an internet connection and your ability to access it. No internet, no music. Its a scary prospect right? So lets look at the options you have to keep the party going.
Internet speed and wifi reliability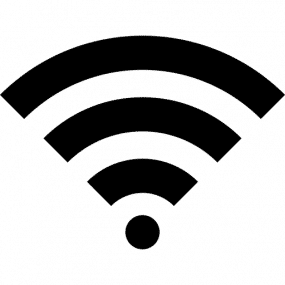 If you're using Tidal to DJ with then you're going to need a fast and reliable connection. This means checking the internet speeds at the venue you're playing at. Is there a private wifi connection you can connect to or do you have to share the connection with the hundreds of people in your audience who are potentially uploading photos and videos, live streaming the event and more.
Don't rely on guest wifi! If the connection drops or the router crashes because there's too many connections what are you going to do?
If you can be sure to travel with a mobile device that can double as a wifi hotspot for your DJ equipment. This will give you a backup internet connection should the wifi let you down.
Of course this relies on there being a good phone signal which isn't always the case inside a music venue. If you're at a house party or smaller urban venue you might be fine, but out in the middle of nowhere or in a large venue with thick walls can cause issues.
Tidal only allows you to download the music for offline listening on their mobile app, not the desktop apps or DJ software. This is part of their usage policy so there's no getting around this without breaking their terms of use. Something to keep in mind when you're thinking of using Tidal to DJ with.
Not future proof
Of course there's no guarantee that Tidal will always be available on DJ software, since they are entirely at the mercy of music distribution companies who give them the rights to stream the audio. If this changes in the future you may see Tidal is pulled from DJ apps. This happened to Spotify in early 2020 so there's every chance it could happen to Tidal in the future.
They have been busy expanding compatibility with DJ software and hardware in recent years so the signs are good that they'll keep on serving DJs in the future. But can you fully rely on Tidal to stick around for the whole of your DJ career? What would happen if they shut down their service? Would you need to rebuild your music library from scratch? It's a daunting prospect and something to keep in mind. We have more great advice on how to save any gig from becoming a nightmare here.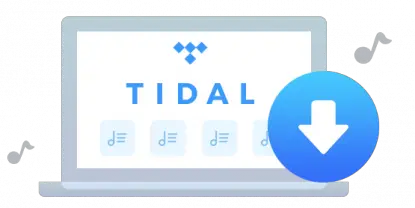 There is another method that makes DJing with Tidal Music a lot more reliable. One that removes the need for wifi from your gigs entirely. For this method you'll be downloading the tracks from Tidal and storing them on your local computer or external storage device like a hard disk drive or USB memory stick.
You can't do this directly in Tidal as the Digital Rights Management (DRM) won't allow you to play songs offline. There is however a way around this by using Sidify's Tidal Music Converter
.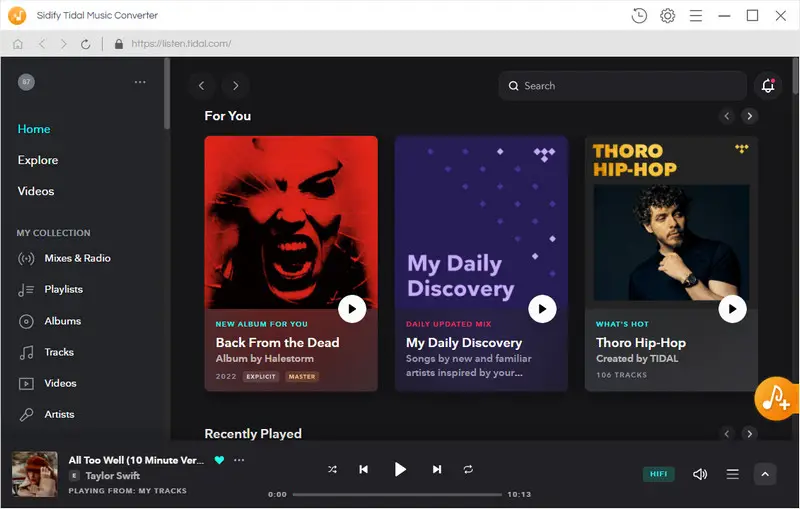 As long as you have a Tidal subscription you'll be able to download and convert any songs from Tidal and play them offline. This gives you a collection of music that isn't reliant on any wifi signal or internet connection.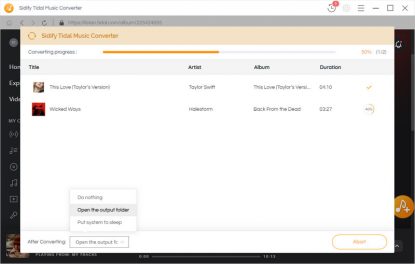 This does of course mean you'll need to prepare your music library before any gig so that it works seamlessly offline.
Sidify Tidal Music Converter is easy to use and has plenty of audio format options too. I recommend setting it to the highest quality to avoid any nasty compression artefacts creeping in.
You can download the software here for free and then grab a subscription to use the full version. If you have a Tidal subscription and want to DJ entirely offline then this is the best solution for you.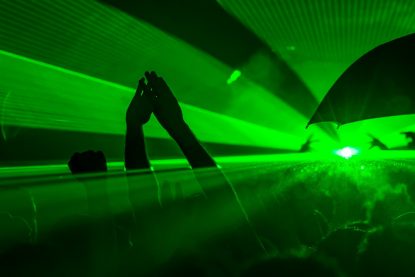 This is a tricky one to answer  since there are a number of appealing pros to DJing with Tidal. The huge music library and ease of access in some DJ software would appear to make this choice a no brainer. The subscription cost is low and the quality of music available is great, especially if you're more of a mainstream music DJ.
But the issues around reliability of internet connection are enough to make any pro DJ think twice about using streaming services. Also the fact that you can't keep the music offline to combat any dodgy wifi connections means you really are at the mercy of the wifi.
For this reason its not something I'd recommend for club use. For private parties it may be fine since a home internet connection should be able to handle it no problem,
My advice
Its better to download your music from DJ pools that allow fully offline use. Then you never need to worry about internet connections or rebuilding your library in the future. You have everything you need without needing to stream.  Services like like Beatport and Juno Download can handle this.
If you really must use Tidal then be sure to have a backup music library just in case, have backup internet connections too if possible and make sure you're legally covered to play music at the venue you're DJ-ing at.
Now that you know all about DJing with Tidal here's some more useful articles worth checking out.