TikTok DJing tips and techniques for better live streams
So you want to DJ on TikTok? I don't blame you. I bet you've seen plenty of DJs live-streaming their DJ sets on TikTok recently and you want to start DJing on Tiktok Too! 
The app is renowned for its ease of finding an audience, and all it takes is one or two videos that tickle the algorithms fancy to turn you from complete 'TikTok newbie' to Tiktok DJ viral sensation.
As of the final quarter of 2022, there are over 1 billion active monthly users on the platform, with the average spending over 90 minutes a day scrolling through content. There's someone out there that will be interested in your DJ-ing skills.
The huge and rapid growth potential of the platform means those willing to branch out and dabble in something a little out of their comfort zone are almost guaranteed great results.
Whether you're a DJ familiar with TikTok or you're curious how it can help your DJ career, we're here to help you get started.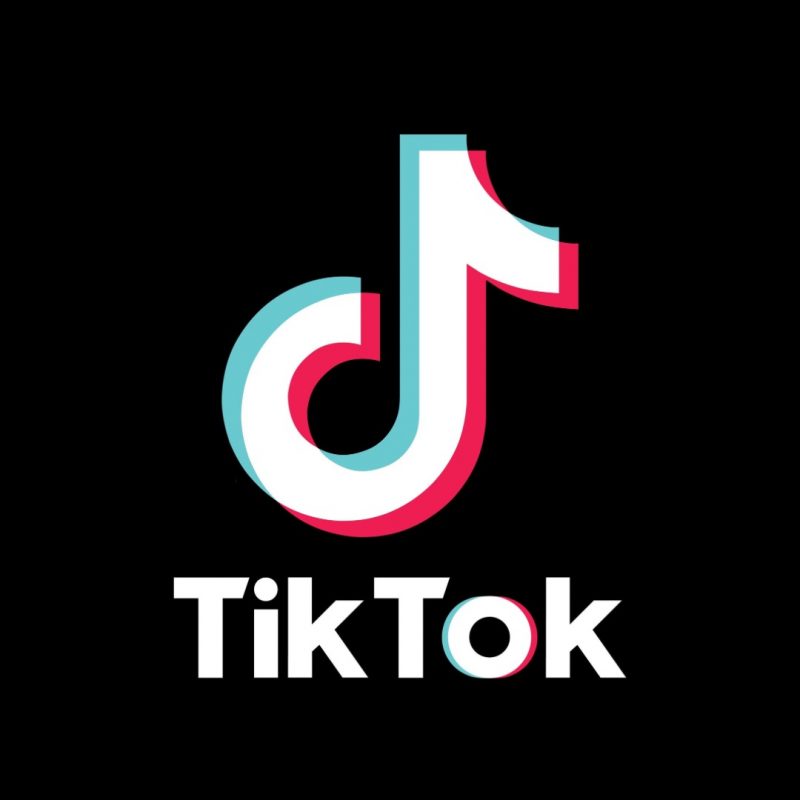 Easy To get Started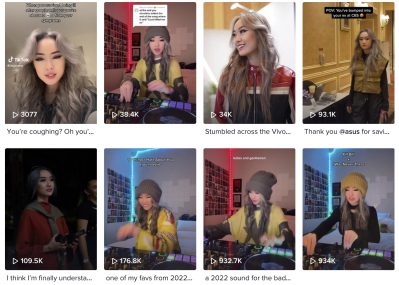 One of the biggest reasons to start DJ'ing on TikTok is the sheer ease of getting started. It doesn't require investing massive amounts of money or absolutely hours of your time.
Assuming you have a smartphone with the app installed and your DJ equipment, you're pretty much ready to rock.
Jovynn, for example, began remixing popular songs and posting them to TikTok from just her smartphone and a tripod to hold it. She now has over 10 million followers on the platform.
Be aware though that while it is easy to start posting DJ content on TikTok, it's a little more difficult to be able to start live-streaming your sets. One notable barrier on the app is that to be able to start TikTok lives, you need to have reached 1000 followers.
While you may see this as an annoying restriction stopping you from getting up and running straight away, it could actually be hugely beneficial to your personal brand.
Hitting 1000 followers on TikTok – while significantly easier than on most other platforms – still requires some focused effort.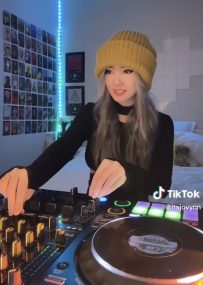 You should be posting something worth watching on a daily basis, whether that be your DJ mixes, new tracks you've discovered, or even a setup video.
This 1000 follower target forces you to create content straight off the bat, so you can begin building a community behind you. It gives you time to figure out how the algorithm works, what kind of stuff you enjoy posting and gain inspiration from other TikTok DJ's.
By the time you reach 1000 followers, you will have figured out exactly which direction you want your page to go, and can tailor your content to your steadily establishing fan base.
Excellent Engagement
What makes TikTok so uniquely brilliant for DJ's is its unrivalled ability to reach a huge and massively diverse audience extremely quickly.
All it takes is one or two videos to go viral and it could catapult your career to new heights.
The platform is very interactive by nature – the simplicity of commenting, liking and sharing videos with others is a large part of what has enabled its success. Viewers can share something they like with friends either through the app's messenger service or to external platforms such as Snapchat or iMessage, before quickly returning to scrolling.
If one person likes your mix, they might quickly share it with a friend who has similar music taste, who then may do the same, and so on.
Any form of engagement does wonders for the algorithm, which reflects in better views and more followers. It's all about striking up a conversation.
Replying to comments is a great way to build a connection with your following, showing there's a real person behind the account too.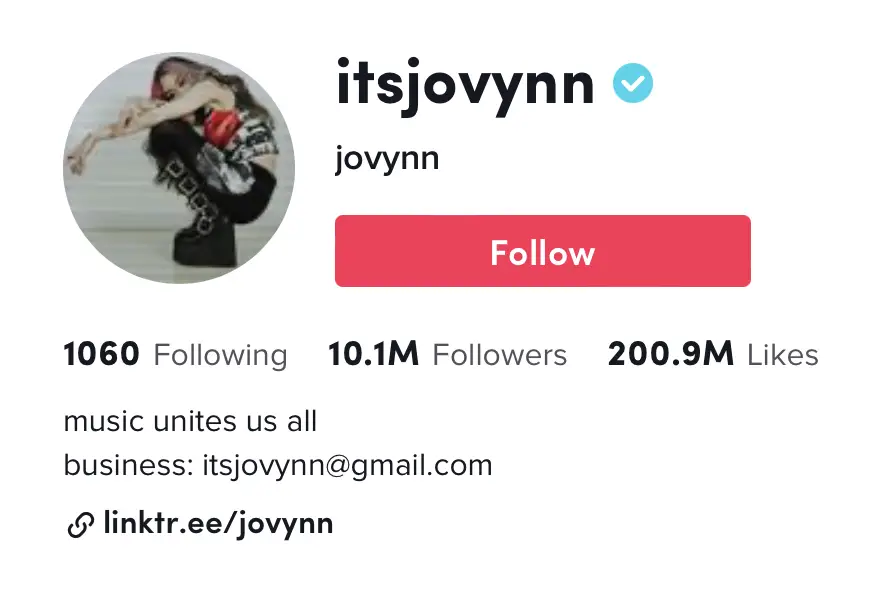 Easy to make content
When it comes to TikTok, with the exception of TikTok live, it's all about short form content.
Supplementing your livestreams with quick, easy to make content on a regular basis ensures you stay active and relevant.
The in-app TikTok editor is favoured by the algorithm for making videos, so try and create your content there when possible.
You don't have to put too much thought into every single video – just make sure that you're posting something at least once a day.
Consistency is key, and when you lose that initial momentum, it will only make it harder for you to build your following.
Quantity is much more important on TikTok than other platforms – perhaps even as important as quality.
With most of the app's content being shorter than 15 seconds, you can quite easily create and post a decent number of videos in very little time.
If you make sure your videos are high in quality too, It's virtually impossible for you to not achieve some level of success off at least one of your videos.
Here's some quick info on TikTok Live streams and what can boost your numbers quickly!
Collaboration Opportunities
The vast number of creators on the app means TikTok is great for finding other DJ's to collaborate with.
Cross promoting content means you can essentially share your fan base with one another, helping each other grow by introducing their content to your following and vice versa.
The livestream feature of TikTok is great for this – you can share a livestream with a collaborator and then both of your followers will be notified if they're on TikTok at that moment.
It's fantastic for tapping into a new audience, showing off your personality and interacting with new potential fans in a way that benefits everyone involved.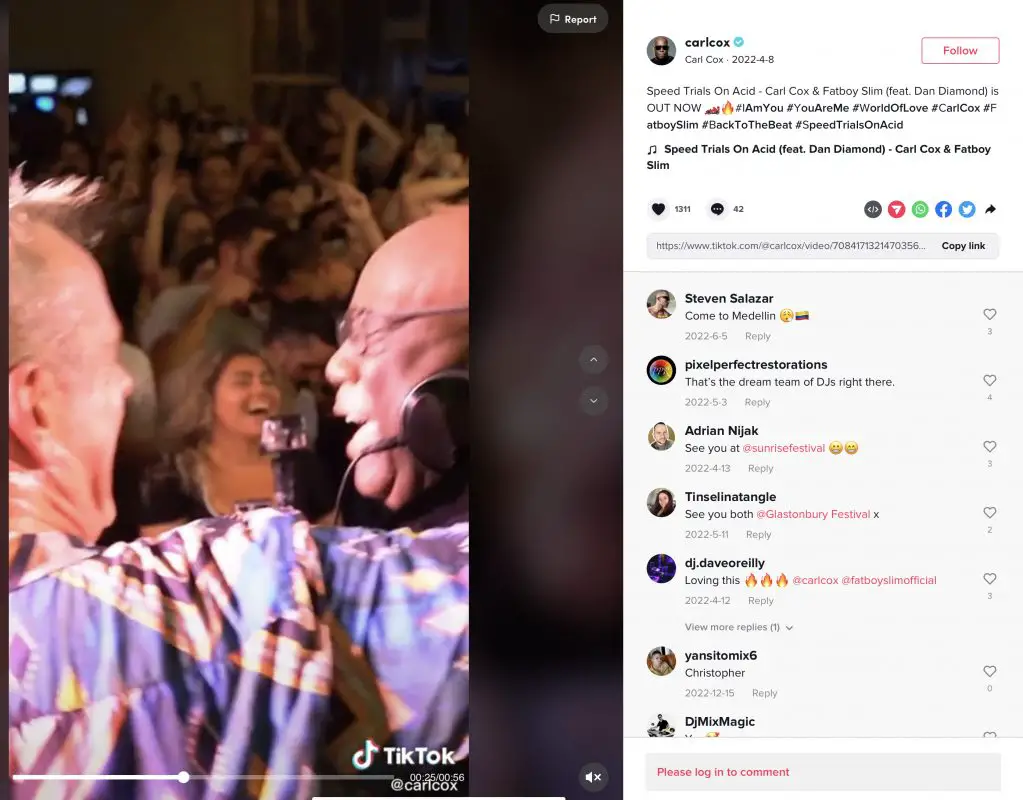 On these livestreams, you can respond to comments from the viewers, like their messages and they can send 'gifts' as a way of showing their support.
It's a powerful tool if used correctly.
There isn't only the potential for collaboration with other creators though – the rapid growth of TikTok has caught the attention of brands.
It's an innovative way for companies to advertise their business, and they aren't always looking for the pages with the most followers.
Often the micro-influencers with even just a few thousand followers are exactly what a brand is looking for, letting them focus on a more refined client pool, and get their products or services seen by exactly the kind of people they want to attract.
You could be the vessel for them to achieve this goal, while receiving free products or services in return.
While the equipment you have on hand isn't going to define whether or not you are successful as a DJ on the platform, having some good reliable kit to get you started is only going to boost your chances of success.
Just like in any job, having the right tools for the trade is key, and the better quality your equipment is, the better quality your stream will be and the more engaging it will be for the viewers to watch.
Upgrading your equipment doesn't always have to include costly measures.
It could be something as simple as getting a cool fisheye lens to attach to your phone camera to spice up your stream, or buying some decor for the background to draw in more viewers.
Remember though, there's no need to splash out in order to achieve success. Whatever you've got already, make a start. It'll surprise you how well it can work!
DJ Gear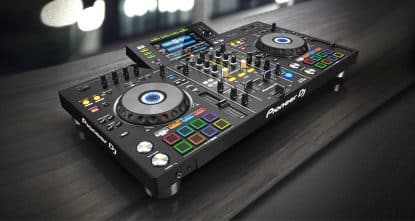 I'm sure it will come as no surprise that the right DJ equipment is at the top of the list when it comes to what you need to become a TikTok DJ.
The standard DJ controller is what most DJ's tend to use, but there are of course other options such as the more retro CD and Vinyl setups.
Whatever you have at hand, the next thing to consider is how you're going to get the audio from your mixer to the TikTok livestream without losing audio quality.
There are a few different ways you can do this, and we'll go into more depth on exactly how later on.
Decor & Lighting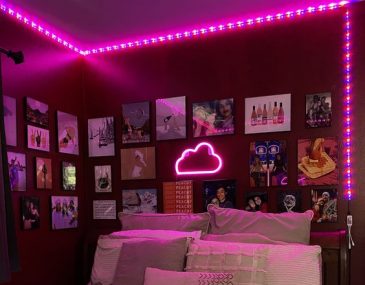 When it comes to TikTok, the visual side of things plays a much bigger part than it does on some other platforms. With it being primarily short form content, everyone wants that quick fix of dopamine immediately, and if you can't provide that, the viewer will simply continue scrolling.
This video is a must for some great lighting ideas for your DJ TikTok livestreams.
Make sure your equipment and setup looks the part on camera, rather than it just being boring and bland. If the aesthetic is appealing, you'll draw the viewer in for those crucial first few seconds, where they'll try to figure out who you are and what you're about.
Standing out from the crowd on TikTok Live
There's thousands, if not millions of DJs on TikTok who all want to achieve success. You need to make sure you stand out from the rest, one way or another.
Adding your personal logo (if you have one) means you're immediately recognisable as an individual, and your audience can start to associate that logo with your brand.
Depending on your style of music, you may want to tailor your decor to your niche.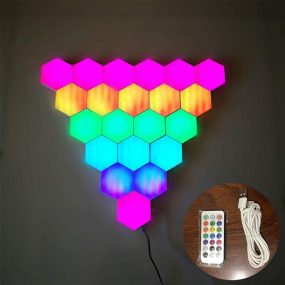 For example, if you play primarily R'n'B slow jams, some candles and some old usher vinyls in the background would be great for really expressing your style and showing some personality.
House plants are a fantastic choice of decor too, and the green hues look great on camera. You can use LED lighting to add to the mood, and some natural sunlight where possible.
In general, the more the merrier when it comes to decorating your set, but just make sure it doesn't look too cluttered.
Once you have the viewer hooked for those initial moments, it gets easier to keep their attention. Just enjoy yourself, keep moving, and let things flow.
Computer for Broadcasting
If you're looking to be a TikTok live DJ, it's likely that you already have a computer as part of your setup. There is of course the smartphone only option too, which we'll talk about later.
Your computer acts as the medium for your broadcasting software to run on.
While the best bet to maximise quality is having two computers (one to run the dj software and one for the broadcast), obviously not everyone has two computers on hand. One computer for both should be absolutely fine.
Audio Interface for Broadcast Computer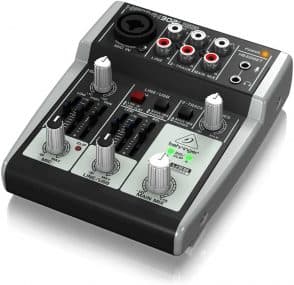 Getting the audio from your mixer/controller to the broadcast computer is the next task.
There are a number of audio input devices on the market which achieve this goal, but you may have to spend a little bit of money to pick one up as they don't come as standard on the majority of desktops.
While the built-in computer microphone is enough to get going, the clarity of the audio won't be anywhere near as good as if you just splash out a little on a USB sound adapter with audio input.
They're pretty inexpensive, and this small investment will work wonders for audio quality, really giving you that professional sound for your streams. The awesome Beringer 302USB is one of many options that get the job done. It offers the most control over your audio inputs to make sure the sound you're live-streaming is high quality without any clipping.
Another alternative is the popular iRig Stream available on Amazon here. Used by plenty of Streamers, this device is a solid option if you plan to broadcast direct from your smartphone. The downside here is there are less input and control options, just the one simple input and gain control. So much of the quality control will need to be done on your DJ mixer or controller. Still it's worth considering. 
There are plenty of other audio adapters out there but your DJ controller or mixer probably has phono out which you'll want to plug in to a phono input. Both of these devices mentioned have that while many don't. So be careful when choosing a USB adapter for live streaming on TikTok.
Multiple Cameras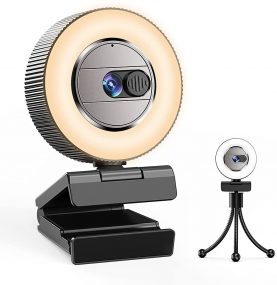 We've already spoken about how important visuals are when it comes to live streaming on any social media platform, particularly TikTok.
Adding a couple of cameras to utilise multiple angles is one of the most effective ways to add flavour to your stream.
Smartphone quality nowadays is exceptional, but using a professional camera where available can really add another layer to your show.
A setup that flicks between various viewpoints keeps the viewer engaged, as opposed to them just constantly watching you head on.
A view over the decks is great to let them see you showcasing your talent up close and personal, for example with a head cam. A side on view adds a perspective that they may not be used to seeing, again making you stand out.
For simplicity I recommend a couple of the Logitech C920 HD webcams that offer great quality image with low bandwidth, allowing you to have multiple cameras in your setup. 
Don't ignore what is known to work though – the classic face on camera angle allows you to make eye contact with the camera, and perform like you have a real crowd right in front of you. It creates a level of connection with the viewer that goes unmatched.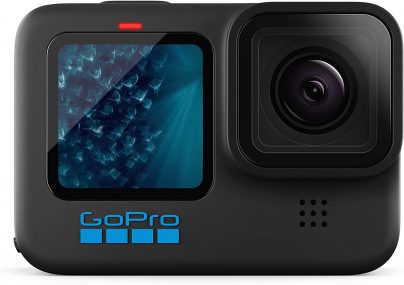 GoPros are renowned for their wide angle lens that can really enhance the environment you're playing in, and its excellent camera quality is a major selling point too. Their quality in low light conditions like a dimly lit DJ studio  make them perfect for live-streaming. 
You can also connect them to your setup in multiple ways. I set mine up with the Youze Video Capture adapter which converts the GoPro's HDMI signal to USB data. Check out the latest prices on GoPros on Amazon.
USB Hub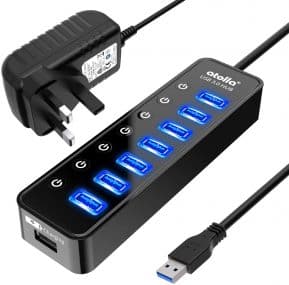 All the bits and bats you need for your TikTok live DJ set need to be handled efficiently, so a central USB hub is a must for looking after it all in one place.
I highly recommend getting a powered USB hub as this takes the strain of supplying power to all your devices, away from your computer. Some devices can struggle when sharing power from a PC or Mac too so this solution ensures they all get the power they need to perform at their best. 
I use the Atolla Powered USB hub which has 7 controllable USB inputs and is powered by a mains power adapter. More than enough ports allowing me to add extras cameras in the future.
Collating all your audio and video together to then turn it into a livestream on TikTok requires certain software. There are a few options, but most of them do pretty much the same thing and it's all down to personal preference.
OBS Studio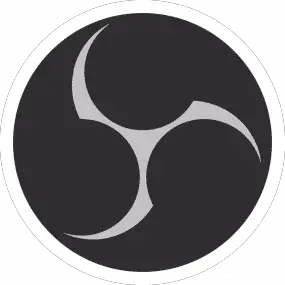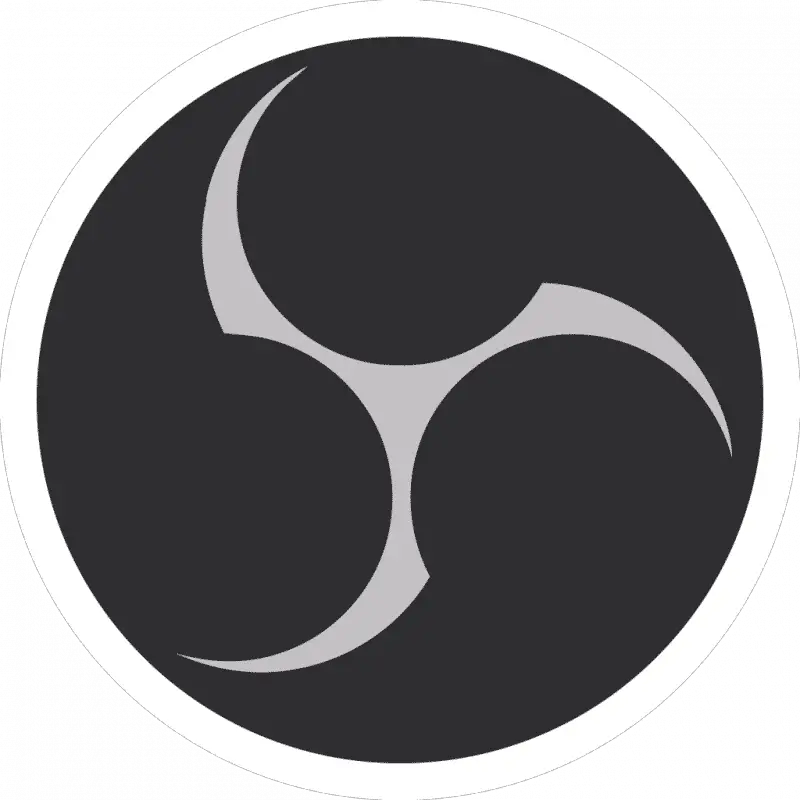 OBS Studio is definitely one of the most popular options as it's an excellent all rounder, and is completely free too!
It may take a little bit of time to get used to if you've never used anything similar before, but once you get into the swing of things it all becomes relatively clear. It's
one of the most reliable pieces of software on the market and is the go-to for many online streamers.
You can download the free open source software for Windows, Mac and Linux from their website obsproject.com.
While not particularly necessary, especially in the early stages of your TikTok live streaming career, some of you will want the most professional setup as soon as you get started.
OBS has been my go-to software of choice as it has so many amazing features. It can be clunky at times but its open-source and allows for some really creative livestream options. 
Watch this video to understand how to use OBS for DJ livestreams on Tiktok.
Wirecast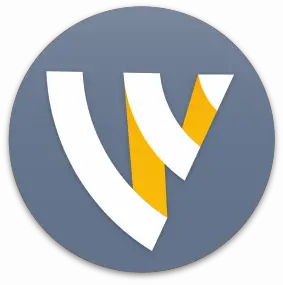 Wirecast is a step up from OBS, coming with a number of added features such as being able to broadcast to various social media platforms at the same time. This is great if you have already established a following on other platforms and don't want to neglect those while working on your TikTok account.
The premium service comes at a cost though, and Wirecast costs around $35 a month subscription. If you're serious about streaming then its well worth the money but as a beginner it could be a little pricey. Further down the line as you continue to grow and expand your fan base, it may well be worth the investment.
You do get a very good support service with Wirecast and arguably better documentation to help you learn how to make the most of this software. So as with many things in life, you get what you pay for. Download Wirecast here and check out their free trial. 
Getting your livestream setup for TikTok's portrait mode is important. This great video will show you how to use Wirecast and get everything set up for TikTok.
TikTok LIVE Studio
TikTok has also recently rolled out its own desktop encoding software, known at TikTok LIVE Studio.
It's a windows-only program so the mac users amongst you won't be able to use this just yet, but it essentially lets you sign in from your computer to TikTok, and it's pretty easy to set up.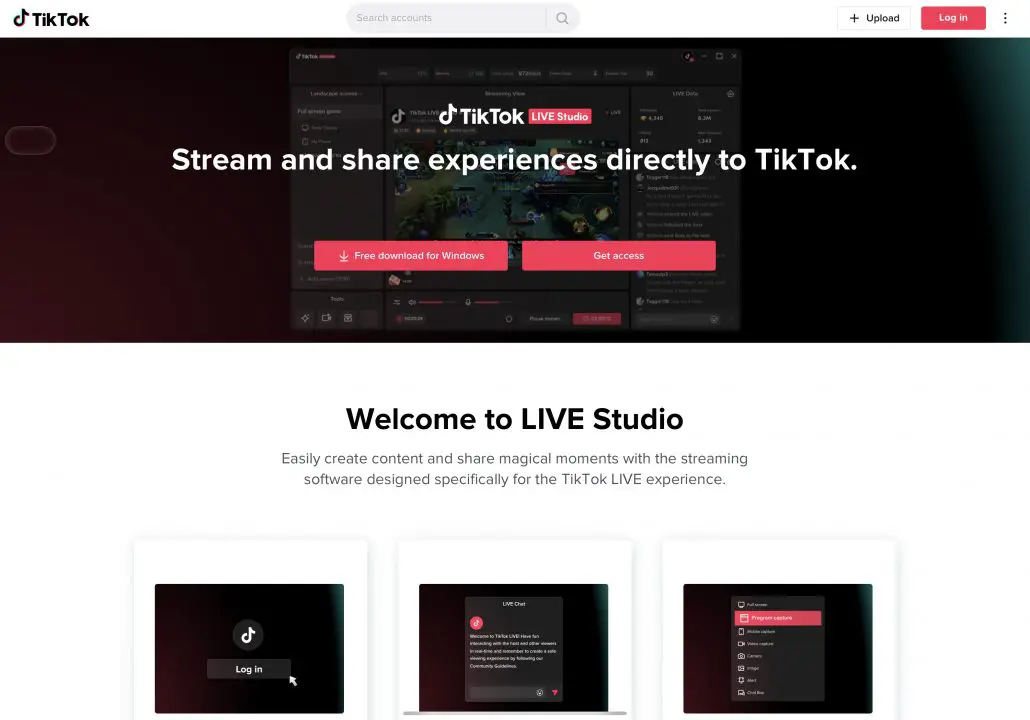 You can download TikTok LIVE Studio for free here and start using today. The great thing about this software is that it outputs in exactly the bit rate, format and meta information that TikTok really wants. So you can feel confident you're providing exactly the stream TikTok wants.
This is a great video on TikTok Live Studio for beginners. Well worth a watch to see if it suits your needs.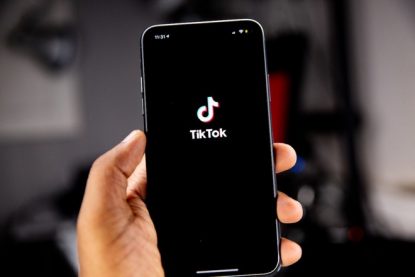 TikTok is designed for streaming with a smartphone, and if you don't have multiple cameras and laptops or all the stuff you need to livestream from a desktop, there's still no reason why you can't get going.
Streaming with a smartphone nowadays has come leaps and bounds in recent years. Modern phones have extremely powerful cameras, and there are tonnes of DJ's out there who even now, having achieved massive success, still use a simple smartphone and tripod setup.
You may lack some of the more professional features that a computer provides, and you also won't be able to utilise that enticing multi-angle video setup, but there's still plenty of things you can do to keep the stream exciting.
To combat the lack of camera angles, be certain that whatever angle you pick is the best possible option. Getting as much of you and your DJ setup in the frame as you can is your best bet.
Alternatively, having a reliable friend on hand who can frequently move the tripod for you would be even better, and it stops the streaming angle becoming tedious.
You will still need an audio output adapter to get the audio from your mixer to your smartphone.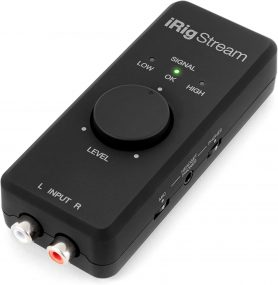 The most popular option for musicians to get their music in to their smartphone and on to their live streams is the iRig Stream available on Amazon. It performs a simple job so its very simple to set up too. You may need some audio cable adapters like phono to mini-jack in order to convert the output cable type your mixer or controller needs, down to the input type the iRig requires. Other than that you're good to go. 
There's not much in the way of controls here so you'll need to do some testing to find out what levels work best for you. Then always set your mixer's master output volume to that level. I recommend writing it down somewhere or a attaching a small label on your mixer desk to show the level it should be set to.
The RØDE AI-Micro Ultra-compact Dual-channel Audio Interface For Computers, Smartphones and Tablets is popular for live streaming and for effectively completing this task, and you can plug it in directly from your mixer.
Just make sure you regularly monitor the sound quality, ensuring it isn't distorted and the audio is crystal clear by plugging in your headphones and listening yourself.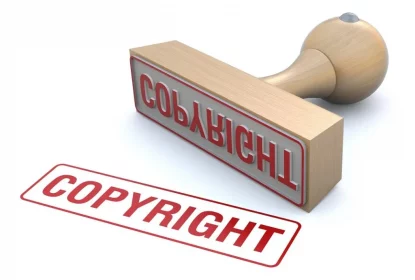 When it comes to copyright when DJing on TikTok, it can become a little bit of a grey area with it being a relatively new thing.
There isn't much information out there regarding copyright when it comes to live-streaming dj sets on TikTok, but the general consensus is that as long as you keep snippets of music short, add more emphasis to the visual side of your set, and use music from less well known sources, you'll most likely be OK.
Obviously if you DJ with music that you've produced, you'll definitely have nothing to worry about.
At the moment it seems TikTok isn't terminating live streams or banning accounts for using copyrighted music. This is in part thanks to the way in which they allow music to be used on tiktok videos. 
DJing with copyrighted music is something you need to keep an eye out for though as every other social media platform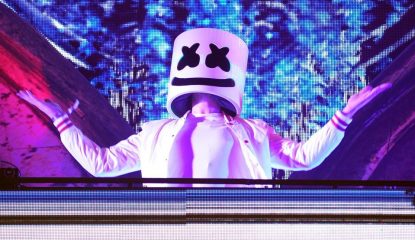 Whether you're a DJ with lots of live show experience or you've only ever known djing online, TikTok is a totally different breed.
Your music might be fire and your technical prowess impeccable, but if you don't catch the audience's eye in those first few seconds, they'll never know.
They won't stick around long enough to see, simply scrolling to the next, looking for their fix of dopamine elsewhere. Visuals are a huge part, and having something in the frame to catch their eye is a great drawing point.
Your setup needs to show a little bit of who you are, rather than just relying on the music to tell your story. What's really important though, and often neglected, is how you're actually playing your set.
If the viewer is just watching you standing in one spot the whole time, with hardly any movement and a blank expression on your face, it won't be memorable or exciting for them.
Energy is contagious, and if you're moving around, pulling faces and having a genuinely good time while live-streaming, it's much more likely to make an impact on your audience.
They'll be hooked in by the electric atmosphere you're providing, and for many using TikTok it's like a mini escape from the real world.
You'll be remembered for brightening their day, providing good music and good vibes, and being fun to watch.
They'll be recommending you to friends and sharing your content with them so they can be part of the fun too. For you, it means better engagement and more followers, while at the same time building a community of great fans behind you.
While you're streaming, make sure you're reading any comments you receive and interacting with the viewer. Forging a connection with them is a must if you want them to relate to your personal brand.
Adding a microphone to your setup as a way of talking to them while you play is the best option for doing this. The more organic and real it seems, the better – don't try to force a particular persona.
The guys at TKD DJs have done a complete walk through of their TikTok streaming setup complete with audio and visual devices. Definitely worth a watch if you're considering livestreaming on TikTok.
Another key thing about TikTok DJing is that you should try and identify your niche as early on as possible.
This isn't to say that you should only stick to playing one genre of music or making one type of video. It's just that if the viewer has no idea what to expect from your account in the future, they aren't going to follow you.
If I'm interested in DJ content and on your account you have one DJ video, followed by one movie review video, followed by one outfit of the day video, I'm not going to follow you for DJ content. I'll follow someone who is consistently posting DJing related videos.
Despite selecting a niche being important, this doesn't mean you have to totally restrict your creative vision. Don't be afraid to jump on any trends, as this is probably the fastest way to achieve viral success on TikTok and beyond.
Interplanetary Criminals' catchy anthem 'baddest of them all' shot to number 1 on the UK chart recently thanks to it being picked up by a trend on the app.
What can really set you apart from others and trigger rapid growth is if you combine two potential niches, and produce content that people who like both would enjoy. An example of this could be music and comedy. Tapping into each of these could massively increase your audience.
Merging visuals and music
A great example of how styling your musical offering can change people's perceptions is Italian music duo Tale Of Us, whose shows tie in electronic music with dramatic visuals on spirituality and consciousness.
Check out this behind-the-scenes video about some of their incredible work. 
Every single show sells out well in advance, as fans crave the immersive experience their sets offer.
This may not be quite the offering you can give on your TikToks but it could inspire you to do more than just point a camera at your decks and mix some tunes. Maybe there's something more visual you can offer?
Making the most of your DJ live stream setup
The guys at Digital DJ tips have a great video on getting the most out of your DJ livestreams. Well worth a watch. 
TikTok is constantly changing and evolving – new features are frequently introduced, new things become popular while others fade, and what previously worked stops working as something else takes over.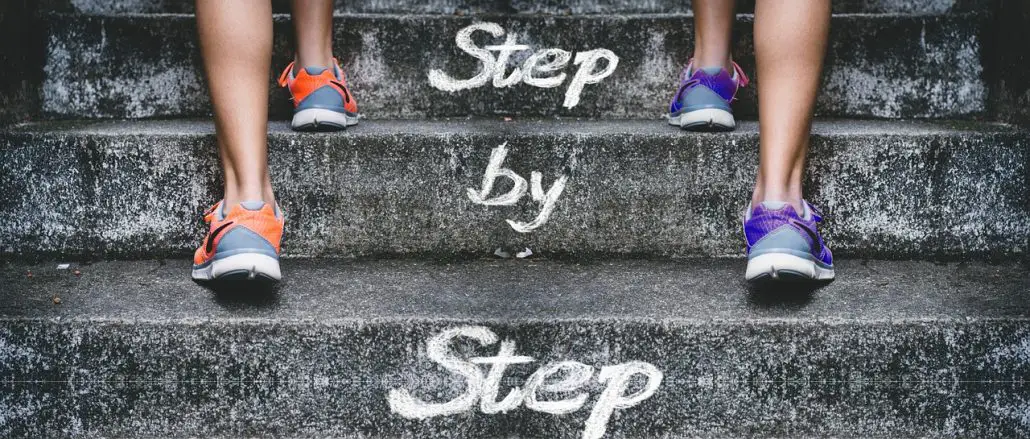 Make sure you evolve with it, and remember that consistency is key. Posting lots and engaging with other accounts is the best route to success as a TikTok live DJ, and as long as you keep producing high quality content, you can't really go wrong.
You can't just rely on TikToks audience to carry you though. You need to put the effort in, going above and beyond.
Whenever you plan on going live on TikTok for example, you should be posting a reminder on all your other socials too. Creating bespoke graphics to promote your account and live streams will give you the professional look that makes it clear you're the 'real deal'.
Ask friends and family to share your page and spread awareness. Every little helps.
What's great about TikTok is that when the ball gets rolling, it doesn't stop, and your account will blow up faster than you could ever dream. The old cliche saying of 'don't give up' holds especially true for TikTok.
All it takes is one viral video, or one person of influence to share your livestream, and the days of struggling to exceed a few hundred views will be over.
Well done for completing this article! If you love live-streaming then we have some more great articles for you.