Should I use Mixed in Key?
Mixed In Key is one of the DJ industry's best tools for creative DJing. If you're in to harmonic mixing and curating the best possible DJ sets the Mixed In Key is a must.
Having recently launched their 10th version we thought we'd put it to the test and see why everyone is talking about Mixed In Key.
This review is not sponsored. We just wanted to share our thoughts on this popular piece of DJ software.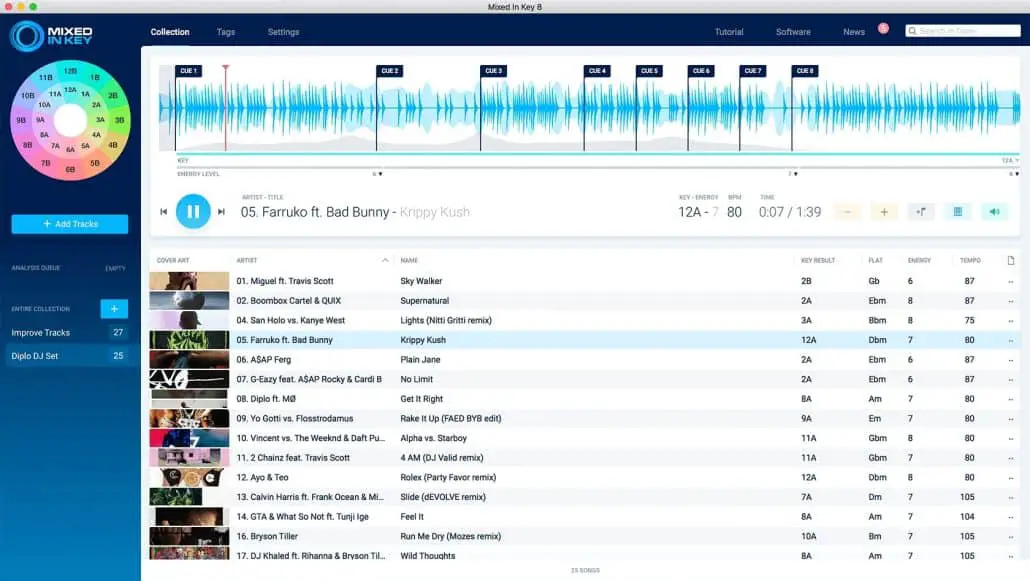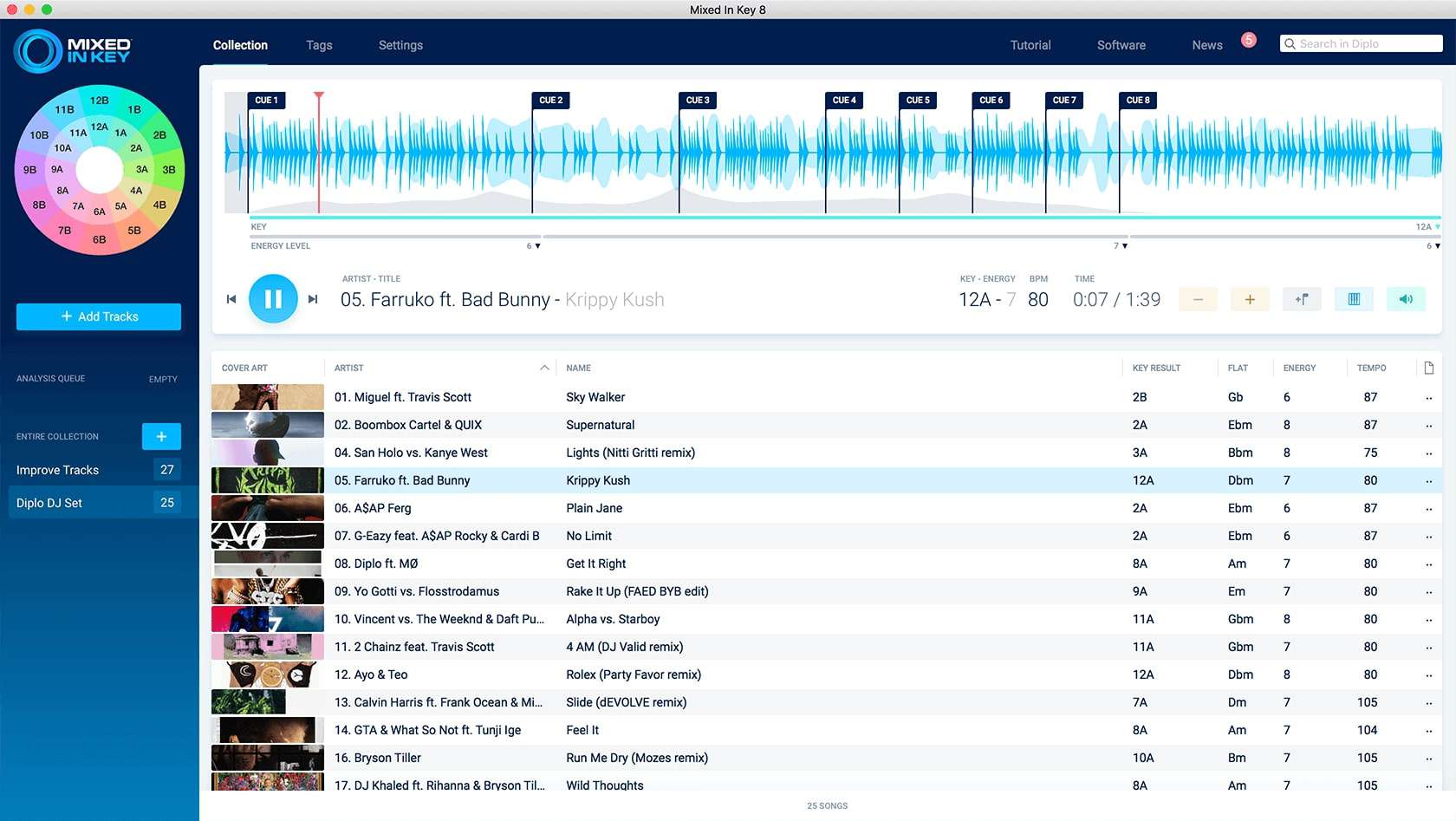 When it comes to feeling comfortable at the decks as a DJ, learning the process of harmonic mixing or mixing in key is essential.
Harmonic mixing is the skill of continuous mixing between two tracks, either in the same key or keys that compliment one another, with the main goal of creating a smooth transition between songs.
I've written in more detail about Harmonic Mixing here.
For DJs who are not coming from a background of professionally trained musicality, getting to grips with the rules of musical keys can be confusing – and the various manual systems that have been created to act as an easy point of reference can be incredibly useful, but time consuming and lack accuracy if used in isolation.
However, one of the best hacks of the wealth of DJ software now on offer is that harmonious mixing can now be largely automated, or at very least made much simpler. Whether you're using DJ software with integrated key analysis of tracks, or looking for a standalone app for key analysis, there's a lot of support out there.
Whilst apps can't always be 100% accurate, and having a keen ear and basic knowledge of harmonious mixing will always put you in good stead, the main platforms – including Traktor, Serato, Rekordbox, and today's focus of Mixed in Key 10, can all save you from a headache.
Whilst most of the main players in DJ software now offer integrated key analysis, Mixed in Key has been continuously trusted by some of the biggest names in the industry for a more advanced and in depth analysis of keys and the best way to mix harmoniously.
As a standalone app, it has the capacity to drill down much further, and keep your transitions as strong as possible.
Mixed in Key has stayed relevant and trusted alongside competitors' integrations as they've continually adapted with more features, and updated analysis solutions. The app runs on both Windows and Mac operating systems, and allows track analysis of large music libraries, as well as playlist creation built specifically on key.
Alongside the harmonic mixing software that we'll look at below, Mixed in Key also offer composition plugins with Captain Plugins, Flow 8 live deck, the Odesi mixing platform, and mashup and remix software, so it's possible to develop your software library if you like how they operate.
Trusted by leading artists David Guetta, Diplo, Sofi Tukker, Pete Tong, and Sasha – among many others – you can rest assured they're masters at what they do.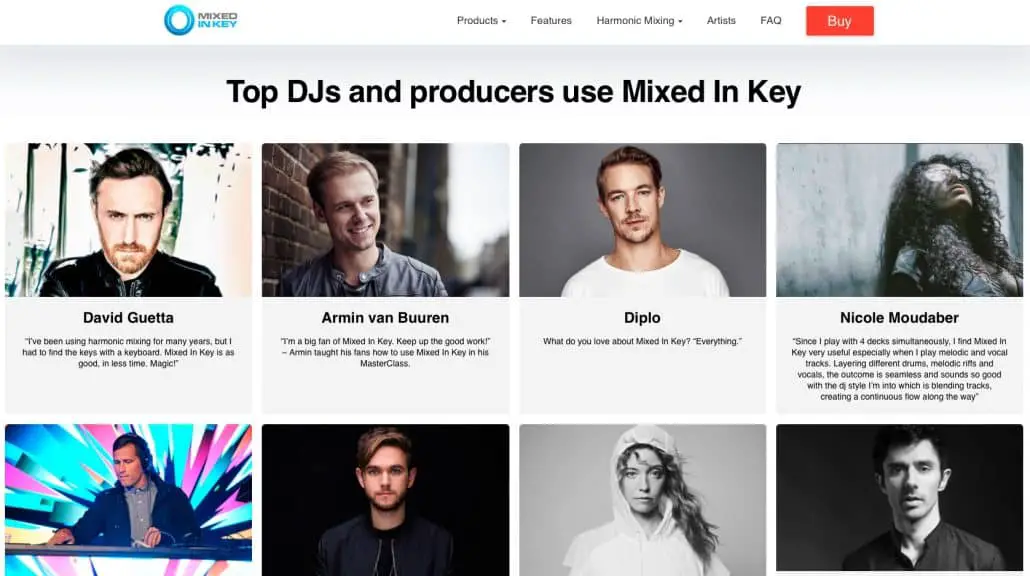 Mixed in Key's outstanding reputation as a leader in the market is based upon the Camelot EasyMix system – the wheel below is a great visual for how it works.
The Camelot EasyMix system immediately detects the key your song or sample is in, and which other keys will compliment it, saving you the pain of trying to unpick and understand complex musical theory.
In the wheel below, you can see that each musical key is represented by a combination of numbers and letters. Major Chords are located in the outer ring, whilst Minor Chords can be found in the inner ring. If you understand how to navigate a colour wheel, you can apply that theory here using the track data from Mixed in Key's automatic key analysis – it really is that simple.
In Mixed in Key 10, we see the best combination yet of the ultimate harmonious mixing technology, easy to use interface, and some genius additional features to make key mixing a breeze.
Of course, this most recent version of the platform carries forward some of their most loved established features.
You can still expect to see their energy level rankings, helping to group tracks by mood at the right points in your playlist, sophisticated playlist curation and information recording, and 8 automatic cue points per track.
So, what's new in this latest harmonic mixing update?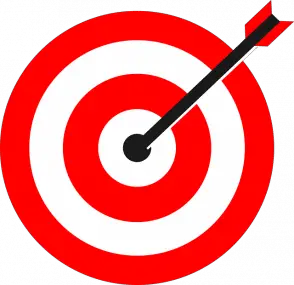 After 2 years of intense research and updating, Version 10 is sleeker and faster than Version 8, their previous update. With new algorithms based on updated data science, you'll find your results to be at least 10% more accurate than any previous software – even with songs with no obvious key.
Alongside this, a slick new design and refined user interface makes everything easier for you, so you can focus on what matters: the music.
Having been the leader in the industry for over 15 years, this improved accuracy will surely see Mixed In Key 10 maintain its position as no.1 for harmonious mixing. In comparative tests, ENDO found the platform's accuracy to be over 80% back in 2016, and the best available on the market at the time.
Of those read incorrectly, the margin for error was most often no more than a fifth higher or lower – and you can't really get much closer than that. I can only see this update minimising essentially all error margins, and making Mixed In Key more impressive than ever before.
The new user interface is better described as "new-and-improved", and you're likely to recognise it. It carries forward some of the most loved elements of the Mixed In Key 5.5 version, as the MIK team say they wanted to pay homage to this version as the era that "coincided with the rise of EDM, and was one of the most beloved versions of Mixed In Key in history."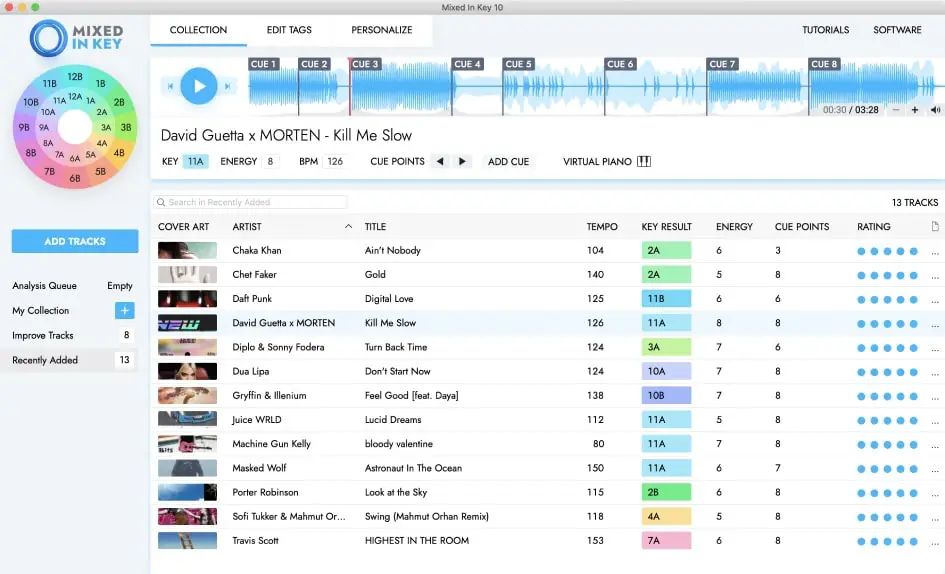 The Version 10 UI manages to combine clean and functional access with a nostalgic nod to their roots in a way that feels authentic, yet also new and exciting.
Aside from aesthetics, this interface makes access quicker and simpler than ever before.
Display options and navigation are easy to read, and it will sit comfortably alongside your other software platforms.
This new update is highly refined at clearing unnecessary junk from your ID3 tags, making your playlists in Serato, Traktor, iTunes, and Rekordbox, and essentially all other DJ software platforms, fuss free and concise afterwards, with all tags organized in the same scheme.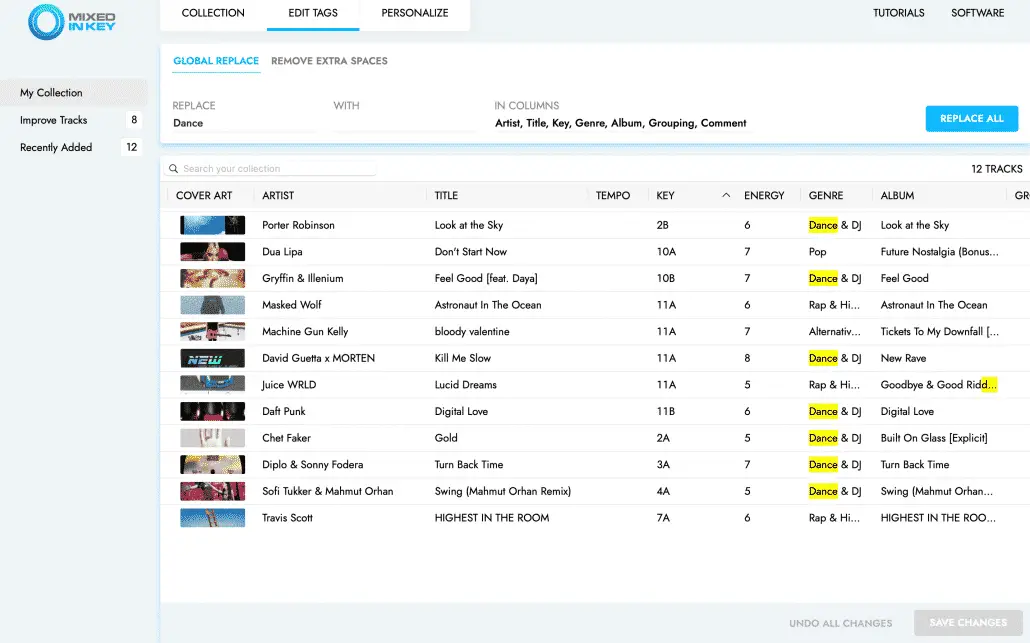 The attention to detail in this update is really noticeable. Whilst it would have been easy to overlook this addition, the order of cleaned up ID3 tags can really make a difference to the creative process.
When you no longer have to filter through tags as you create tracks, you're freeing up your focus, minimising your stress levels – and allowing mental space for optimum creativity.
If you're ever in doubt of your key results, Version 10 integrates a Grand Piano into the software, for the ultimate in real sound verification. This feature is a lovely addition, and completely optional when running key analysis, but a great touch if you're used to traditional harmony analysis or have a background in music theory.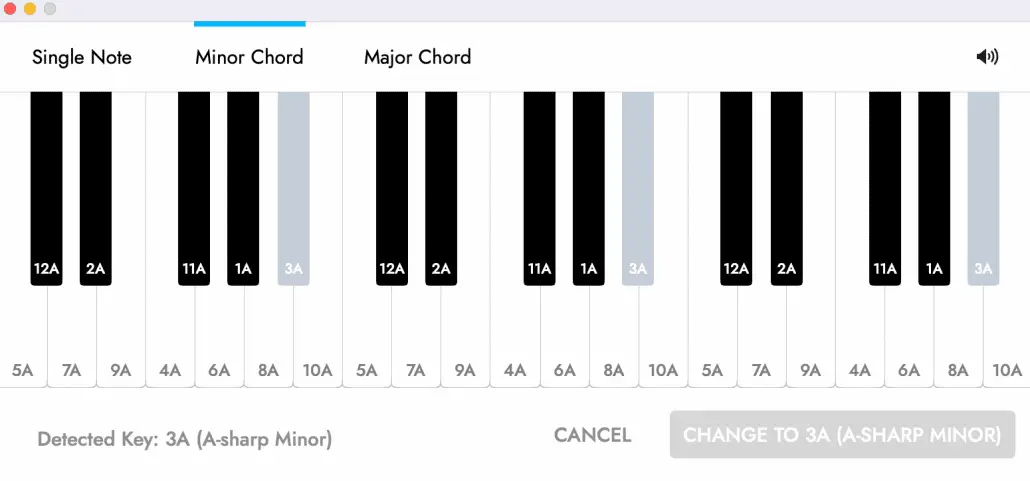 While others could view this as a basic marketing ploy, I think this new feature speaks deeper to Mixed In Key's history and ethos – by combining modern technology and today's creativity with traditional, trusted musicality.
Understanding of the importance of this knowledge is what has rooted Mixed In Key as a leader in the field, and the company shows clear respect for these foundations as their software continues to develop.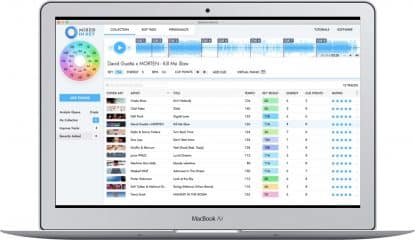 Wherever and whatever you're working with, Mixed In Key 10 offers the broadest cross-platform compatibility to date. Cue points can now be exported to Traktor, Serato, or Rekordbox – effortlessly – with up to 8 automatic cue points per track.
Thanks to a pioneering algorithm, the most important parts of your tracks are automatically detected and flagged with precision cue points, ensuring you have ultimate control over your DJ sets.
Simply drag and drop from MacOS or Windows software into your other platforms, and see musical key, BPM/tempo, track intensity on a scale of 1 to 10, and all meta-data, in one quick view.
Rekordbox Integration
If you use Pioneer's Rekordbox DJ software then I highly recommend watching this video showing you how to integrate Mixed In Key direct in to your Rekordbox workflow.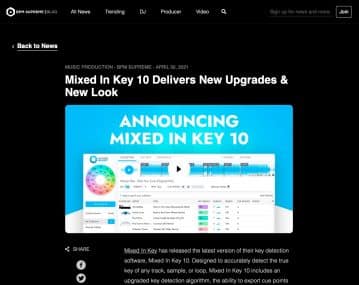 The latest update definitely sounds impressive, and we know Mixed in Key is trusted across the industry internationally. But how has this particular update been received? I took a look at some of the main players across blogs and review sites, to see what I could gather.
As expected, they do not disappoint. BPM Supreme applauds Version 10 for making complex mixes and mashups "sound harmonically flawless", and an integration with other platforms that works "perfectly in tanden" to create next level tracks.
PhuturePhil, over at Electofans, has a lot to say on this update. He applauds its near comprehensive compatibility – "You can utilize this software no matter what platform you use as a DJ…Even Ableton Liveset users have functionality in this software. It's great to see a software that can work with all the major brands right out of the box." – and the space to install the version on up to 3 computers under the same operating system on one license, which is an absolute bonus if you work across multiple spaces.
The breadth of organisation options also sit high on PhuturePhil's pro list. Whether you're using the Camelot Wheel to filter tracks by key, or working between playlists from various other platforms, there are plenty of quick changes you can make within the interface for speedy organisation, and view all the details in one screen. This detailed organisation with quick and simple access means you can promptly marry the energy and key signatures of tracks, as well as keeping an eye on what's playing next, making both future set planning and playing effortless.
For all of Mixed In Key 10's pro points, it is worth noting there is no offline mode available, and older operating systems may struggle to run the size and scale of this update.
Internet connection is essential for track analysis in Mixed In Key 10, although you can still adjust cue points, filter through existing libraries, listen to tracks and export to outside software whilst offline. Whilst many venues can offer Wi-Fi connection, we all know this can't always be guaranteed, let alone reliable. To be sure of a solid set, it's worth preparing for slightly limited capabilities with MIK10 if you're working at a venue without internet connection, and ensuring you're supported by using complimentary software that is fully compatible offline.
Overall, PhuturePhil rates Mixed In Key 10 very highly. From a DJ with such strong experience and knowledge, alongside the fleet of international artists I mentioned earlier who back the platform, you can feel pretty secure in opting to add this version to your working decks!
Thanks to "powerful and accurate software", his review is confident that this version can "take your DJ sets to the next level" – which is what we're all looking for, right? He notes it's particularly helpful for those wanting to plan out sets in advance, and keep on top of complex organisation of music. The strong breadth of exportation to outside platforms, and ultimate track and key analysis, also score this version highly. Ultimately, he gives the new version an 8/10 – and I'd be inclined to agree.
Well, there you have my thoughts on Mixed In Key's Version 10 update. There are plenty of other harmonious mixing products out there, and on first viewing I can see why it may seem unnecessary to invest in this piece of kit if you're already using mixing software with integrated key analysis. Only you can know your process and what works best for you. But, I'm definitely a fan of Mixed In Key's offering, and the Version 10 update seem worthwhile to me.
While you may need to navigate a little around online/offline capability and the sheer power of this latest software may mean you'll need the most recent supporting technology to keep up with it; I'd say these are small considerations to make when you see how impressive the software really is.
A license starts at just $58 -why not give it a go, see how you like it, and maybe it'll start something really exciting for you.
If you're still looking for more reviews here are some great in-depth looks at Mixed in Key 10. Well worth a watch.
More useful DJ tips for you
There are plenty of other ways to improve your DJ skills, check out these articles.